Wales Politicians Say They're Surprised Donald Trump Knows Country Exists, Cheer Joe Biden
A retweet by President Donald Trump criticizing COVID-19 lockdowns in Wales has caused anger among political figures in the British principality and prompted a response by the medical expert advising the public on the pandemic.
Soon after his discharge from Walter Reed Military Medical Center, Trump embarked on a Twitter storm, retweeting conservative Fox News host Laura Ingraham, who has argued for a swift reopening of the U.S.
Ingraham had taken a swipe at the coronavirus policies that might be rolled out should Trump's Democratic rival Joe Biden win the election on November 3. She tweeted an article about measures to stem the pandemic in the country with the message, "Your future under Biden, Rolling lockdowns will become norm in Wales."
The BBC article she shared cites Wales' chief medical officer Frank Atherton warning that people should prepare themselves for rolling lockdowns throughout winter.
Trump's sharing of Ingraham's tweet has annoyed Welsh politicians and even prompted Atherton to say he hoped "most people in Wales don't take President Trump as their guide to how to deal with coronavirus."
Siôn Jobbins, chair of Welsh independent group Yes Cymru told Newsweek: "People are quite surprised Trump has heard of Wales and is not confusing us with a seafaring mammal."
"If Trump thinks we are doing something badly, we must be doing something right. He is one of the last people we should be taking any advice from," he told Newsweek.
The devolved U.K. governments in Wales, Scotland and Northern Ireland are pursuing separate coronavirus measures to those set in Westminster, although England has regional variations in policies.
Currently there are 15 counties and one town in Wales which are under local lockdown whose areas now cover 2.3 million people, the BBC reported. Friday saw another 766 cases recorded, taking the total number of cases in Wales to 29,028.
"People by and large think that the government in Wales has done a better job than Westminster and certainly a better job than Trump in the USA," said Jobbins.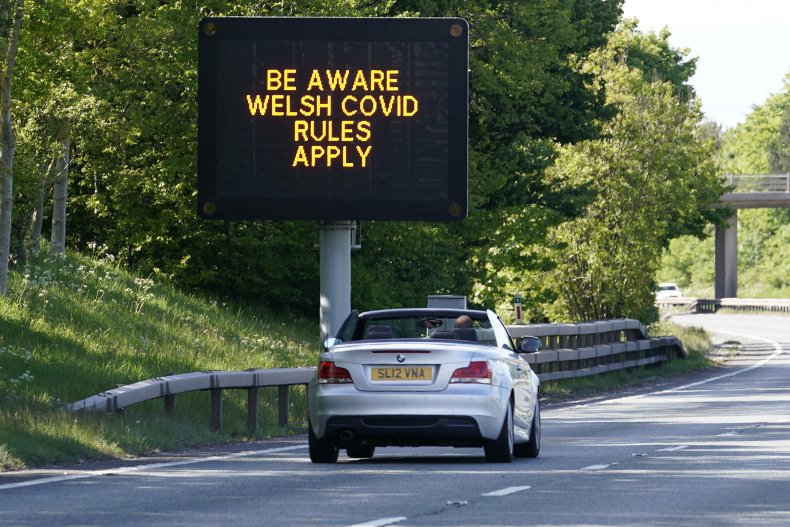 "Trump's cavalier attitude about COVID is in contrast with the Welsh government, which is holding daily briefings and is trying to answer questions about how it is handling its policies," he added.
Adam Prince, leader of independence group Plaid Cymru, said "no country in the world is going to take public health lessons from President Trump and certainly not Wales, as the birthplace of the NHS which gave the world the model of a national health service," The Independent reported.
He also said many in Wales backed Joe Biden to win the election, especially as his hometown of Scranton, Pennsylvania, was where many Welsh people had emigrated to in the past. Newsweek has contacted the White House for comment.
The graphic below provided by Statista shows the concerns Americans have about contracting COVID-19.