Man Who Shared Topless Photos of Himself Holding Shotgun, Saying 'Heil, Heil, F*** Allah' Says He Did Not Intend to Incite Racial Hatred
A man who shared anti-Muslim messages and images of himself with a shotgun on social media has been found guilty of intent to stir up racial and religious hatred.
Jay Davison, 38, of Cardiff, Wales, was convicted on Wednesday after posting multiple photos and several violent comments to his 394 Instagram followers on August 6 last year. His updates contained phrases linked to Nazism, white supremacy and the Muslim religion.
Under two topless photos, the man's comments included: "Ever seen a white man cut a head off? No because they're f****** scum. Heil, heil, heil, heil, f*** Allah c***"; and "When has an Aryan cut another man's head off?" according to local media outlet Wales Online.
Screenshots of Davison's images were shared to a WhatsApp group the same day as they were uploaded and reported to police by a member of the group, the Crown Prosecution Service (CPS) said. He was arrested August 13 and claimed he had posted the content while drunk.
During his trial this week, the defendant asserted that he does not hold racist views and did not intend to incite racial hatred. "I agree I posted those pictures and horrendous comments but there was no intent there," he told the judge on Tuesday, Wales Online reported.
After his apprehension by armed police, Davison told investigators that the photos had been taken at a friend's house with an ornamental gun, but he refused to name the friend.
Davison told the court this week that he had been "completely consumed by alcohol" at the time of the posts last year. He said: "It was terrible judgement on my behalf and I should not have posted it. It was drunken stupidity. When I am sober I am a completely different person."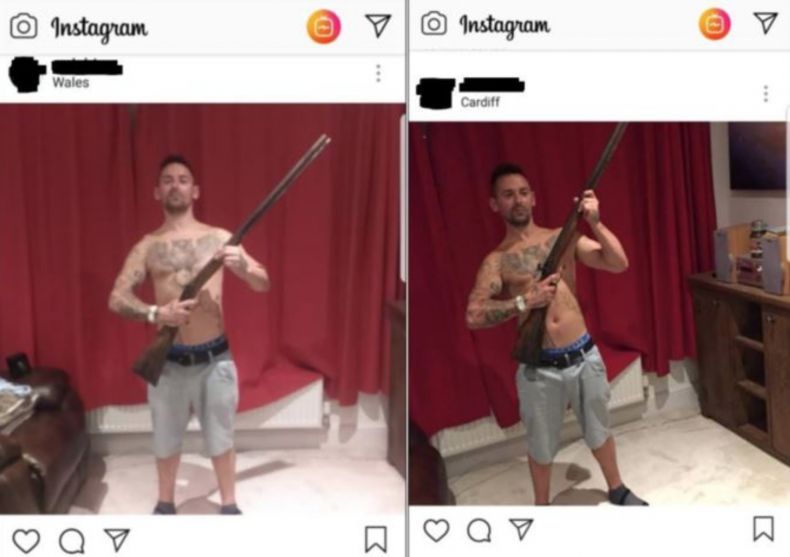 However, prosecutors rejected his argument that alcohol was an excuse, even if he now regretted uploading them.
"These posts were extremely offensive and of that I imagine there will be no argument. There were two pictures and a series of comments but they were racist and contained religious hatred," prosecutor Jennifer Josephs said in the Cardiff Crown Court earlier this week.
"They included the term 'f*** you racist Allah c****,' talks about beheading, and uses words that are used by white supremacists. The Crown's case is at the time he made those various posts he was intending to stir up religious hatred against Muslims and racial hatred against people who are not white." Davison is currently scheduled to be sentenced on September 23.
Jenny Hopkins, Head of the Special Crime and Counter Terrorism Division at the CPS said: "The material Jay Davison posted was clearly threatening, abusive and insulting."
"His intention can only have been to stir up religious and racial hatred. His defense that he regretted his actions and was drunk was rejected by the jury. This is a warning to people that posting material online can have damaging consequences for them offline," she added.