Customers Rush to Walgreens as Store Gives Out Extra COVID Vaccines to General Public
Walgreens has given out doses of the COVID-19 vaccine to those first in line after a handful were made available to the general public across two stores in Kentucky.
Pharmacies in Louisville and Lexington were left with surplus doses of the vaccine just before Christmas.
Walgreens spokesperson Phil Caruso said the company had been tasked with distributing vaccines to long-term health care facilities in the state and experienced "an isolated situation" where some facilities requested too many doses.
"Additional excess doses were then offered to local first responders, Walgreens pharmacy and store team members and residents of the community, many of whom were over age 65," Caruso told WHAS11.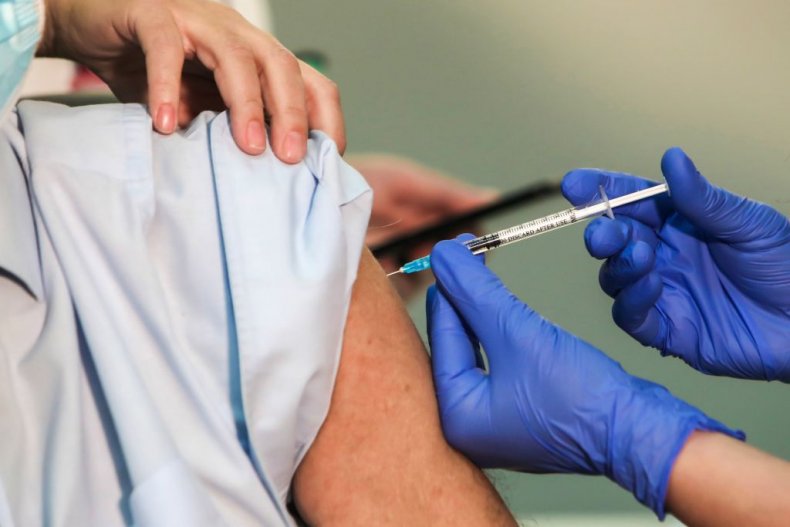 Julie Dryden was one of those to receive the vaccine from the Walgreens on Lime Kiln Lane in Louisville after the pharmacy offered a dozen doses to those in the store.
Dryden and her husband rushed to the store on Christmas Eve after receiving a message from a friend.
"And so they were like, 'We've got two left, one, two,' and I was the last person," she told WKYT.
Dryden, who is immunocompromised with common variable immune deficiency, said she has barely left her home in 10 months.
"I had joked since June, like, all I want for Christmas is a COVID vaccine," she said. "Having the immunodeficiency coupled with the lung illness, and being that this is a respiratory virus, I'm at super high risk for any kind of exposure."
"Best Christmas present ever"
Another couple also raced to a Walgreens in Lexington after hearing from a friend that the store at 9702 Westport Road had available doses.
"He called us, and we ran right up. It was pure luck," Andrew Masterson told the Louisville newspaper, The Courier-Journal.
Masterson described the surprise vaccine doses as the "best Christmas present ever", adding that his wife is battling stage 4 cancer and has been receiving chemotherapy since April.
Kentucky Governor Andy Beshear said the pharmacies' actions had been a mistake, but that the distribution had come "from a good place."
"I don't think that this was intentional, and we have to understand that in an undertaking this massive that mistakes are going to happen," Beshear said in a press briefing on Monday afternoon. "I believe that here a mistake happened in the thawing, but the reaction wasn't what it should've been ... But do I believe it came from a good place? Yes."
Beshear said it is unclear how many people received the vaccine and offered advice if the situation was to arise again.
"In the future, if these [vaccines] cannot be given out to a long-term care facility, if this happens again, we're going to provide some additional guidance for those who are most at risk, that the pharmacy will be able to provide it to."
The Pfizer vaccine can only remain at refrigerated temperatures for five days before it expires and therefore is unable to be used.
Walgreens said the pharmacies administered some of the surplus doses to local first responders, pharmacy employees and residents so that none of it would be wasted.
"These measures were taken to ensure every dose of a limited vaccine supply was used to protect patients and communities," the company said.
Newsweek has contacted Walgreens for further comment.
The vaccine distribution system throughout Kentucky is still in Phase 1A and currently prioritizes healthcare workers and those in long-term or assisted living facilities.
As of Monday afternoon, at least 26,336 vaccines have been administered in the state, Beshear said during his COVID-19 briefing.
As of December 28, the U.S. Food and Drug Administration (FDA) has authorized two COVID-19 vaccines for use: the Pfizer-BioNTech COVID-19 Vaccine and the Moderna COVID-19 Vaccine.