American Students in Seoul Threatened with Military Police If They Participated in Walkout
Updated | American students attending high school on a military base in Seoul, South Korea were threatened with military police if they tried to participate in a national student walkout to protest gun violence Wednesday.
The walkout was a grassroots effort built upon anti-gun violence activism of students who survived the school shooting in Parkland, Florida last month. Students had planned on walking out of school at 10 a.m. for 17 minutes to commemorate the 17 people killed in the massacre at Marjory Stoneman Douglas High School. Students across the U.S. participated and called for their lawmakers to take action on gun violence.
The administration of Seoul American High School highly discouraged participation. The school is on the Yongsan Garrison military base in South Korea's capital.
A letter to parents and "sponsors" from Principal Donald Williams Jr. said students would face disciplinary action if they walked out Wednesday.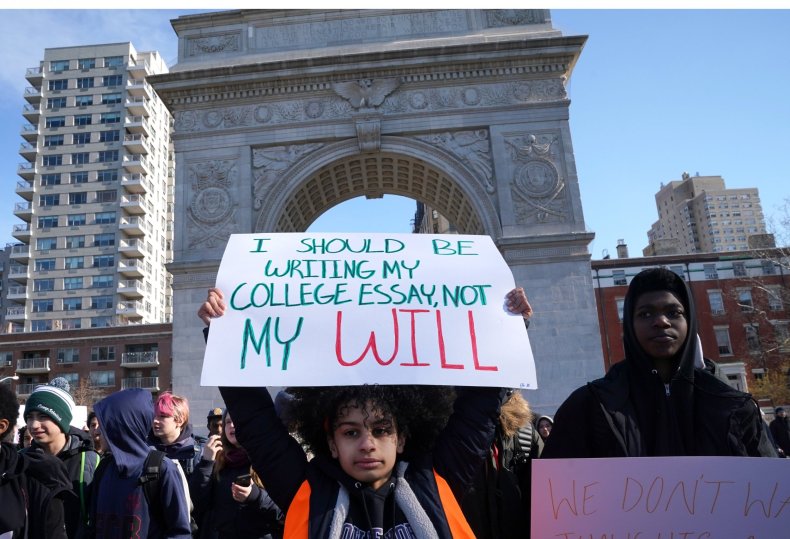 "Seoul American High School will maintain a roster of any student who walks out of class and will provide that list to the Yongsan Garrison Command Team to determine if any further steps are warranted," read the message. "We would also like to note that any student who leaves campus during the walkout time will be dealt with by military police who will take their name information and then escort them back into school control immediately."
The letter said that United States Forces Korea, under whose jurisdiction the base falls, prohibits protests on U.S. military installations.
The Department of Defense Education Activity (DoDEA), which operates the schools, told Newsweek that no students at Seoul American High School attempted to walk out.
"Leading up to the walkouts, our principals coordinated closely with their respective commanders throughout the Pacific. Overwhelmingly, commanders were supportive of our students' desire to express themselves and enable us to use this opportunity as a teachable moment," said Marcelo Calero, DoDEA Pacific Region Public Affairs Officer to Newsweek via email. "Ultimately, DoDEA will observe and abide by the guidance and expectations issued by our commanders when it comes to upholding policy."
The school's student council is planning a memorial for the Parkland shooting at a later date.
Students on other bases in South Korea, however, did participate in the walkout.
Around 100 students at Daegu Middle/High School at Camp Walker participated in the walkout, and between 150 and 200 students at Humphreys High School at Camp Humphreys held a vigil, according to Stars and Stripes.
This story was updated to include a statement from DoDEA.