The Solo Efforts of the Walkmen, Once the Finest Rock Band in New York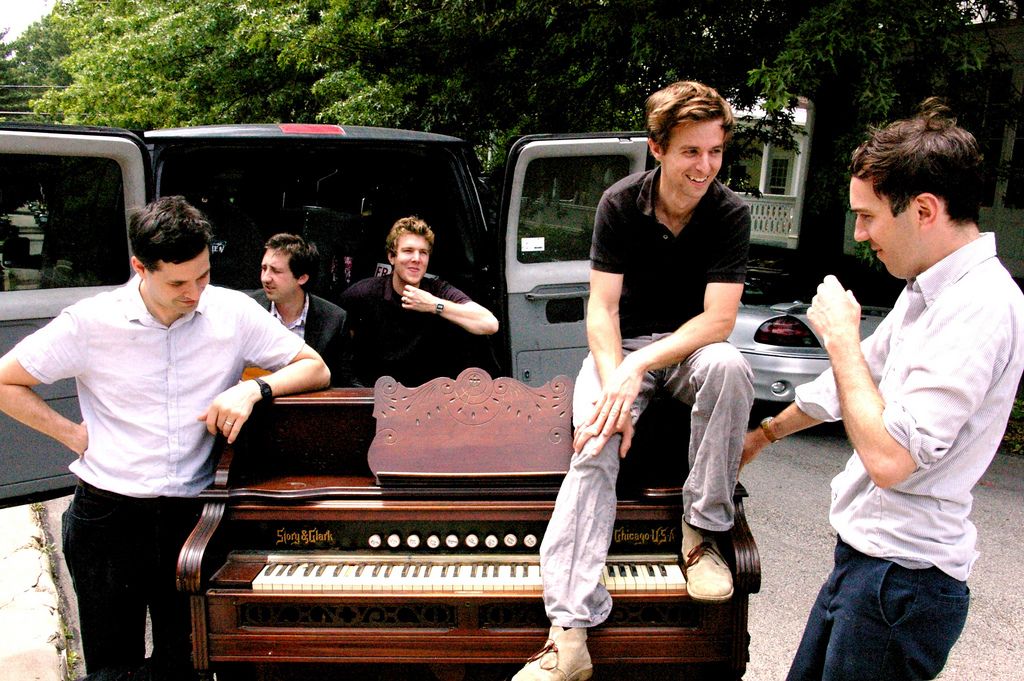 For a fleeting but significant moment—say, from 2004's Bows + Arrows through 2008's You & Me—the Walkmen were New York's finest rock band.
Finest because the word conveys an odd sort of classiness that always lurked dormant in the Walkmen's steady diet of piss and vinegar. Brash and loud and emotionally charged—and led by Hamilton Leithauser's gravelly voice—they fit well enough into the early-oughts garage rock boom but sounded only like themselves. They howled and raged, but they did so with an unusually refined taste for vintage instrumentation—the creaking piano of "Hang On, Siobhan," for instance, or Paul Maroon's warm, trebly guitar tones throughout the band's discography.
They kept their lineup operations free of drama, too, though the lyrics, moody and dour, thrived on nothing else. And they dressed business-casual. At a Northside Festival showcase last June, in McCarren Park on one of Brooklyn's hottest afternoons, wool blazers were duly on display.
They were then still promoting Heaven, an uncharacteristically sunny 2012 record that waved aside much of the angst and attracted the dreaded "dad-rock" label in the process. (Bands: this is what happens when you pose with your children in album art.) I hated it at first listen. Then I came around. "Remember, remember / All we fight for!" Leithauser exalts on the title track. It seemed like it could be the beginning of a new period for the group—bright, triumphant, free of that old Walkmen bitterness.
It wasn't. It was the beginning of an end: just 18 months after Heaven, the Walkmen announced an amicable split, an "extreme hiatus." "All five members have families and three are working on solo projects," The Washington Post reported. That wasn't a lie, and it took remarkably little time for each of those solo projects to land in venues and record stores. (The latest of them, Peter Matthew Bauer's Liberation! was just released by Mexican Summer.) Let's survey the offerings.
First, the least surprising: vocalist Leithauser's excellent Black Hours. Though its guest list reads like 2014 indie-rock royalty (Morgan Henderson of Fleet Foxes, Amber Coffman of Dirty Projectors, Richard Swift of the Shins, Rostam Batmanglij of Vampire Weekend), Black Hours's influence's go back seven or so decades, into the big-band era.
Somehow Black Hours sounds the most and the least like the Walkmen of all the solo projects. Guitarist Paul Maroon is on board (the album emerged from a dusty piano recording he sent the singer from New Orleans), and there is Leithauser's instantly recognizable voice, but here it's used in the service of crooning rather than yowling. The songs that tread closest to familiar territory—mostly bunched toward the end of the record—are its weakest. With impressive excursions into doo-wop ("I Retired") and orchestral pop ("The Silent Orchestra"), Black Hours is more eclectic than any Walkmen record, though Leithauser particularly takes cues from Frank Sinatra. I have seen him perform its songs several times in recent months. These are late-night songs, and so they sounded especially good in the back room of Greenpoint's Manhattan Inn, with just 50 or so people gathered around Leithauser, Maroon and an upright piano. The following night, at the Brooklyn Academy of Music, a full band, including Batmanglij on some tracks, took a stab at the record's trickier arrangements.
This could have been foreseen. Leithauser was always the most comfortable behind a microphone, and by a wide margin. But he wasn't the first Walkman to release his own album. We're All Young Together, the short and sweet solo debut from Walkmen organist-bassist Walter Martin, preceded it by three weeks.
This one won't help the dad-rock allegations: It's a collection of goofy, kid-friendly folk songs inspired by Walter's own daughters, both under 2 years old. There's yodeling and zoo sound effects; and there are songs about tigers and rattlesnakes and Ringo's mop top, though its charms are not entirely lost on the childless among us. (Hearing usually dour National frontman Matt Berninger identify himself as a billy goat, porcupine, and crocodile—in that precise order—on a song titled "We Like the Zoo ['Cause We're Animals Too]" has fairly universal appeal.)
Like Black Hours, the music hearkens back several generations. In this case it's the tones of 1950s country-rock and folk icons like Buddy Holly and the Everly Brothers. "I wanted this album to be warm and sincere and to make people of all ages feel good," Martin has said, and so it does. The songs are catchy and fun, though they offer limited replay value for those who arrived by way of the Walkmen connection and not because they saw the premiere in Parents magazine, of all places.
That leaves Liberation!, the new and all-too-aptly named debut from bassist-turned-organist Peter Matthew Bauer (he and Martin traded instruments for 2006's A Hundred Miles Off). Like the others, it's a solo record in name only; Bauer is hardly operating alone, thanks to a team of what he calls "dirtbag greasers" from Philadelphia and Austin. But unlike his former bandmates' efforts, Liberation! genuinely sounds like a full-band effort. It's loud and messy and unabashedly psychedelic in ways the Walkmen never were, teeming with Far East flourishes and galloping tom-toms and fogs of reverb.
That's all well suited to Bauer's lyrical concerns: religion, mostly, in its various intriguing and confusing manifestations. There are songs about growing up in ashrams and Indian astrology and other musings that struck Bauer on post-hiatus travels through Europe. At least one critic has drawn parallels to Their Satanic Majesties Request, the Rolling Stones' oft-reviled 1967 excursion into psychedelic territory. But in Bauer's vocals, I hear hints of Lou Reed—raw, untrained and full of shouted exaltations. Performing the record live last Thursday night in Brooklyn, Bauer's "greasers" were just rehearsed enough to nail its weird, quasi-spiritual energy, and Bauer proved a charming rookie bandleader, at one point grabbing his guitarist's instrument mid-song because he was getting the chords wrong.
Fitting enough for a record called Liberation!, a title that has implications of its own given Bauer's newly solo status. Today marks seven months since I first mourned the Walkmen's untimely demise. Now I'm left wondering if there was much reason to mourn.