Walker: Independence is the new spinoff coming to The CW, with a release date this fall.
The CW series is a prequel to the Jared Padalecki-starring Walker. Its cast is led by Katherine McNamara as Abby Walker, an ancestor to Padalecki's Cordell Walker living in the late 1800s.
Independence has a plot that sees Abby's husband murdered, leading her on a journey that takes her to a town call Independence—where it just so happens the sheriff is the man who killed her spouse.
Here's everything you need to know about the Walker spinoff before it comes to The CW.
When Is 'Walker: Independence' Coming Out?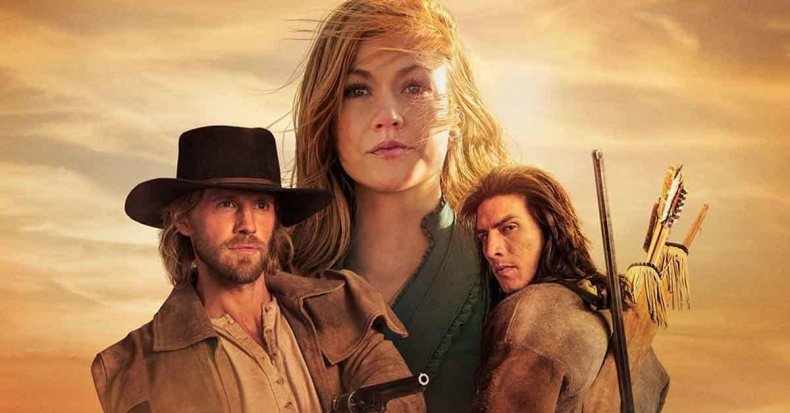 The CW has confirmed that Walker: Independence is coming in fall 2022.
In May, The CW announced its fall line-up, which had Walker: Independence airing on Thursdays at 9 p.m. ET—in the time slot after its mother show, Walker.
Exactly when the spinoff is airing has not been confirmed. A Deadline article announcing some of the cast reported that the show would start on September 1, but this line was later removed from the article.
Who Is in the Cast of 'Walker: Independence'?
Leading the Independence cast is Katherine McNamara, formerly of The CW's other hit series Arrow. At one point, McNamara was due to headline an Arrow spinoff named Green Arrow and the Canaries, though the show was ultimately not produced.
In this new show, she plays Abby Walker, a 19th-century ancestor from Boston, widowed when her husband is murdered on their journey out west. She sets out for revenge, meeting a man called Hoyt Rawlins on the way. He is played by Matt Barr, who played a descendant of the character on the main Walker and also currently stars in Blood & Treasure.
Walker heads to the town of Independence, a place full of characters with secrets. Among there are:
Philemon Chambers (Single All the Way) as Gus, the deputy sheriff of Independence;
Lawrence Kao (Wu Assassins) as Kai, a former railway worker turned laundry owner;
Greg Hovanessian (Another Life) as Tom Davidson, Independence's sheriff—and the horse thief who murdered Abby's husband;
Justin Johnson Cortez (9-1-1: Lone Star) as Calian, a member of an Indigenous scouting party that saves Abby from death;
Gabriela Quezada (9-1-1) as Lucia Reyes, a singer at the local dance hall;
Katie Findlay as Kate (Zoey's Extraordinary Playlist), a federal agent who has disguised herself as a burlesque dancer.
What Will Happen in 'Walker: Independence'?
The official plot synopsis reads: "Abby Walker is an affluent Bostonian whose husband is murdered before her eyes while on their journey out West. On her quest for revenge, Abby crosses paths with Hoyt Rawlings, a lovable rogue in search of a purpose. Abby and Hoyt's journey takes them to Independence, Texas, where they encounter diverse, eclectic residents running from their own troubled pasts and chasing their dreams. Our newfound family will struggle with the changing world around them, while becoming agents of change themselves in a town where nothing is what it seems."
Some of the Walker spinoff's drama is teased in the extended trailer released by The CW. In this promo, we see Abby plotting to kill the sheriff, while the secrets of her fellow town residents are teased.