'The Walking Dead' Danai Gurira to Exit After Season 10: Why Is Michonne Leaving?
The Walking Dead superstar Danai Gurira will reportedly sever ties with the popular TV series after its 10th season. Sources confirmed the news to The Hollywood Reporter Friday afternoon, saying the Michonne actress will expand her influence to both related and unrelated projects.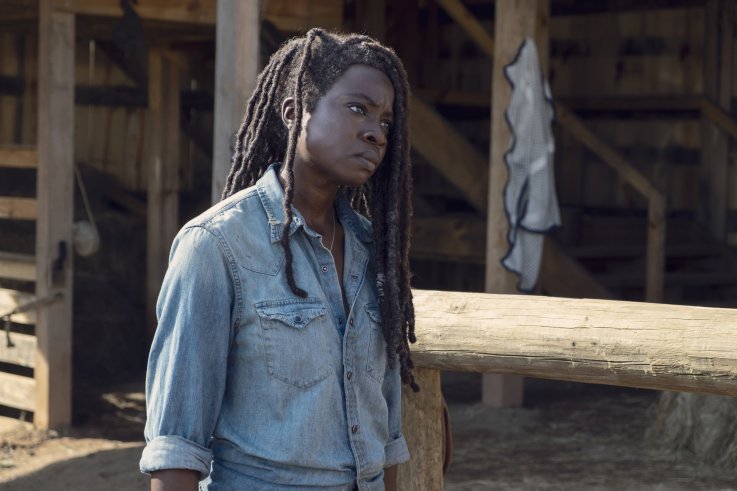 Gurira has yet to officially comment on the announcement, but THR's sources suggest Michonne will cap off her time on the show with a limited role in Season 10 across "a handful of episodes." Following the departure of Andrew Lincoln's Rick Grimes late last year, this is the second major member of the cast to leave the show in the span of a few months.
As depressing as the news might be for The Walking Dead faithful, however, not all hope is lost for a continuation of Michonne's arc. Back in November, AMC revealed plans to develop a series of TV-produced movies to flesh out Rick's future. If there's more of Grimes' story to tell, it seems reasonable to think Gurira would be part of those projects. Independent of The Walking Dead, it's also impossible to ignore Gurira's well-earned rise in popularity. Her performance as Okoye in Black Panther was essential to the Oscar-winning ensemble cast. She also earned accolades as a playwright for her work on The Covert in 2012.
As to why she'd opt to leave The Walking Dead, the answer is pretty clear. Not only is there great potential for Gurira to continue Michonne's story in other ways, but the actress also has a chance to experiment with many new opportunities. Speculation about her possible departure reached an all-time high earlier this week, but it's nice to know fans will get some sense of resolution for Michonne in the back half of the year.
As of now, Michonne's character in The Walking Dead Season 9 is the embodiment of human struggle. Since Rick's departure from Alexandria, she's fought to open herself to others and sports a suspicious scar across her back. Might this dark past eventually compel her to leave her community behind? What does that mean for her children? Let the theorizing begin!
The Walking Dead returns to AMC February 10. Gurira's final episodes will presumably air this fall.
What are your thoughts on Danai Gurira leaving The Walking Dead? How will Michonne's story end? Tell us in the comments section!
'The Walking Dead' Danai Gurira to Exit After Season 10: Why Is Michonne Leaving? | Culture