'The Walking Dead' Explained: Who is Beta? Identity Confirmed in Season 10, Episode 12
In The Walking Dead, most of the Whisperers have their own reasons for wanting to hide their identity under grisly skin masks. However, it seems like one of them may have more of an incentive for his identity to remain secret than the others. Beta (Ryan Hurst) had part of his mask scratched away in TWD Season 10, Episode 12 (titled "Walk With Us"), revealing that he is somewhat of a celebrity within the show universe.
In the episode, streaming now on the AMC website, Beta has a confrontation with Gamma (Thora Birch) that leads to his mask getting torn and part of his face becoming visible. One of the Whisperers recognizes him, saying, "Your voice sounded familiar, but...," only for Beta to kill him to keep his secret.
This hints that The Walking Dead character is some sort of famous figure with a recognizable voice, but in the last season of spin-off Fear the Walking Dead an Easter egg revealed exactly who Beta is.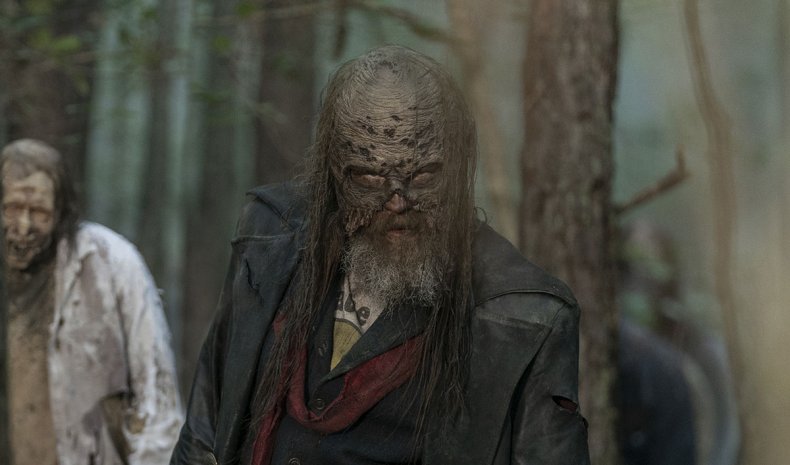 In FTWD Season 5, Episode 14, titled "Today and Tomorrow," Grace (Karen David) and Daniel (Ruben Blades) were traveling with a batch of vinyl records, which they then had to leave behind when they were confronted by a group of Walkers. On one of these records, we saw the face of Beta actor Ryan Hurst wearing a cowboy hat, suggesting he is a famous country singer—a change from the comic books where Beta is a former basketball star.
We may even have heard some of Beta's music within The Walking Dead. In Season 10, Episode 5 ("What It Always Is"), Magna (Nadia Hilker) was seen listening to a country song that may have been sung by Hurst. Though the showrunners have not confirmed this, former TWD star Beth Greene (who wrote the song) revealed on a podcast that the show was specifically looking for new country songs—which seems like a big coincidence when there is a big in-universe country star hiding behind a Whisperer mask on the series.
Hurst himself seemed to confirm that these Easter eggs were teasing his character's identity. He told Entertainment Weekly: "I can't tell you too much about that. We've been dropping Easter eggs here and there, maybe on this show, maybe on another show that's connected to it, but I'll sort of keep dangling that carrot and let people wait for the end of this season to see what happens."
He added to this on his appearance on Talking Dead: "I can't say too much...All I can say at this point is maybe Beta was a large personality in the world before the apocalypse, and that sort of letting go of that might have been tragic to his psyche. I can't say much more than that."
The Walking Dead Season 10 airs Sundays at 9 p.m. ET on AMC.