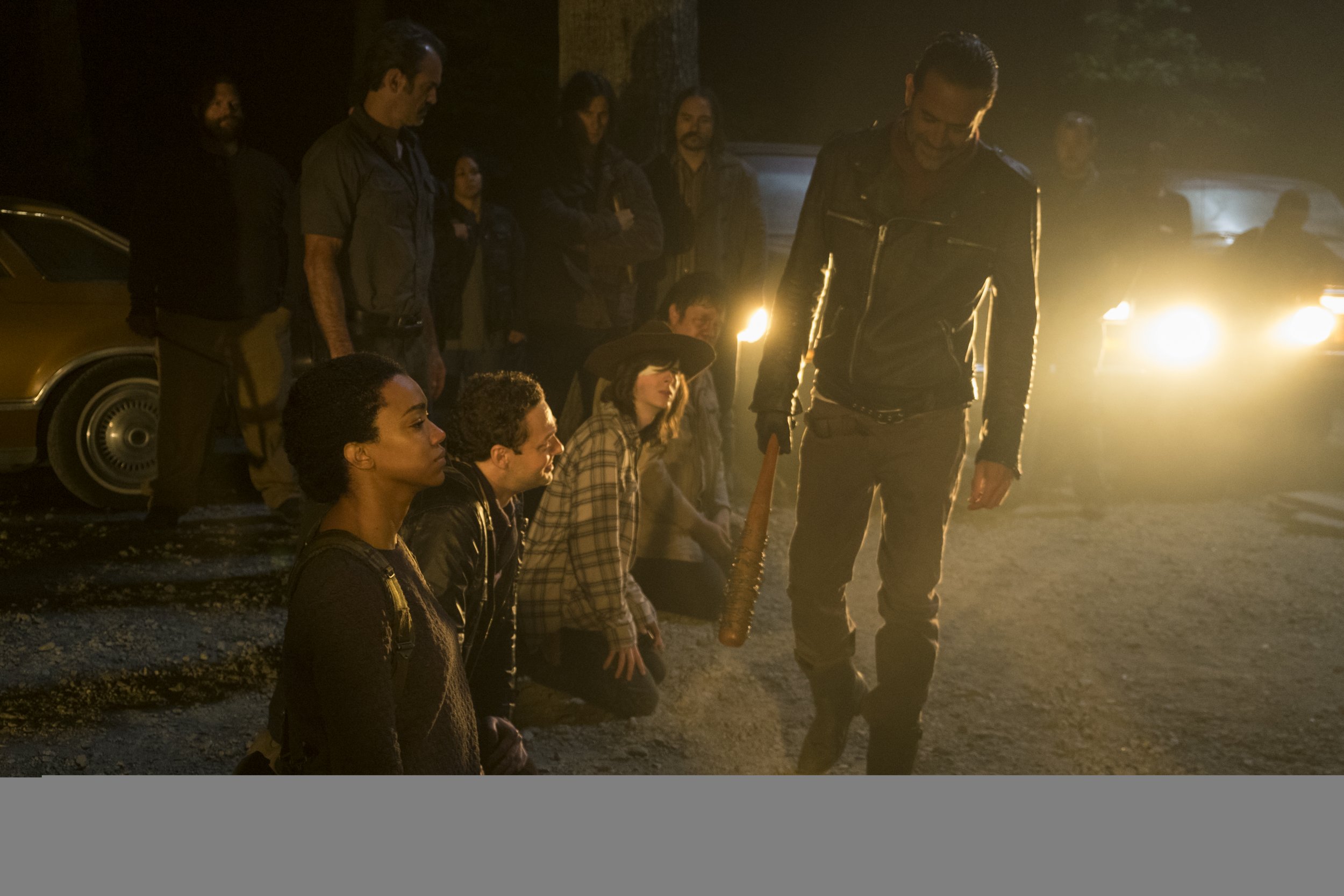 The Walking Dead returned for its seventh season Sunday night with at least one character meeting a grisly end thanks to villain Negan and his barbed-wire baseball bat Lucille.
The result was an episode that Frozen's Josh Gad said makes Game of Thrones's Red Wedding "look like an episode of Sofia the First." What could possibly be more horrifying than an unborn fetus being stabbed to death?
Sunday's episode broke a million hearts when the AMC drama killed off long-time fan favorite Glenn Rhee, played by Steven Yeun, who has appeared since season one. But if Glenn's traumatizing death, complete with his eyeball popping out of its socket, wasn't emotional enough, Negan (Jeffrey Dean Morgan) claimed a second victim that added a twist to the season six cliffhanger. Viewers also said farewell to Abraham Ford, played by Michael Cudlitz since season four.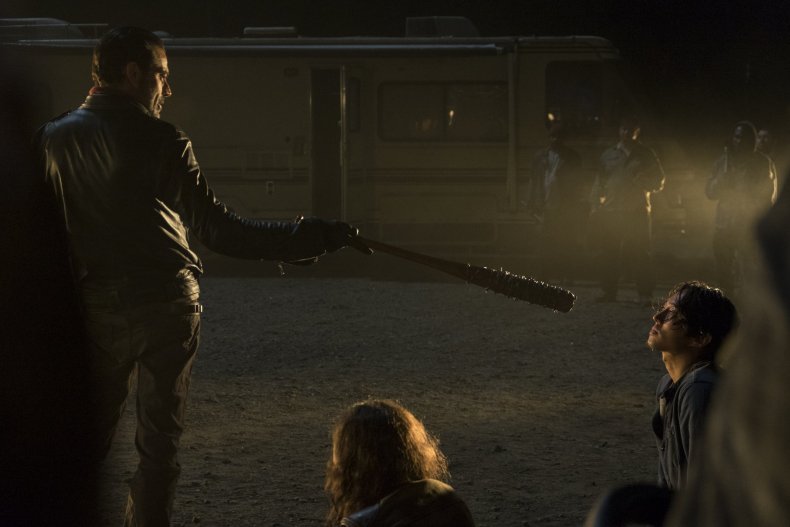 TV's most gruesome death?
Game of Thrones has had the market cornered for some of television's most violent send-offs for the past six seasons, but in Glenn's death, The Walking Dead may have just usurped its crown. For fans of Robert Kirkman's TWD comic book series, Glenn's death was foreshadowed: Negan killed him in similar fashion in the 100th issue of the series. But seeing his eye bulge out of its socket and his dead body twitching after having his head caved in by Lucille was terrifying nonetheless.
Of course, The Walking Dead's producers changed things up just slightly by giving viewers the added twist of Abraham dying first, a bait-and-switch tactic to make you think Glenn would survive. "I need you to know me," says Negan before delivering the final blows to Glenn, with his girlfriend Maggie, Rick and the rest of the gang watching on.
The purpose of the deaths was very much to set Negan up as the show's most formidable villain yet, more than The Governor or the cannibals of Terminus. By having Negan so mercilessly kill Glenn, he has solidified himself as just that.
Steven Yeun reacts to Glenn's death
Six seasons and an internet-winning romance with Maggie later, Glenn is no more. The parting shot was a dream-like sequence of what could have been: Glenn, Maggie, their friends and a baby around the dinner table.
Glenn's memorable death was ripped from the pages of Kirkman's comics and while it could have been retrofitted to another character, Yeun himself says he was adamant that he get to play out the scene.
"When you read that comic, you kind of don't want that to go to anyone else," said the actor on Sunday's episode of companion show The Talking Dead. "It's such an iconic moment. I think I even said: 'Don't give that to anyone else.' It's such a gnarly thing to say but living that out was very wild.
"At the same time, that moment happening and being realized on television in a different medium and to do it in the way that we did it, I think is brave and at the same time, super affecting. For me that was motivation to be like, okay, that's great."
"Suck my nuts"
If you're going to be struck to death with a baseball bat, army veteran Abraham Ford's defiant final words to Negan is surely the way to do it.
His death may have been overshadowed by the more poignant loss of Glenn, but Abraham, played by Michael Cudlitz, dropped one final zinger as he exited the show, telling Negan to "suck my nuts."
Speaking on The Talking Dead, Cudlitz said: "To actually insert something in there, I thought it was awesome. And I think it's very, very appropriate for him to go out that way."
Executive producer Scott M. Gimple and Kirkman, meanwhile, said the double-murder twist came to them two years ago.
"I think the hardest thing about it was thinking while starting the script, 'Well, what would break Rick?' But looking for a way to break the audience too. Not in a way that is in any way to hurt them, but for them to believe that Rick Grimes would be under the thumb of Negan," said Gimple.
With two characters down in the first hour of season seven and another seven episodes to go before the midseason break, Negan's reign of terror has just begun. And as he said in the opener, Lucille is thirsty… meaning more death could be on the cards.
The Walking Dead continues Sundays at 9 p.m. on AMC in the U.S. and Mondays at 9 p.m. on Fox in the U.K.