'The Walking Dead' Killer Cliffhanger: Meet the Frontrunners for Negan's Victim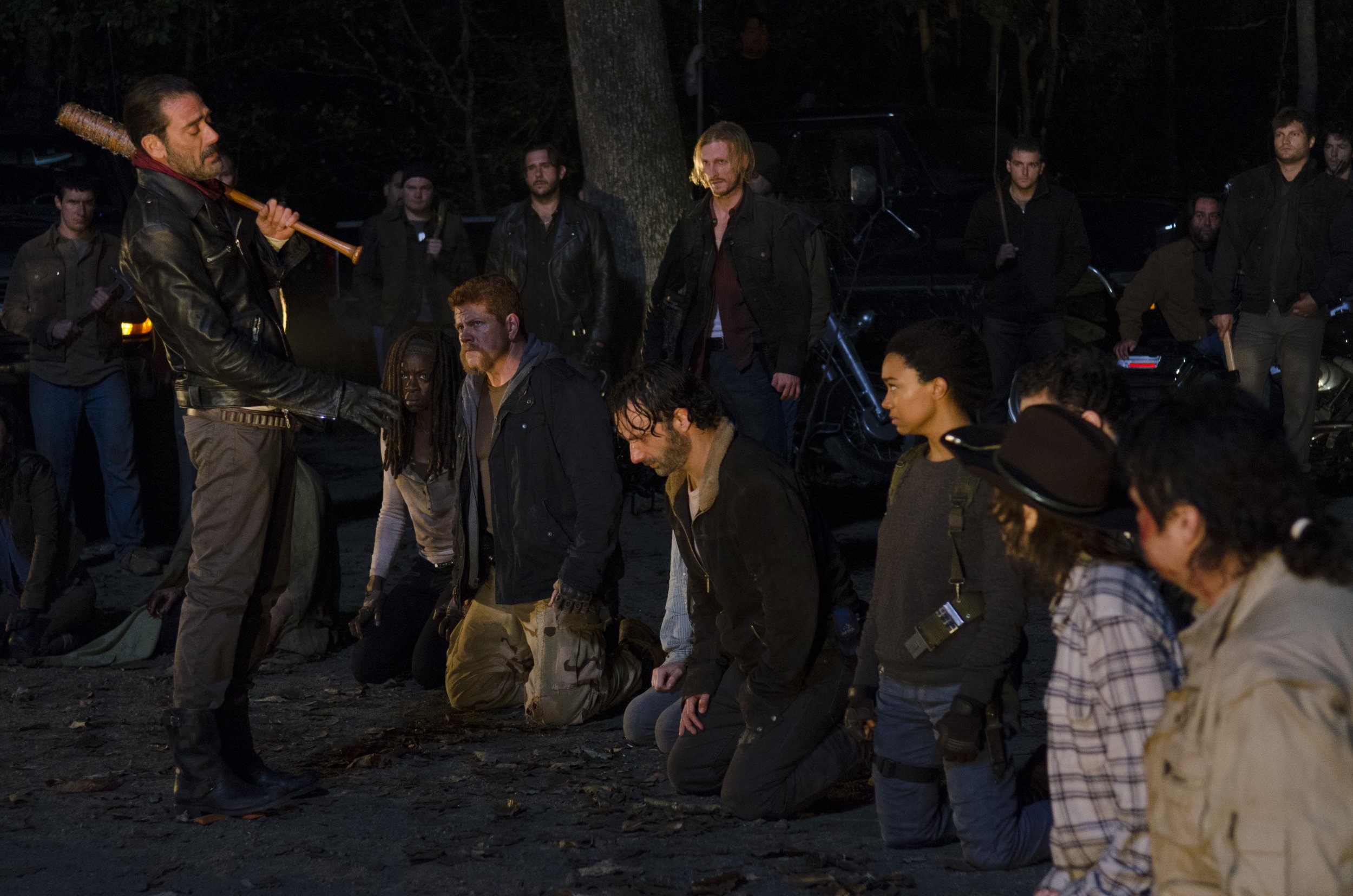 As television cliffhangers go, it's hard to top Jon Snow's death at the end of Game of Thrones season five. But The Walking Dead gave the HBO drama some strong competition when it concluded its sixth season in April with not just one, but 11 characters in peril.
Who did the show's new villain Negan bludgeon to death with his beloved baseball bat wrapped in barbed wire, Lucille? (Imagine how many baseball bat-themed Halloween costumes there will be this year after the Beyoncé video and Suicide Squad's Harley Quinn, like Negan, put them in public consciousness.)
Over the last six seasons there has been a lot of death on The Walking Dead but the core favorites among the cast—Rick, Daryl and Glenn—have managed to make it this far without being turned by a walker or wind up killed by one of the show's many villains. That all changes in Sunday's season seven premiere when one beloved character bites the dust with no chance of reprieve.
To say this is the biggest death on The Walking Dead may be an understatement. As executive producer Scott M. Gimple tells Entertainment Weekly: "It's extremely purposeful."
To prime you for the big resolution Sunday, Newsweek took a look at the 11 possible victims of Lucille. Watch our handy video above.
Still not sure who it will be? Well, to narrow the field down even further we called on bookmaker William Hill for the latest betting odds on Negan's victim and dissected the five frontrunners. Warning: possible spoilers ahead.
Going out swinging—who will meet Lucille?
Glenn Rhee: Odds: 2/1
Poor sweet Glenn has been one of The Walking Dead's sweetest and most cherished characters since day one—and is one half of the show's resident power couple with Maggie. But Glenn is the most obvious choice to face Negan's deadly swing because that's exactly how this scene went down in Robert Kirkman's comic books on which the show is based. In Volume 17: Something to Fear, Negan brutally bludgeons Glenn to death in front of his friends to set an example to the rest of them that he is in charge now.
Rosita Espinosa: Odds: 2/1
Rosita, who debuted in season four along with Abraham Ford and Eugene Porter, is the second favorite to be killed, but would her death really have the impact that this season-ending cliffhanger is hoping to achieve? Rosita's relationship with Abraham ended in season six and she has very few close ties to the rest of the group. While indeed her death would be sad, it would also perhaps not be poignant enough for fans who have watched The Walking Dead since season one and are expecting a big, guttural heart-punch of a death.
Aaron: Odds: 3/1
Aaron is yet another fairly new character to The Walking Dead, joining the series in season five. However, unlike Rosita, his death would perhaps be a little more tragic. The character has exhibited a pure, kind-hearted nature that is sorely needed on a show filled with death and violence. It seems Aaron and boyfriend Eric Raleigh still have a lot more ground to explore as the show's first gay couple, too. And then there's his friendship with fan favorite Daryl that we aren't ready to see fizzle out just yet.
Abraham Ford: Odds: 3/1
If Negan wanted to take out any member of Rick's group to exert his authority over them, then Abraham seems a strong pick. The military man with a short fuse would undoubtedly be tough to govern for autocratic Negan and by taking out one of the toughest members of the group, Negan could neutralize the chances of the rest of them rebelling.
Eugene Porter: Odds: 3/1
Loveable Eugene and his mullet of doom immediately won over viewers when he joined the show in its fourth season. Of the newer characters to join The Walking Dead's large ensemble cast, Eugene has been one of the few to inspire the same kind of fan appreciation as Daryl and Glenn. Losing him would pack an emotional punch for the audience, and the group.
The Walking Dead season seven premieres Sunday at 9 p.m. on AMC in the U.S. and Monday at 9 p.m. on FOX in the U.K.