'The Walking Dead' Rick Helicopter Theory Debunked As Cast Salutes Andrew Lincoln
The Walking Dead Season 9 features what's intended to be Rick Grimes' final episodes, and it's looking increasingly likely that Andrew Lincoln's exit scenario may be permanent. A recent article from Entertainment Weekly may dispel popular rumors regarding a helicopter and the character's potential return.
Shortly after the Season 9 Comic-Con trailer debuted, fans took notice of a helicopter marked with the letter "A" featured in the footage. Jadis appears to be communicating with the pilot via a walkie talkie, which suggests the vehicle has a clearly orchestrated role in an upcoming plot. The letter itself, however, is perhaps the most crucial detail of all. Rick has been stored in Terminus train cars and junkyard shipping containers with "A" written on them in the past.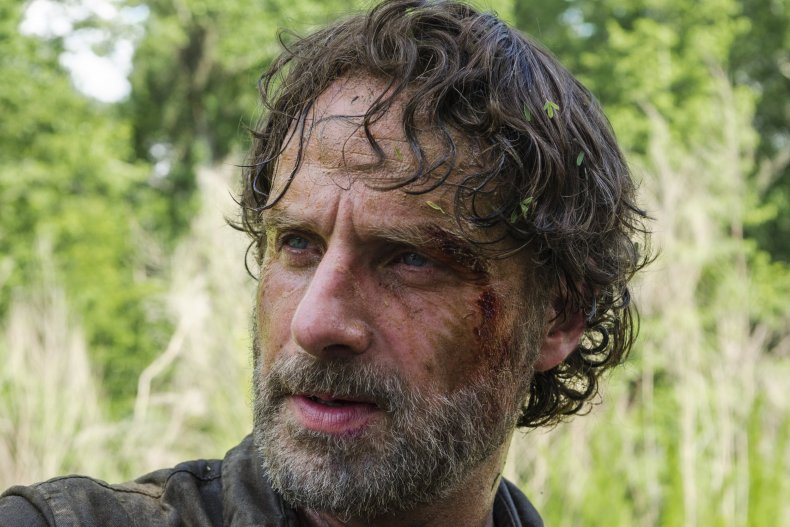 This strange similarity has prompted fans to wonder if Andrew Lincoln's exit from the show may, in fact, be via helicopter. Sensing division within Alexandria, does Jadis quitely ship off Grimes to another community? Is Rick somehow injured and sent to the presumably more developed Commonwealth led by the mysterious Georgie?
If recent developments are any indication, it would appear the answer to both those questions is a resounding no. On Friday afternoon, Entertainment Weekly posted an article titled "Goodbye Andy," featuring 23 separate tributes from almost all of The Walking Dead's key actors. Given the serious nature of the piece, and EW's generally close connection to AMC staff, the implication here is that Lincoln will be leaving the show for good. The sentiments expressed by the likes of Norman Reedus, Chandler Riggs and Lennie James appear far too sincere to be designed around a temporary break from production. You can read a few examples from the tributes below.
Chandler Riggs [Carl]: "As a fan, I was sad that to hear that he would be leaving the show, but as his 'TV son' and his friend, I am so excited for him. Knowing that he's going to have so many more opportunities to do what he loves is amazing. He has been telling me for years about all these amazing ideas and projects that he wants to work on, but was never able to because of the show — and now he has the opportunity to do them. I am so excited to see where his career goes from here, and I can't wait to support him in everything that he does."
Lennie James [Morgan]: "When the roll is called of the most important leading men in TV history, up yonder or anywhere else, Andrew Lincoln's name will be there. It has to be there. Andy took a responsibility for The Walking Dead like no other actor I have ever come across or heard about."
Jeffrey Dean Morgan [Negan]: "He's number one on the call sheet, the true leader of our show, and trust me... it ALL, always trickles down from the top. He's the top. He is the patriarch of The Walking Dead family and he leads with his heart, passion, excitement, and love."
Norman Reedus [Daryl]: "When we would go to inspect something and talk about what the plan was, instead of Shane and Rick just looking to each other and talking about it, they started looking to me too. That helped propel my character into one of the leaders on the show, and those two actors did that naturally."
The full list of accolades is well worth the read for diehard Walking Dead fans, but the intention behind them is clear. At least from the cast's point of view, these people are saying what's believed to be a final goodbye to a friend that has taught, loved and inspired them greatly. Everything reads like a eulogy, which seems to imply a sense of finality to Rick's inevitable end.
That being said, while Rick's time on the show will soon officially end, Lincoln has confirmed he will be returning to the show's Season 9 set to shadow staff in preparation for directing a Walking Dead episode in Season 10.
It won't be long before The Walking Dead fans learn Rick's true fate, but the words expressed here suggest he'll probably be dying. It's the scenario surrounding those unfortunate circumstances that's the biggest mystery of all.
The Walking Dead returns to AMC Oct. 7.
What are your thoughts on Rick's final moments? Is the Helicopter theory truly debunked? Tell us in the comments section!