'The Walking Dead' Season 10, Episode 1 Recap: Do The Whisperers Have a Nuclear Weapon?
The Walking Dead Season 10 has now started airing on AMC, with Episode 1, titled "Lines We Cross." In Sunday's premiere, a big satellite fell from the sky and caused forest fires across Oceanside. The AMC series' latest season also introduced some new characters into the world of TWD as the cast battle with walkers and Whisperers, who have what is called a "nuclear weapon" by the community.
TWD fans were also treated to some sweet scenes between Daryl (Norman Reedus) and Carol (Melissa McBride) in Episode 1.
What happened in The Walking Dead Season 10, Episode 1?
The episode began with a former Soviet satellite falling towards Earth while the survivors of Oceanside continued to live on unaware. Since we last saw them, they have clearly been training hard, as the episode begins with Aaron (Ross Marquand) leading a group to dispatch walkers they've trapped in a boat with military-like precision and medieval-style weapons. Here, we meet the first of the new characters of The Walking Dead Season 10 as Jules (Alex Sgambati) flirted with Luke (Dan Fogler).
Meanwhile, Judith (Cailey Fleming) found a Whisperer mask, spelling trouble for the youngsters and putting the community into lockdown while Michonne (Danai Gurira) led a search party. Previous to this, they had been keeping off of Alpha's (Samantha Morton) land, but after Aaron spotted some walkers on one of her bridges, he crossed into her territory to dispatch them.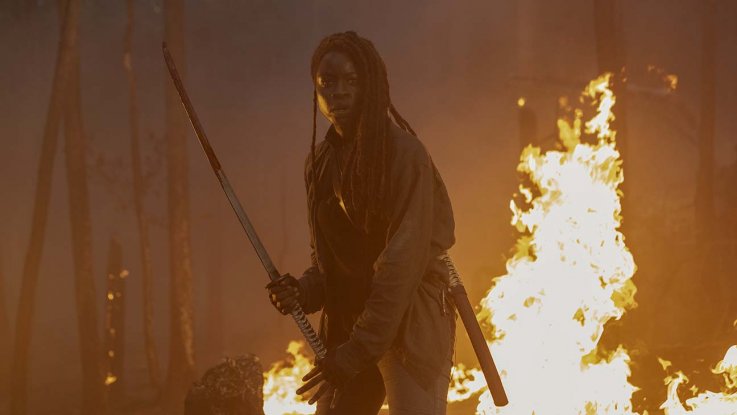 However, it seems that the Whisperers may have been in their territory too as Magna (Nadia Hilker) and Yumiko (Eleanor Matsuura) discover a walker skin. They have no time to ponder the implications of this, though, as the satellite crashed down to earth.
Meanwhile, in Alexandria, the rumours of Whisperers lead to more suspicion placed on Lydia (Cassady McClincy), especially as she bonds more with Negan (Jeffrey Dean Morgan). Back at Oceanside, Carol has returned to where the community has been waiting for messages from Maggie (Lauren Cohan). Daryl tries to persuade her to stay as they ride together in the woods hunting. They kill a deer, but when it crosses over into Alpha's territory they leave it. Elsewhere, Kelly (Angel Theory) is worried about her worsening hearing, though Connie (Lauren Ridloff) tries to comfort her.
We return to the sight of the satellite crash, which starts a forest fire made worse by the community having to fight walkers as they are forced to enter into Alpha's territory, unleashing an attack from Alpha's "nuclear weapon"—her term for the huge horde of walkers she controls.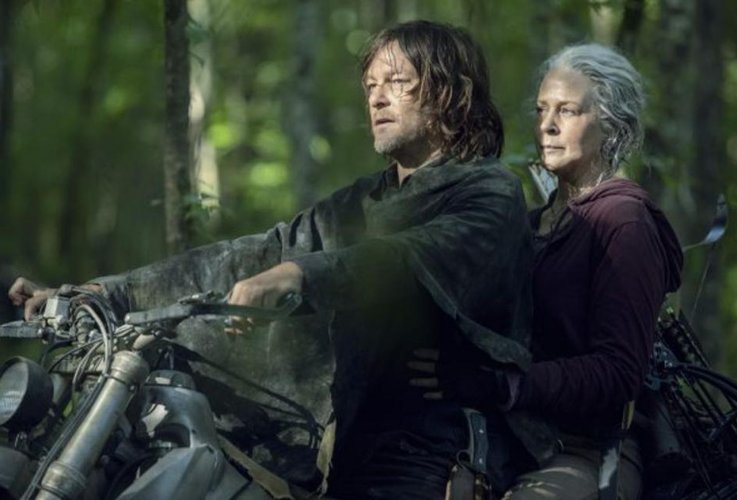 Speaking of Alpha, Carol and Daryl find themselves on a cliff, where Carol locks eyes with Alpha. She now knows the community has crossed into her territory and war is sure to follow.
However, the community could find itself with a technological advantage as Eugene (Josh McDermitt) salvages elements of the satellite. Whether this leads to anything will be discovered by viewers as The Walking Dead Season 10 continues on AMC.
The Walking Dead Season 10 airs Sundays at 9 p.m. ET/8 p.m. CT on AMC
'The Walking Dead' Season 10, Episode 1 Recap: Do The Whisperers Have a Nuclear Weapon? | Culture