'The Walking Dead' Season 10, Episode 16 Release Date: When Will the Real Season Finale of the AMC Show Air?
The Walking Dead is one of dozens of shows which have been forced to end their current seasons early. The AMC show's April 5 episode is the last one that fans will get for some time, meaning that it is acting as a sort of season finale. However, with that episodes so clearly setting up for the real finale, TWD bosses have promised that Season 10, Episode 16 will air at some point in the future to give the most recent set of episodes a proper ending.
When will The Walking Dead Season 10, Episode 16 air?
Currently, the finale of TWD Season 10 has no release date. However, it is likely that the episode, titled "A Certain Doom," will air sooner than other shows canceled due to the novel coronavirus outbreak, possibly in the fall.
The delay was announced via the AMC Twitter page. The tweet read: "Current events have unfortunately made it impossible to complete post-production of The Walking Dead Season 10 finale, so the current season will end with its 15th episode on April 5. The planned finale will appear as a special episode later in the year."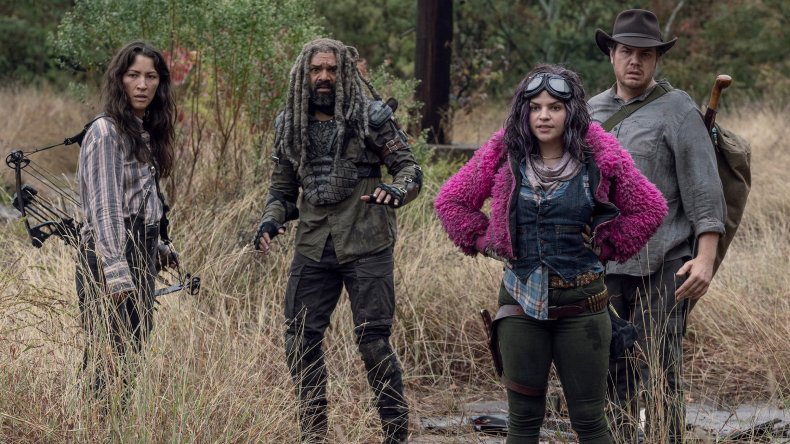 In that announcement, there is some good news for fans of The Walking Dead. It seems as if the episode has been filmed, and the production crew just need to finish putting it together. This should mean that, once social isolation measures are over or loosened slightly, AMC should be able to release the finale episode fairly quickly.
As such, it is likely that "A Certain Doom" will air in the fall—perhaps around the time that Season 11 of TWD was expected to air but now will not due to production shutdowns.
Also delayed is The Walking Dead: World Beyond, a spin-off that was meant to air straight after the Season 10 finale of the original show. As such, it seems likely that AMC will air the Season 10 finale the same night that World Beyond premieres later in 2020.
Though this has not been confirmed, it is possible that World Beyond has been delayed so that AMC can air it in the slot where Walking Dead Season 11 was supposed to be. If this is the case, fans might expect TWD Season 10, Episode 16 to air in early October 2020, with World Beyond following just behind it.
The delaying of Season 10, Episode 16 may have been bad news for fans of The Walking Dead, but was great news for viewers of Killing Eve. The release date of Season 3 of that show was pushed forward to fill in the gap in AMC's schedule left by The Walking Dead finale.
The Walking Dead Season 10 is streaming now on the AMC website and app.