'The Walking Dead' Season 10, Episode 21 Spoilers: Are Carol and Daryl Done?
The Walking Dead season 10, episode 21 airs on Sunday, and we've got some fresh SPOILERS to share about the upcoming plot courtesy of The PT Channel on YouTube.
Picking up from the Daryl-Carol plot of episode 18, this one further establishes the growing rift between these two fan-favorite characters. Want to know more about the future of their friendship in advance of the premiere? Then you've come to the right place.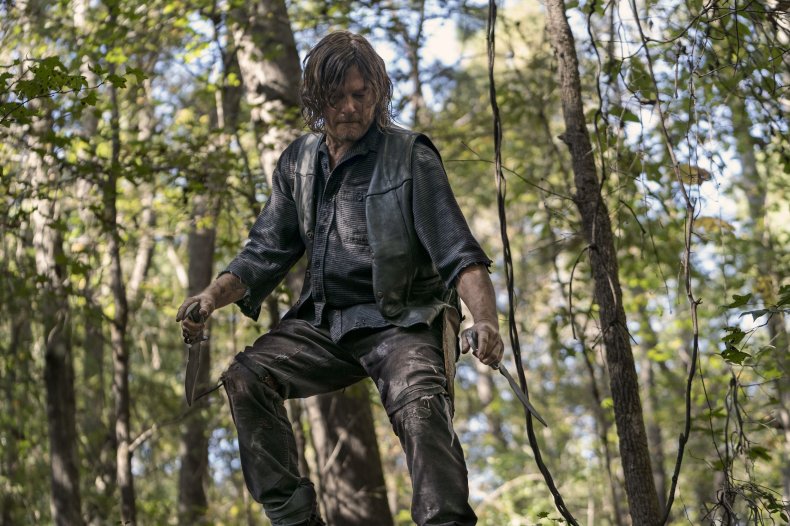 Fittingly titled "Diverged," the upcoming plot explores the ongoing feud that has longtime walker stalkers in a world of concern. Knowing they're at an impasse, Daryl and Carol decide to go on separate missions: Carol and Dog return to help out a struggling Alexandria, while Daryl embarks on a solo quest to fix his motorcycle.
The plot shifts between these two concurrent stories to suggest a parallel in their predicaments. Starting with Daryl, he discovers that he needs a hose to fix his bike and a tool to attach it. Unfortunately, however, Daryl remembers he gave his Swiss army knife to Carol. So, he begins the plot with a busted ride and no means of making the situation better.
Shifting over to Carol, she finds Alexandria's community in distress and decides to boost morale by making soup for the residents. But, given the damage to key locations, she's forced to set up shop in Daryl's home and assembles a makeshift kitchen in the garage.
As Carol begins chopping up ingredients for her soup, Dog starts going wild when he discovers a rat on the premises. Carol ultimately becomes fixated by the rodent, chasing it around the house and setting traps to no avail. In the meantime, Dog's outburst also ruins the ingredients Carol had collected. She ends up dealing with some walkers to get more and briefly fixes a broken solar panel.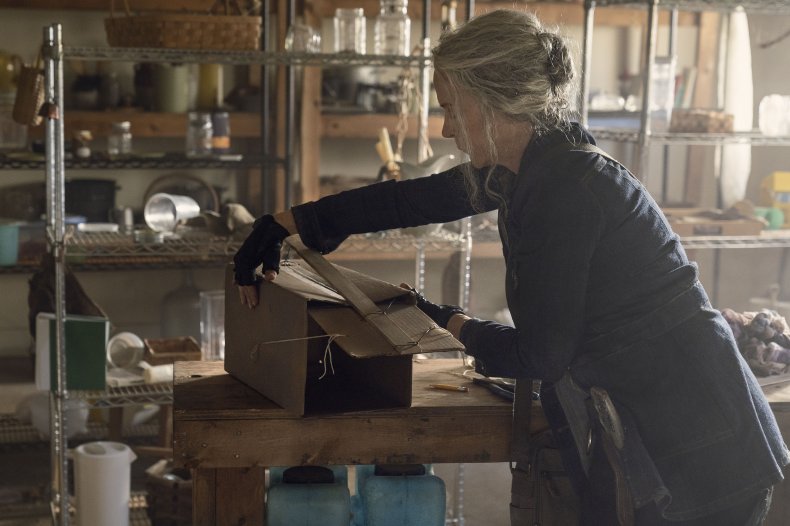 The return of power is brief, though, and she and Dog are ultimately surrounded by darkness in the middle of the night. Around this time, she goes back to searching for the rat and ends up tearing up the drywall in Daryl's place in an attempt to find it. In other words, she has a complete mental breakdown.
Daryl, on the other hand, is still hunting for a way to fix his motorcycle and he comes across some vehicles and a large cluster of walkers on some train tracks. He attempts to sneak by the horde, but ends up stepping on a twig that triggers an ambush. He engages in a long fight with one zombie in military gear, which may tie back to the ongoing subplot of the Reapers. After some searching, Daryl ends up finding what he needs to fix his bike and makes his way back to Alexandria.
For Daryl the next day is all about travel, but Carol is still shaken by her frustration back home. Jerry tries going in to comfort Carol by channeling Ezekiel's confidence, and, while the two characters speak, the rat ends up sneaking out of the house. When Daryl and Carol finally meet, Carol tries to give Daryl his tool back; however, Daryl says he doesn't need it. With this in mind, viewers are expected to believe their fight is not yet over.
Season 10, episode 21 takes cue from the other plots of Season 10C by focusing on smaller personal stories instead of plot-driven events. Between the two parallel incidents that Daryl and Carol experience, the suggestion is that both of these characters are still trying to resolve their unfinished business. Just as Daryl refuses to let the presumed ghost of Rick Grimes go, Carol still feels guilt for her actions surrounding Alpha and Connie. Perhaps the feud will only end if both characters forgive themselves for what has transpired.
The Walking Dead continues Sunday March 28 on AMC.
What are your thoughts on episode 21? What will end the fight between Daryl and Carol? Tell us in the comments section!