'The Walking Dead' Season 10 Recap: Gamma to Avenge Sister's Death as Thora Birch Joins Cast?
The Whisperers got another named member in The Walking Dead Season 10, Episode 2 as AMC viewers got to meet Gamma, played by Ghost World star Thora Birch. Gamma currently seems totally loyal to Alpha (played by Samantha Morton), but a recent interview with Birch seemed to suggest that she has not forgiven or forgotten The Whisperers for the actions that led to the death of her sister.
Though the flashback in The Walking Dead Season 10, Episode 2, titled "We Are the End of the World," was mostly about delivering a backstory for Alpha and Beta (Ryan Hurst), it did also introduce us to Gamma and her sister Frances (Juliet Brett).
Frances turned on Alpha and attacked her before The Whisperers pulled her off their leader and left her to die at the hands of the walkers. Though Gamma seems totally committed to Alpha on the AMC show, there is some evidence that this is all a ruse and she is biding her time before she can kill the leader and take her place.
This was hinted at in an interview that Birch, who has also starred in Hocus Pocus and Patriot Games, gave to Entertainment Weekly. She said: "I just approached Gamma from the point of view that she definitely is a Whisperer and dedicated to the cause and a near sycophant of Alpha's. However, that's only half of her brain, and I still believe that the other half of her brain sees things the way that she once did. So she's constantly has this internal battle within herself."
Newsweek subscription offers >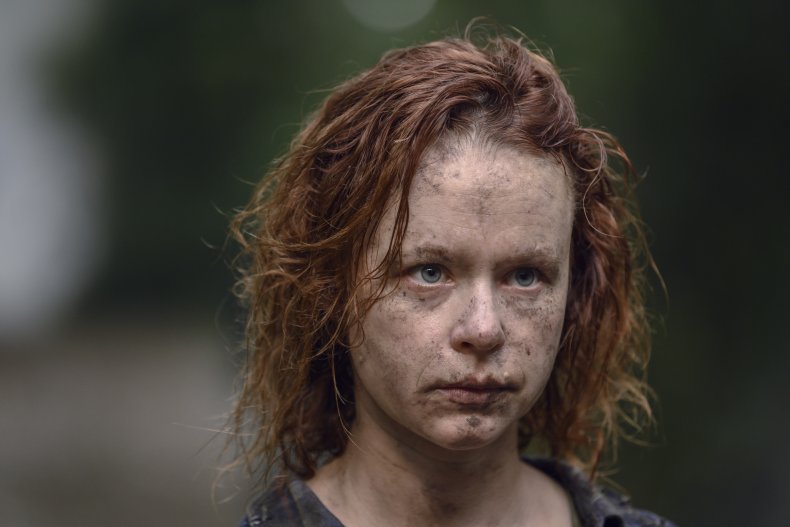 Speaking of the moment where Gamma chose Alpha over her sister, she said: "I believe that in that moment it's very much a snap decision. And I think at that point, in her journey, I do believe that they have been with Alpha for a while, and it's a pack group. So when it's do or die, what are you going to do? You're going to protect the pilot."
However, Gamma is likely to dwell on this snap decision as The Walking Dead continues, and this dwelling could lead to her turning against her leader. This was teased by showrunner Angela Kang in a separate EW article.
She said: "[Birch] has such an interesting take on this character because when you have a group that's wandering around wearing skin masks, you have to kind of be in a particular sort of space to kind of decide, 'This is the only way that I can survive or this is the right way.'"
Newsweek subscription offers >
This decision is due to be explored over the rest of The Walking Dead Season 10, as Kang revealed when she told EW: "We're going to explore a story of somebody who's just part of that group who rises into leadership. It's complex."
The Walking Dead Season 10 airs Sundays at 9 p.m. ET / 8 p.m. CT on AMC.
'The Walking Dead' Season 10 Recap: Gamma to Avenge Sister's Death as Thora Birch Joins Cast? | Newsgeek