'The Walking Dead' Season 10 Midseason Finale: Show Boss on Setting Up Michonne's Exit and Maggie's Return
The Walking Dead Season 10 has now aired its midseason finale, which offered a huge cliffhanger as well as hints at how Michonne (played by Danai Gurira) will be leaving the AMC series. Season 10, Episode 8 of TWD saw Daryl (Norman Reedus) and his group falling for an ambush by Alpha (Samantha Morton) while Michonne was left on a boat with new character Virgil (Kevin Carroll) to get some weapons to finally defeat the Whisperers.
Speaking to Deadline about Gurira's upcoming departure from the series, showrunner Angela Kang spoke of what is to come, as well as how the death of Siddiq (Avi Nash) in Episode 9 will affect her. She said: "There's more story to tell with Michonne within the season coming up... We spent some time mapping this out, because she only had limited episodes with us this year.
"We examined what are some of the journeys that she'll take that have both plot resonance but also just personal resonance for her. Also, Michonne's struggling with the death of her friend, Siddiq [Avi Nash]. He was so tight with Carl [Chandler Riggs] and after Carl's death, I think Siddiq took on a lot of significance, and that definitely plays into her story going forward, as well."
In talking to Virgil, Michonne talked about how her,"mercy prevails over my wrath." Speaking of this line to Entertainment Weekly, Kang said: "We were thinking for a while that it'd be interesting if, in some way, this character just kind of triggers thoughts about the past for Michonne. Just about all kinds of things. And so 'mercy prevails over my wrath' — obviously that's tied to Rick, but it was first uttered by Siddiq.
"To give an eye into our process, at first, we were going to play a version where maybe Michonne and that group was sort of siloed from the information about Siddiq. But in talking with Danai, she felt like she wanted to be able to honor her connection to Siddiq, which I think was a really valuable thought. Because there is this very deep connection to her family and Carl. Siddiq was really important to Carl."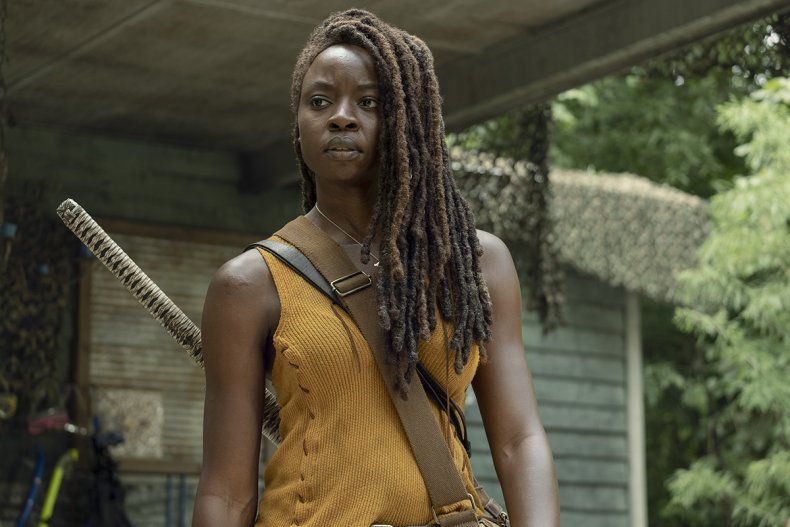 The Walking Dead midseason finale also featured its epic Darryl cliffhanger, of which the showrunner said: "We've trapped a bunch of people in a cave full of walkers, so we have to tell that story. So, that's definitely going to be a big part of when we pick back up."
Speaking about what else fans have to look forward to, she said: "Obviously, we have Negan [Jeffrey Dean Morgan] embedded with the Whisperers, so we'll continue to kind of tell the story that's involved there."
As for what else will happen in the back half of Season 10, Kang teased, "we kind of get to the big conflict between the Whisperers and our people." Someone who might be helping out in that is Maggie (Lauren Cohan). Cohan is returning to the show full-time in Season 11m but fans may get a glimpse of her before then. Kang told Deadline: "She will come back as a series regular in Season 11, but you know, we may see her before that."
She added to Entertainment Weekly: We will deal with what happens with Michonne and Virgil and the rest of that journey... We'll also follow some other threads that have been started in the first half such as the radio story. I think there's a lot of really exciting stuff to come."
The Walking Dead Season 10 returns in 2020