'The Walking Dead': Show Director on Why Margo's Death Could Seal Negan's Fate
The Walking Dead Season 10, Episode 4, saw Negan (played by Jeffrey Dean Morgan) finally escape from prison. However, his escape led to the death of Margo (Jerri Tubbs), who he accidentally killed by throwing her against the wall.
Though some fans have speculated that Negan will team up with the survivors to wipe out the Whisperers once and for all, the episode's director Michael Cudlitz has spoken about how Margo's death could be the act that leads to the death of Negan.
Speaking to Undead Walking, Cudlitz, who played Abraham Ford on The Walking Dead until 2018, said of Negan's actions in the episode: "I do believe in this situation [he] thinks it's over and he thinks he knows how it's going to play out after he gets blamed for the death.
"It's sort of like [Negan is thinking] 'I should have f-ing known because this is too good to be true.' When Margot goes down, he's pretty much resigned. Back in the cell when Daryl shows up he's resigned, he knows that it's over, and there's no way to come back from this one. And as much as Daryl wants him dead, he doesn't want [Negan] dead from this because he did something good."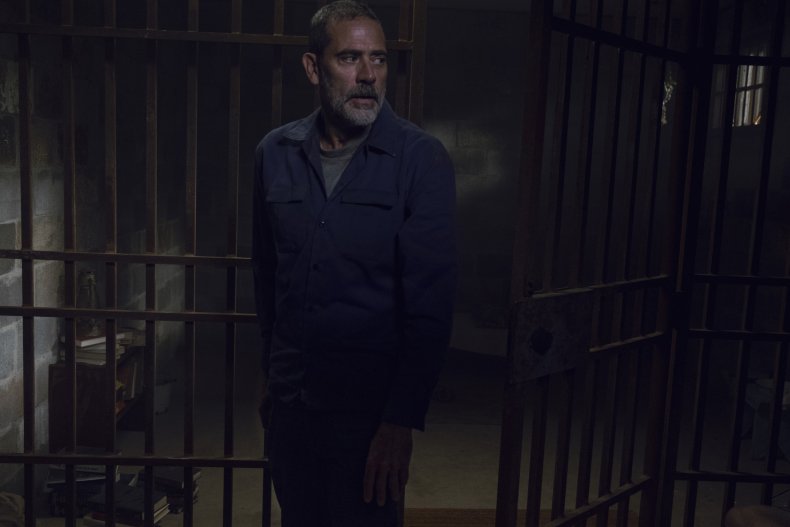 Cudlitz has also filmed The Walking Dead Season 10, Episode 7, which suggests that Negan's being hunted down by the council could take place over a number of episodes.
In the episode, titled "Silence the Whisperers," Negan escaped while the council discussed whether or not he should be executed, meaning that for now he is safe. However, if the council does choose to hunt him down, it could be a matter of time before the character is killed off.
However, Negan's escape following the death of Margo could also be the character's salvation if the FX show follows the same trajectory as the comics with Negan. In the comics, Negan goes after Alpha (Samantha Morton). Killing the leader of the Whisperers might be Negan's only way to atone for the death.
This was something hinted at in the Season 10 trailer, in which we see Michonne (Danai Gurira) handing Negan's beloved baseball bat Lucille to someone off camera, a shot which many have taken to mean that she will return Negan's weapon to him as part of a battle to end the Whisperers once and for all.
This was something hinted at by Walking Dead showrunner Angela Kang in an interview at PaleyFest LA reported by ComicBook.com. She said: "We're all so inspired by the comics. [Creator Robert Kirkman] is such a master of the page-turner. You read it and it's like a juicy, juicy, just fun comic book to read. There's so many wonderful, iconic moments in the comics, moments you get to and just say, 'Oh my God, I can't believe he just did that. I have to see this on screen!"
The Walking Dead Season 10 continues Sundays at 9 p.m. ET / 8 p.m. CT on FX