The Walking Dead's six bonus episodes have come to an end, with the final Negan-focused installment airing on AMC on April 4. This means that the countdown to Season 11 begins among TWD fans hoping that the show has been renewed.
They have good news: The Walking Dead has indeed been renewed for Season 11. In fact, Season 11 was ordered way back in October 2019 by AMC, when it was also announced that Lauren Cohan would return as Maggie—as she did in the first of the current season bonus episodes.
"The Walking Dead burst out of the gate ten years ago as a genre show that had all the character depth of a top-tier prestige drama," Sarah Barnett, president of AMC Networks Entertainment Group & AMC Studios, said in a statement.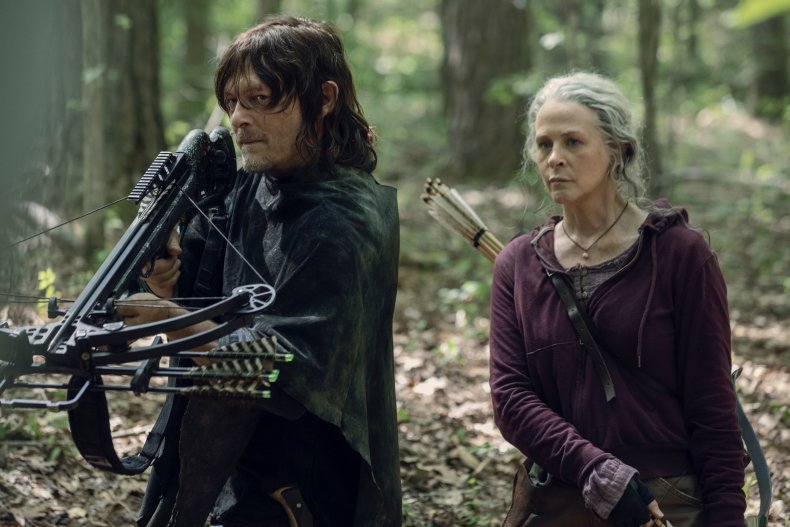 "And now ten years later—led by the brilliant Angela Kang and fueled by one of the most consistently talented casts in television—this phenomenon is flourishing creatively, with critics and audiences embracing its reset. We're delighted to welcome back Lauren Cohan, she has meant so much to this show and its passionate, global fanbase, who are in for a fantastic ride over the coming months."
At that point, the plan was to air Season 11 in fall 2020. However, the global coronavirus pandemic scuppered those plans, pushing the season into 2021. This led to the Season 10 bonus episodes airing in early 2021—episodes with fewer characters telling intimate stories, allowing the show to follow COVID-19 health and safety guidelines.
Since then, it has been confirmed that the release date of The Walking Dead Season 11 will be summer 2021. This was confirmed in early March by a tweet from the official Walking Dead account reading, "A New World Order. The final season begins Summer 2021."
As this tweet suggests, the bad news for TWD fans is that Season 11 is also set to be the final season of the show. This was confirmed by AMC in September 2020. The universe of the show, however, will continue, with movies starring Rick Grimes (Andrew Lincoln) and a Daryl (Norman Reedus) and Carol (Melissa McBride) spin-off, as well as a number of projects in development.
In a statement, Walking Dead universe head Scott Gimple said of this: "It's been 10 years 'gone bye;' what lies ahead are two more to come and stories and stories to tell beyond that.
"What's clear is that this show has been about the living, made by a passionate cast, team of writer/producers, producers, and crew, bringing to life the vision put forth by Robert Kirkman in his brilliant comic—and supported by the best fans in the world. We have a lot of thrilling story left to tell on TWD, and then, this end will be a beginning of more Walking Dead—brand new stories and characters, familiar faces and places, new voices, and new mythologies. This will be a grand finale that will lead to new premieres. Evolution is upon us. The Walking Dead lives"
The Walking Dead Season 11 is coming soon to AMC.