'The Walking Dead' Season 8 Episode 13 Spoilers Reveal Deaths at Hilltop
The Walking Dead Season 8 continues with episode 13, and spoilers from The Spoiling Dead Fans reveal the startling developments ahead. The battle for Hilltop finally begins, and key characters are injured or killed in the process.
SPOILERS follow this break. Those who don't want to know the outcome of episode 13 of The Walking Dead should stop reading.
The plot of episode 13 is fairly thin, focusing entirely on the climactic battle at Hilltop. Simon and his team of tainted warriors arrive at Maggie's doorstep, and they don't back down from the challenge. Outside the bulk of the fighting, though, there's a moment between Tobin and Carol where she tells him about her commitment to avoiding conflict. She believes there will always be new threats even after the Saviors are gone, so she's not sure if she'll stay involved with the community after the war is over.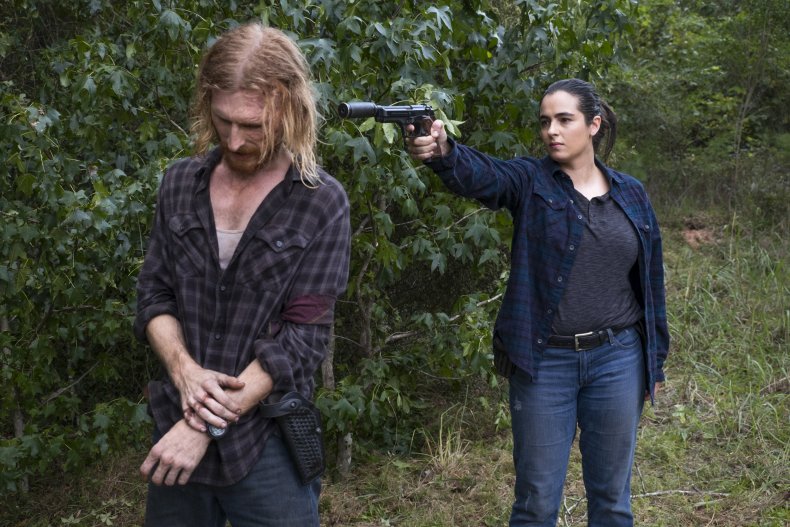 In the actual fight at least 20 allies die including Tobin, who is stabbed with a tainted knife. When Tobin reanimates, he attacks the Kingdom's doctor. Several Saviors are killed as well. For the main cast, two points of interest are Rick and Tara. When Tara is knocked to the ground, Dwight approaches with an arrow and shoots her. Tara sees the act as karma for her past altercations with Dwight, and it's unclear if she survives her wound.
Rick, on the other hand, becomes concerned when community members start turning in the middle of the night. Knowing the Saviors weapons were tainted, he wonders if his own wounds might be infected too.
The conflict ends with a victory for the Hilltop, but Maggie laments the immense personal cost for the win. Like Carl, Michonne and Carol before her, she wonders how worth it this death and destruction truly is. Episode 13 doesn't address the cliffhanger of Negan and Jadis in episode 12, and Dwight's double-agent status remains concealed for now.
As with all spoiler reports, these episode 13 details should be taken with a grain of salt. The Spoiling Dead Fans is often accurate in its previews, but these previews are purely based on Q&As with fans. As a result, this description may not reflect the entire plot of the episode. There may also be slight errors in interpretation of the source report as well.
The Walking Dead Season 8 episode 13 airs March 25 on AMC.
What do you think of these spoilers for episode 13 of The Walking Dead? Will Tara survive being shot by Dwight? Tell us your predictions in the comments section.
'The Walking Dead' Season 8 Episode 13 Spoilers Reveal Deaths at Hilltop | Gaming