'The Walking Dead' Season 8 Episode 15 Spoilers Reveal Negan's Pick Up
The Walking Dead Season 8 continues with episode 15 on Sunday, and we've got fresh spoilers to share. At the end of episode 14 Negan encounters an assumed ally on the open road and picks them up in his car. However, the person's identity isn't made clear. Thanks to official image leaks, we now know exactly who the suspicious traveler is, and it spells bad news for one of our heroes.
SPOILERS follow this break. Those who don't want to know this character's true identity should turn back now.
The spoiler arrives via a post from DwightyBoy69 on The Walking Dead's official subreddit. It contains a link to a leaked image from an AMC domain that reveals just enough to confirm the big mystery.
The image shows Negan and his fellow Savior Laura having a conversation. Laura, played by Lindsley Register, was last seen in the midseason finale during the Savior's huge siege at Alexandria. She's proven to be friendly with Dwight, and, most critically, she knows Dwight is a double agent fighting for Rick's team.
During the attack she and Dwight encounter a roadblock with vehicles and smoke grenades, and she warns him not to engage the barricade for fear of an ambush. Knowing alerting Rick to their presence might offer Alexandria an advantage, he ignores Laura's request and slams his car into the block. This unexpected action gives way to a firefight, where Laura watches as Dwight shoots several of their Savior companions. While she was suspicious of a mole in the Saviors' ranks before, she can now fully confirm Dwight's big secret. She hasn't been able to do so because she was forced to flee in the battle.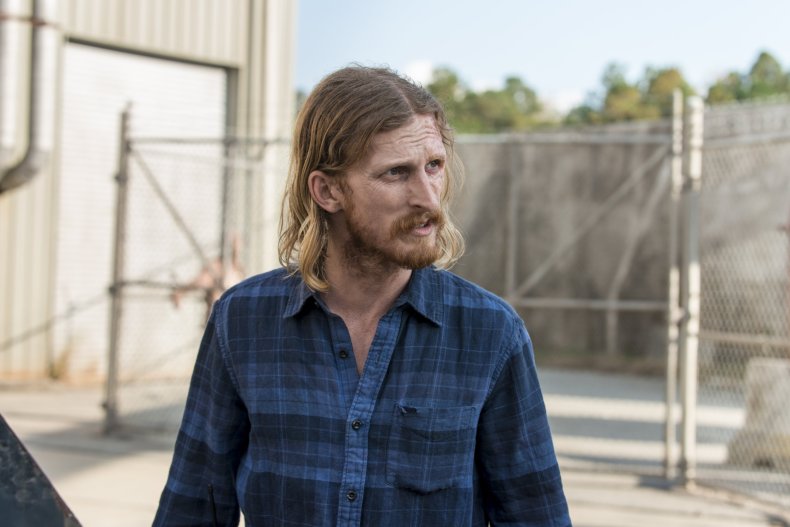 With that information in mind, things don't look good for Dwight heading into episode 15. Once Negan reasserts his rule over the Sanctuary, there's no limit to how he might respond after he learns of Dwight's betrayal. He's burned his face once before, so the next logical step could be far more permanent. Unfortunately our episode 15 spoilers start and end with this single picture, so we have no idea how the situation resolves.
In The Walking Dead comics Dwight has remained an important character since his introduction. That being said, as the TV show continues to deviate in significant ways from its printed source material, this character's death definitely isn't out of the question. If Carl can die, there's no telling where the TV plot might go.
The Walking Dead Season 8 continues with episode 15 on April 8 at 9 p.m. EDT.
What are your thoughts on Laura's return? Will Dwight survive being exposed? Tell us in the comments section!