'The Walking Dead' Season 8 Spoilers: New Groups & Near Death in Episode 12?
The Walking Dead Season 8 continues with episode 12 this Sunday, and your weekly dose of spoilers has arrived. The experts at The Spoiling Dead Fans have posted their latest Q&A, featuring juicy details about new characters and a brush with death. Here's everything we know about "The Key."
SPOILERS for Season 8 of The Walking Dead follow this break. Those who don't want to know should turn back now.
Episode 12 reportedly features a massive standoff between Rick and Negan. Using his radio that once belonged to the Saviors, Rick learns about Negan's nefarious plans for his community. To prevent an attack from taking place, Rick perseus Negan's car and eventually crashes into it. The meetup sparks an epic fight sequence where Lucille is set on fire and Negan almost gets devoured by a walker. In true Negan fashion, the villain escapes his peril in the nick of time.
With Negan now on the run, his followers are concerned. Simon comes across the blood-soaked car wreck and assumes his boss might be dead or close to it. Taking matters into his own hands once again, Simon tells the Saviors it's time to totally exterminate all residents of the Hilltop. Dwight objects, but does nothing to stop it. So, the Hilltop prepares for its potential demise and places a few lookouts for added security.
Newsweek subscription offers >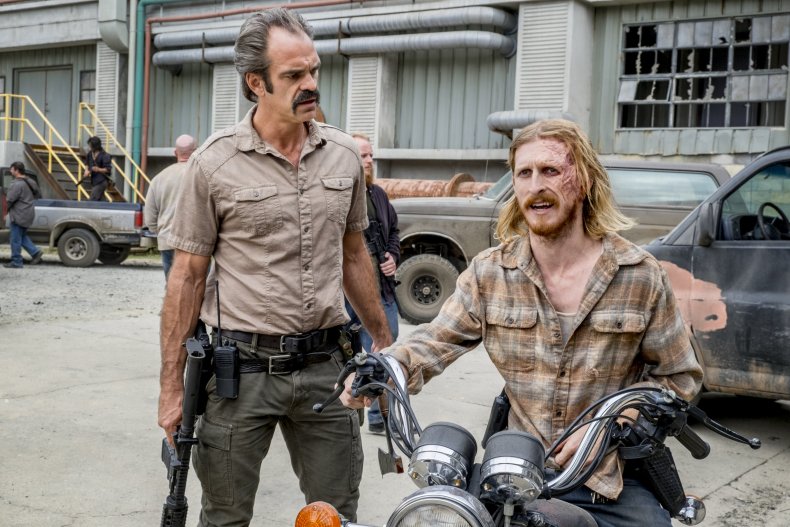 On the brink of war, Maggie, Michonne and Edith hit the road to investigate suspicious crates placed just outside the Hilltop. Attached notes ask Hilltop dwellers to fill the boxes with phonograph records for access to a "key to the future." Viewers learn the boxes were left by a new group led by a woman named Georgie. The source speculates that Georgie resembles Pamela from recent issues of The Walking Dead comics. She was just introduced as the governor of a super-community called The New World Order.
That's all we know about The Walking Dead episode 12, but it sets up some curious questions for Season 8 and beyond. How will Negan make it back to his people? What will he do to Simon when he learns of his Hilltop extermination plot? In the grander scheme of things, it'd be quite the surprise for The New World Order to be brought into the TV show so soon. It might suggest that the showrunners are trying to distance the show from its comic source material, or that the TV plot is being accelerated to make way for an eventual conclusion. That being said, much like Jadis and the Scavengers, it's also possible Georgie has ties to something totally new.
The Walking Dead episode 12 airs March 18 on AMC.
Newsweek subscription offers >
What are your thoughts on these spoilers for The Walking Dead? Will this new group be faithful allies or fearless enemies? Tell us your theories in the comments section!
'The Walking Dead' Season 8 Spoilers: New Groups & Near Death in Episode 12? | Gaming