'The Walking Dead' Season 9 Episode 9 Spoilers: Who Dies in the Midseason Premiere?
The Walking Dead Season 9 Midseason Premiere is just a day away, so we're back with the latest SPOILER recap courtesy of the experts at The Spoiling Dead Fans. Want to know what's next for Negan, Daryl and the Whisperers? We've got you covered.
The episode begins with another big fight against the Whisperers, as Daryl and Michonne's group fight off the remaining assailants at the cemetery. Daryl smartly starts shooting foes in the leg to separate the humans from the walkers. A young woman raises her hand to surrender to surrender to Daryl's shot and is captured. We later learn that this person is none other than the beloved comic book character, Lydia.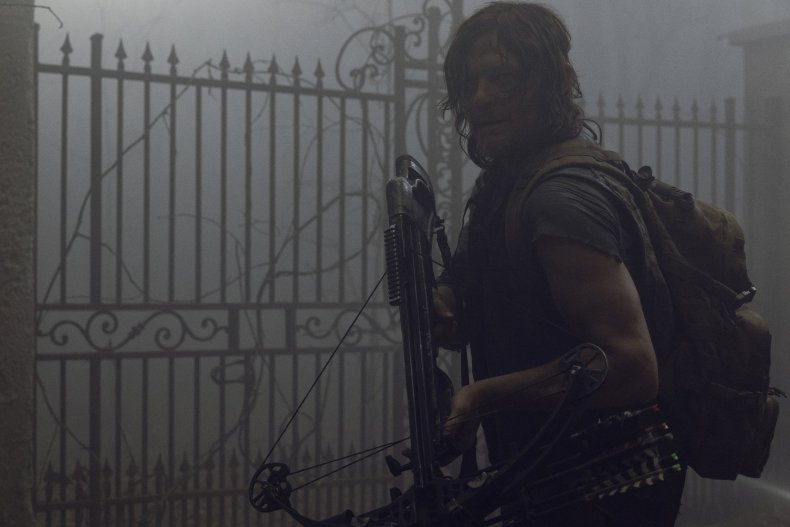 Back at the Hilltop, Tara and Enid have the biggest reaction to Jesus' untimely demise. Tara carries the mantle as the community's leader, but Michonne tells Daryl to stick around to keep an eye on things.
In the meantime, Daryl and Michonne also try and fail to interrogate Lydia. Despite being a master manipulator, she takes a liking to Henry who's still in jail for his drunken conduct. Daryl and Michonne leave the pair alone and listen through the window, hoping she may reveal a clue about her group.
At Alexandria, Judith meets Negan just as he's about to leave Alexandria. While at first it seems like he's caught, Negan convinces the girl he has a bigger purpose in life that doesn't involve hurting other people. Feeling he has a shot at redemption, Judith lets him go. Negan's first order of business as a free man is to go to the Sanctuary. Unfortunately, the community's been abandoned.
Rosita's plot is equally dramatic in a different way. We learn that she's pregnant but is sure Siddiq is not the father. Apparently the two had a fling before she coupled up with Gabriel. Eugene, also crushing on Rosita, overhears the conversation.
The episode ends with the debut of Whisperer leader, Alpha. She captures Alden and Luke at gunpoint as the plot comes to a close. The fate of both characters remains unclear.
In other words, there appear to be no major deaths in the Midseason Premiere. This week's episode essentially exists to sew the seeds of conflict to come. With no community to go back to, will Negan join Alpha? How will Alexandria respond to its latest threat? Can Lydia ever be trusted? We'll have to wait for future episodes to find out.
The Walking Dead Midseason Premiere airs February 10 on AMC.
What are your thoughts on this week's spoiler report? Does The Walking Dead Midseason Premiere sound like it will deliver on your expectations? Tell us in the comments section!