'The Walking Dead' Season 9 Episodes List - Titles May Tease When Rick Leaves
The Walking Dead Season 9 premiere is just a few weeks away, and we have our first batch of episode titles courtesy of AMC and The Spoiling Dead Fans Facebook page. Speculation abounds as the names may offer clues about how soon Rick (a.k.a. Andrew Lincoln) is leaving the show. The list of episode titles and directors is below.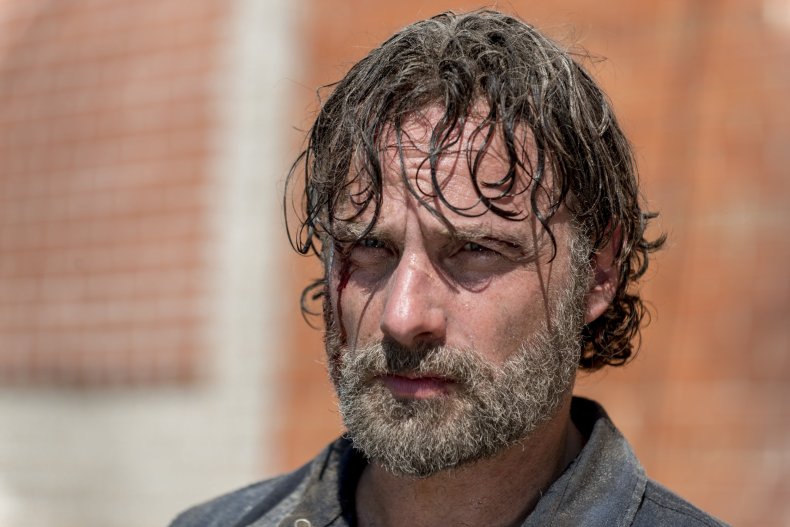 S9E01: "A New Beginning" - Writer Angela Kang / Director Greg Nicotero
S9E02: "The Bridge" - Writer David Leslie Johnson-McGoldrick / Director Daisy Mayer
S9E03: "Warning Signs" - Writer Channing Powell / Director Director Dan Liu
S9E04: "The Obliged" - Writer Geraldine Inoa / Director Rosemary Rodriguez
S9E05: "What Comes After" - Writer Matthew Negrete / Director Greg Nicotero
S9E06: "Untitled" - Writer Eddie Guzelian / Director Larry Teng
S9E07: "Stradivarius" - Writer Vivian Tse / Director Michael Cudlitz
S9E08: "Evolution" - Writer David Leslie Johnson-McGoldrick / Director Michael E. Satrazemis
While the episode titles and staff don't reveal much, Walking Dead fans are already drafting theories about the scant information that's there. Recent trailers from AMC suggest Rick's potential demise is coming sooner rather than later, which has many zombie enthusiasts zeroing in on episodes 5 and 6 as possible jumping off points.
The name "What Comes After" makes a lot of sense for an episode that will have lots of fans asking questions about the show's future without Rick, while "Untitled" sounds ominous enough to contain the biggest moment in the series' nine-year history. Picking between those two options, our best guess is to keep an eye on episode 5 given that longtime Director, Producer and Effects Artist Greg Nicotero is involved with the script. If "What Comes After" truly is Andrew Lincoln's final episode of The Walking Dead, AMC would presumably want the most experienced personnel attached to it.
There are a few details unrelated to Rick buried in this short episode list as well. For one, it's awesome to see that former Abraham actor Michael Cudlitz will be directing his own episode this fall. Not only is episode 7 the first Walking Dead episode Cudlitz has directed, but it appears to be the actor's directorial debut in any major project. We'd also like to draw attention to episode 8, titled "Evolution." The namesake suggests the Whisperers, a group of survivors with a primal mentality, will play a big role in that particular plot. In fact, that might be when the new threat makes its first significant appearance.
These official episode details for The Walking Dead Season 9 arrive days after the release of a recut trailer designed to tease Rick's exit from the series. Fans and spoiler mavens have yet to discern how the main character's arc will end, but footage suggests deep division inside Alexandria plays a big role in how the story unfolds.
The Walking Dead Season 9 premieres Oct. 7 on AMC.
What are your thoughts on The Walking Dead Season 9 given these episode titles? When will Rick's likely demise occur? Tell us in the comments section!