'The Walking Dead' Season 9 Spoilers: Time Jump and Maggie and Glenn's Baby's Name Revealed
Actor Lauren Cohan revealed the name of Maggie's baby during the Talking Dead preview special Sunday as they discussed The Walking Dead Season 9.
Maggie had her and Glenn's (Steven Yeun) baby during the time that passed between seasons. She named him Hershel (Scott Wilson) after her father, who was killed by the Governor (David Morrissey) in Season 4. Glenn was killed by Negan (Jeffrey Dean Morgan) in Season 7.
"A big part of what Maggie is focusing on is creating a world that is safe for him, a world where he can see that this works, where we can work together," Cohan said on Talking Dead. "A big part of her conflict this year is finding peace of mind with allowing Negan to live and being a good leader and a good mother and how she's going to let those two desires coexist."
Maggie didn't agree with Rick's (Andrew Lincoln) decision to not kill Negan in the Season 8 finale. While he has been a mentor to her, their dynamic will be different in Season 9. The Hilltop is "in such great shape as a community and Rick recognizes that's a direct result of [Maggie's] leadership, but we'll see that Maggie's not going to just fall in line with everything Rick's doing because she has to take care of her own people now," showrunner Angela Kang said. "She's got her own agendas, and she's going to follow them. That doesn't mean that they hate each other. They still love each other, respect each other deeply, but they have some real differences and philosophies."
Rick's relationship with Daryl (Norman Reedus) will be different in the new season as well. The group has followed Rick and seen him "fail," Reedus said on the preview special. "This year his relationship with Daryl is much different because Daryl's definitely found his voice. He has a mature voice now, which is also a very harsh voice."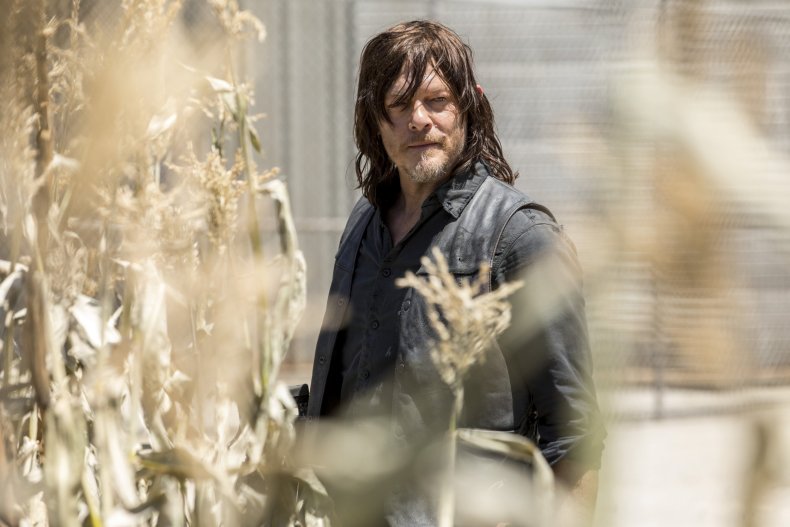 The only relationship of Daryl's that hasn't changed is with Carol (Melissa McBride). They're still close, as seen in the season premiere clip that aired during Talking Dead. In the sneak peek, the two are awake when they should be sleeping. "Ezekiel, on the other hand, sleeps like a baby. It's annoying," she says. Yes, Carol and Ezekiel (Khary Payton) are together, as confirmed by Kang. "If anybody deserves to be happy, it's you," Daryl tells Carol.
For those surprised by the new relationship, remember, there is a time jump. Tom Payne, who plays Jesus, revealed early on during the special that a year and a half has passed between seasons. In that time, the survivors are "finally starting to come into their own and just accept the world as it is," Ross Marquand, who plays Aaron, said.
The Walking Dead Season 9 premieres Sunday, October 7 at 9 p.m. ET on AMC.