'The Walking Dead' Season 9 Spoilers: Meet Beta, Alpha's Second-in-Command in The Whisperers
Sons of Anarchy's Ryan Hurst will recur in The Walking Dead Season 9 as Beta, TheWrap reported Monday.
As their character names imply, Beta is Alpha's second-in-command. The comics' iconic villain Alpha (new series regular Samantha Morton) leads The Whisperers, one of the new problems Rick Grimes (Andrew Lincoln) and the rest of the survivors will be facing in the new season. Beta takes over as leader of the group following her death in the comics. The Whisperers wear suits made out of human skin so they can move among the walkers. Cassady McClincy is recurring as another member of the group, Lydia, Alpha's daughter.
Showrunner Angela Kang addressed The Whisperers' arrival during the Walking Dead Season 9 preview special of Talking Dead on August 5. "We'll go into a really great storyline that people are anticipating called The Whisperers," she said. "If you're a fan of the comic, you know exactly what that means, although the way we do it may not be exactly the way it goes in the comic. We always remix things, and if you don't know what I'm talking about, it's better to learn as you go along."
Some of the comics storylines for The Whisperers will have to be adapted to fit the current cast of the series. In the comics, Lydia and Carl (Chandler Riggs) were romantically linked, but Carl was bitten and died in Season 8. There's also Alpha's interactions with Rick to consider since Lincoln is leaving the series in Season 9. It is unclear how Rick will be written out of the show or if Alpha will be involved. Some of Lincoln's comments, including that his relationship with his character "is far from over," have led to speculation he won't die.
The Whisperers is just one group of new characters fans will see when the show jumps forward a year and a half in the new season. The trailer released at San Diego Comic-Con in July (above) offered a look at a few new characters, including Magna (Nadia Hilker) and her girlfriend, Yumiko (Eleanor Matsuura), sisters Connie (Lauren Ridloff) and Kelly (Angel Theory) and Luke (Dan Fogler).
AMC released photos from the premiere offering a look at what life is like for the survivors, including the return to riding on horseback and new relationships, like Carol (Melissa McBride) and Ezekiel's (Khary Payton). One photo also offers a look at new character Justin (Zach McGowan), a Savior who doesn't want to work with the others.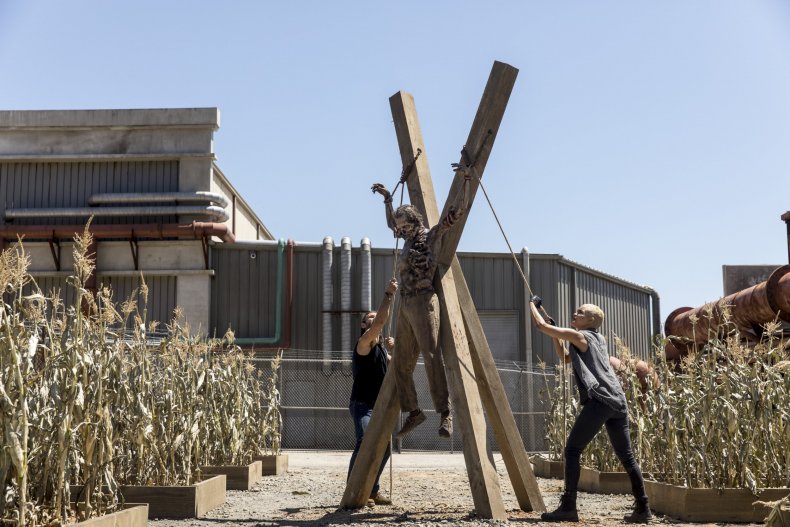 The Walking Dead Season 9 premieres Sunday, October 7, at 9 p.m. ET on AMC.