'The Walking Dead' Co-Creator says Critical Kentucky Gov. Matt Bevin has Hurt More People than Zombies Have
The Kentucky native and co-creator of The Walking Dead ridiculed Republican Gov. Matt Bevin's claim mass shootings are a byproduct of zombie television shows and America's "culture of death."
Tony Moore, the artist behind the wildly popular The Walking Dead graphic novel and television series, penned an op-ed in The Courier-Journal Friday blasting Bevin's interview last week that tied mass shootings to Americans "celebrating death" through zombie TV shows and acceptance of abortion. Rejecting any notion that gun control measures could stop mass shooting incidents, Bevin lashed out at the media and shows like The Walking Dead for tainting "the psyches of young generations."
Moore, who created the zombie graphic novel alongside fellow Lexington native Robert Kirkman, touted his Kentucky upbringing for inspiring the zombie comics and said it is Bevin and conservatives who have embraced death by "dialing back Medicaid" to vulnerable Kentucky residents and through the GOP's constant "crypto-fascist war drumming."
He derided Bevin deciding to "trot out this tired, old garbage position" of blaming the media for mass shootings, noting former Second Lady Mary Elizabeth "Tipper" Gore's 1980s "family values" hearings that he says are just as absurd now as they were 30 years ago.
"If he wants to talk about a culture of death, perhaps Bevin should inspect his record on dialing back Medicaid expansion to thousands of vulnerable Kentuckians, or cutting worker safety regulations and union protections in the state, likely in response to the violations his own family's bell factory incurred," Moore wrote Friday in Kentucky's largest newspaper.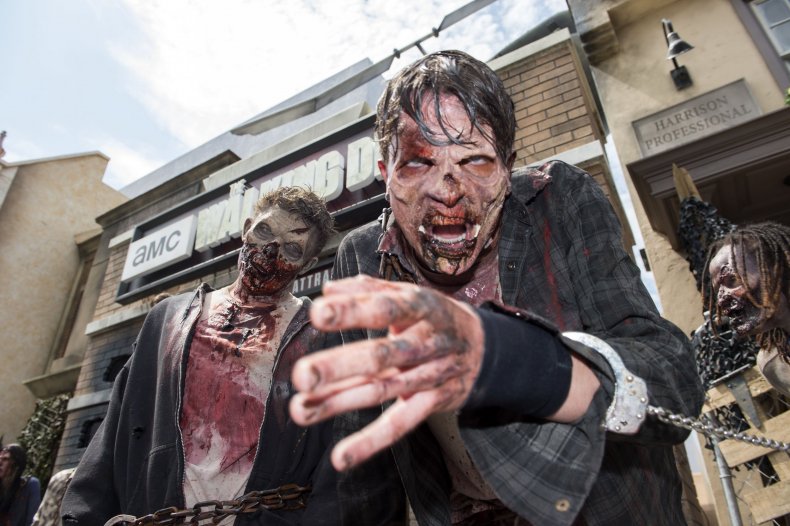 "His actions prove that he clearly holds the dollar as the almighty, and that the price he places on a human life is not a very high one," Moore continued. "Perhaps he'd like to explain his science-denying environmental policy, or maybe just his speaking at a pro-cockfighting rally...This attack comes from the same Gov. Bevin who howled that modern American conservatism may need to be protected with actual bloodshed."
In an interview with a conservative radio host last Tuesday, Bevin argued the U.S. has deep cultural problems rather than a gun problem, although there was a deadly Louisville shooting at a Kroger store just last month. "When a culture is surrounded by, inundated by, and rewards things that celebrate death—whether it is zombies in television shows, the number of abortions—that we indiscriminately think is just OK...These are drips, drips, drips on the stones of the psyches of young generations that are growing up in a society that increasingly says this is normal and OK."
Moore explained why he believes the show has resonated so much with audiences, writing that his Kentucky roots factored into the "escapism" and imagination that spawned The Walking Dead.
"As a nerdy kid on an isolated farm, I grew up a fan of escapism — horror movies and comics, over-the-top action movies and video games," Moore wrote. "Heavy metal and gangsta rap music, Dungeons & Dragons, you name it, I was in. I wear these influences unashamed, and they spill out into my work all the time."
Moore added, "Growing up in a hard-working family struggling to make ends meet instilled a lifelong do-it-yourself work outlook that led me to tenaciously chase my dreams, primarily to tell stories in comic books, like my work drawing The Walking Dead."
Moore said his mother thankfully "didn't throttle my media intake" and he was able to soak in a diverse range of potentially offensive or explicit content.
"So, if Bevin wants to point the finger at simple escapism, at stories that celebrate survival and hope, that celebrate LIFE, and denounce them as the cause of violence, perhaps he needs to have a good, long look in the mirror to see what the face of a culture celebrating death truly looks like," Moore concluded.
Currently in its ninth season, AMC's The Walking Dead television series first aired in 2010