'The Walking Dead': What Kind of Dog Is Dog on the AMC Show?
The Walking Dead Season 10, Episode 21, titled "Diverged," is the second of the six bonus episodes to focus on Daryl Dixon (played by Norman Reedus) and Carol Peletier (Melissa McBride). This also meant a return for Dog, the former pet of Leah (Lynn Collins) that now belongs to Daryl.
As "Diverged" was a small, self-contained episode of the AMC show, that meant there were plenty of appearances from Dog, who spent much of the episode trying to flush out a rat. The return of Dog also left a lot of fans wondering exactly what breed he is.
Dog on The Walking Dead is played by a canine called Seven, who is a Belgian Malinois. This breed is a type of Belgian shepherd dog often confused for a German shepherd.
There are, however, a number of differences between the two breeds. German shepherds are usually larger than Belgian Malinois and have longer fur.
Like German shepherds, however, they often are used as herding dogs, and also work as police and military dogs.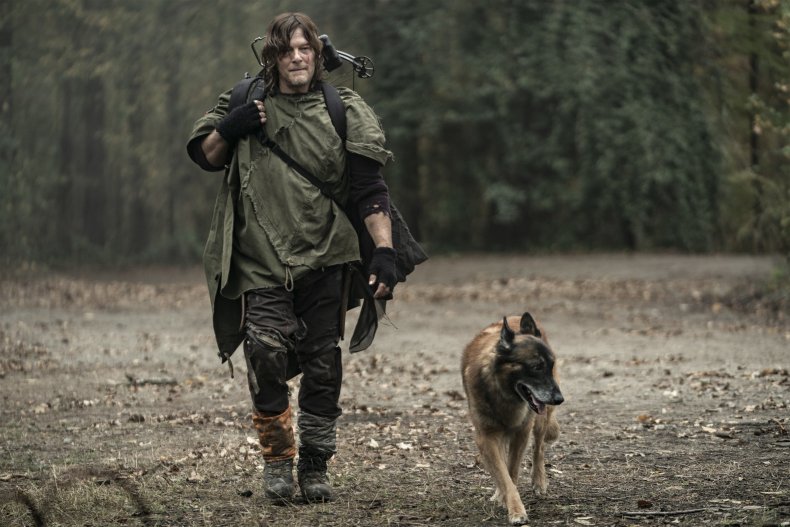 As Dog in The Walking Dead shows, if they can be trained as police dogs they can also be trained as actors. David Boyd, the director of the "Find Me" episode that gave us Dog's backstory, said of the animal actor to Huffington Post: "This guy has a brain, and he's got an acting spirit.
"In prep, you go, 'This dog is never going to do any of it,' right? You read the script and you go, 'OK, he goes there and stops there and he barks there. It's never going to happen. It's going to take 19 hours to get one thing out of this dog.' But no. Take one. Boom! We go, OK. We look at each other and say, 'Well, do we need another take?'"
He said of the breed: "The danger with this breed is that they just won't give up. And so if you lose contact with them, if you're in the real world and you've given the dog a task, it literally will drop dead to do it. So, all of us, the trainers especially, have to be aware of how far that dog will go. If you lose contact, that guy is going to run through the woods."
Leah actor Lynn Collins, meanwhile, said of Seven to Den of Geek: "he is really comfortable on set and really easy to work with and super loving and the trainers are incredible. So it was really easy to just sit with him and pet him and love on him. I think literally at one point they were like, 'Lynn, stop playing with him. He's not going to be able to focus.' That's how sweet and loving this dog was."
Seven is far from the only Belgian Malinois working in Hollywood. Other dogs of that breed that appear in TV and film include Dita the Hair Missile Dog on CBS' SEAL Team, played by six-year-old Cerberus. In John Wick: Chapter 3, meanwhile, four Belgian Malinois were used to play Lerna and Orthrus, the dogs owned by Halle Berry's character who featured in a notable scene where they bite off an assailant's testicles.
The Walking Dead Season 10 concludes on Thursday, April 1 on AMC+ and Sunday, April 4 on AMC.