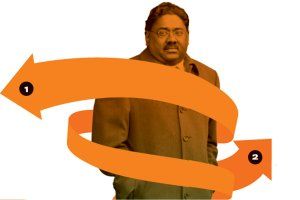 Rajat Gupta
…stands to lose powerful friends and worldly influence. Few climbed higher than Gupta, the former managing director of consulting powerhouse McKinsey & Co. As a Goldman board member, Gupta, 62, is said to have phoned hedge-fund baron Raj Rajaratnam right after a crucial board meeting during the financial meltdown to tell his pal that Warren Buffett was supplying $5 billion to prop up the bank. Rajaratnam's fund netted $900,000 overnight thanks to the tip. The SEC has filed a civil suit, though Gupta says he's done nothing wrong.
Anxious India
…stands to lose a national hero.Born and schooled in India, Gupta was widely celebrated in his home country, where he established a new business school in 2001 and has had the ear of Prime Minister Manmohan Singh. An admirer once compared Gupta to the philosopher and priest Thomas Aquinas. "It's a bit of a disappointment when one of your heroes has fallen," a former chief executive of Procter & Gamble India told the Financial Times. Those watching the trial from the subcontinent and looking for a local hero might root for Preet Bharara, the Indian-born U.S. attorney who is prosecuting the case.
Goldman Sachs
…stands to lose more of its reputation. The insider-trading allegation becomes yet another obstacle for Goldman Sachs, which is trying to return to top form. CEO Lloyd Blankfein, who once lightheartedly described Goldman's mission as doing "God's work," is set to testify at the trial. Last year, Goldman paid $550 million in fines to the SEC to settle claims that the firm misled investors. The bank must now confront allegations that its elite boardroom was home to leaked information and illegal activity.
Raj Rajaratnam
…stands to lose everything. The Sri Lankan–born moneyman gained fame for his ability to ferret out all kinds of profitable information. But were the tips illegal? Raj, as the 53-year-old billionaire is universally known, is fighting all the charges. Raj always made sure people knew he was the smartest man in the room. He liked to pull pranks like offering to pay an employee $5,000 if she was willing to be shot with a Taser gun. Now that bravado could backfire. So far, 19 former associates have pleaded guilty on related charges. If he loses, he could spend up to 20 years in the clink.
Warren Buffett
…stands to lose his reputation for flawless judgment. No man is more respected in U.S. business for his wisdom than the Oracle of Omaha. His distance from Wall Street has always been more than geographic, as the 80-year-old investor has thrown stones at financial titans for the way they do business. (Buffett once called derivatives "weapons of mass destruction.") So when Buffett placed a $5 billion bet on Goldman, he did it, as one Berkshire exec put it, because he trusted "not just the strength of Goldman, but its integrity." Now Buffett is looking rather less discerning.
Masters of the Universe
…stand to lose their place in history. Spare a thought for those mischievous ne'er-do-wells of yore, who could now be overshadowed by a new trickster. Ivan Boesky served two years in prison when the high-flying arbitrageur got caught using inside info. Jeffrey Skilling of Enron started a 24-year sentence in 2006 for insider trading, among other offenses. ImClone CEO Samuel Waksal served more than five years for his illegal chats with Martha Stewart. Then there's investment banker James McDermott, whose pillow talk with porn star Marilyn Star about banking mergers landed him three months in prison in 2000. Make room in the hall of shame.