Wall Street Gets Its Zing Back With Alibaba IPO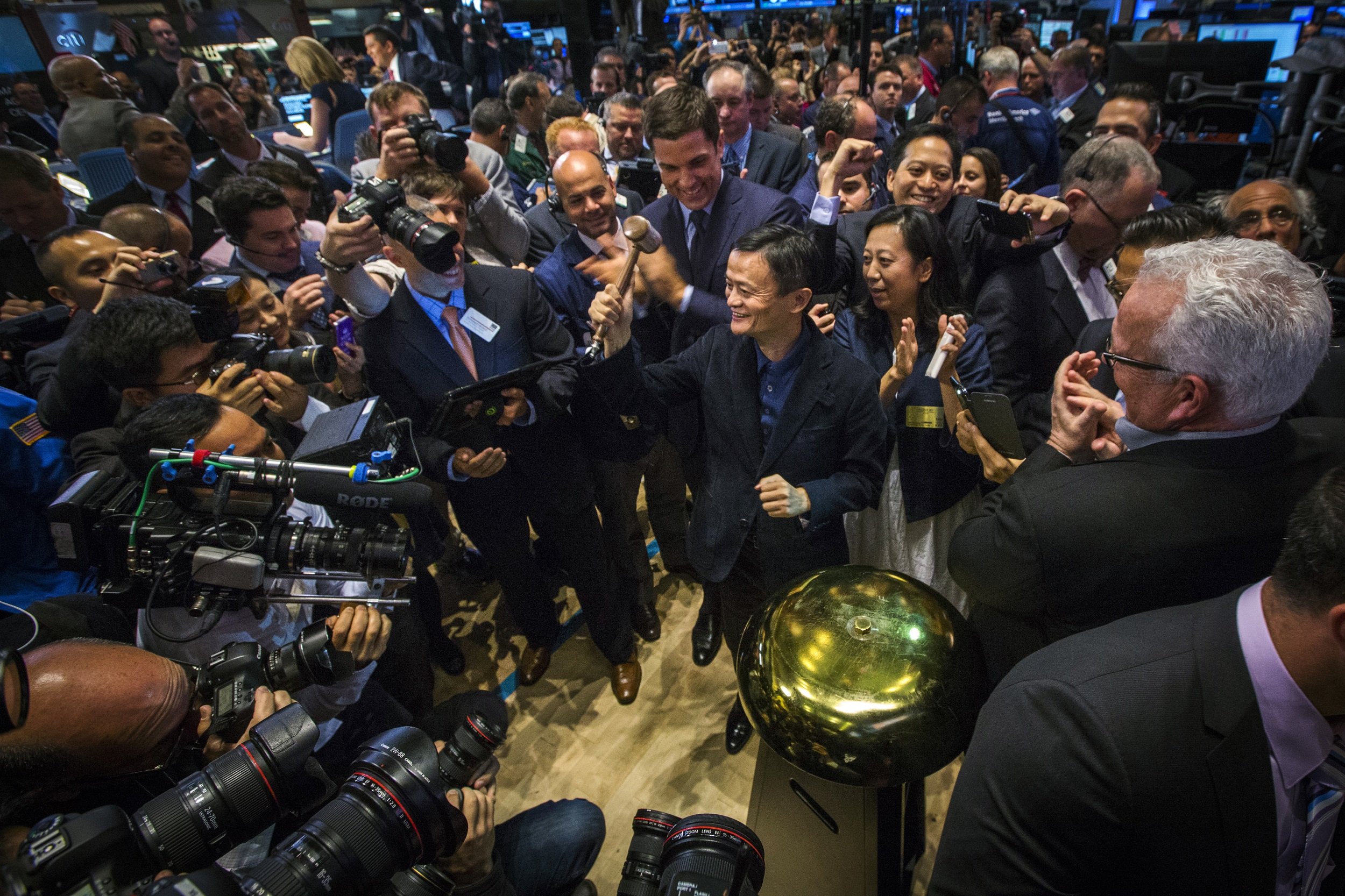 Alibaba, China's largest online commerce company, shot out of the gate midday Friday at $92.70 a share in a stunning public trading debut, leaping above the $68 it priced at last night and leaving Wall Street traders with a spring in their step after a rough and uncertain week.
Traders waited on tenterhooks all morning at the New York Stock Exchange for the launch of the biggest IPO in history, expected to raise anywhere between $21.8 billion to potentially more than $25 billion if underwriters invoke their over-allotment option (called a "greenshoe," named for the first company to invoke this, Green Shoe Manufacturing Company, founded in 1919).
The opening, which followed a protracted price-discovery process as investors mulled where Alibaba should begin trading, gave way to more than 200 million shares exchanging hands as the price held fairly steady during the first 90 minutes of the stock's launch. To call it a frenzy would be an understatement.
For the uninitiated, Alibaba Group Holding Ltd., which trades under ticker symbol BABA, is a 15-year-old company led by charismatic founder and chairman, Jack Ma, who just turned 50 last week.
Known as scrappy, gregarious and humble, he's made no secret of his love of America and how it was a trip to the U.S. in the early 1990s that introduced him to the Internet and sparked his enthusiasm for launching online businesses. (In 1995, he started what has since been credited as China's first Internet-based company, the China Yellowpages.)
Frequently called the "richest man in China," Ma has won over American investors with a story unlike almost any other high-achieving tech entrepreneur: it took him three tries to get into college in China and it took him at least as many tries to build a successful online business.
As a sign of respect, on Friday, just before his company's IPO, Ma presented the NYSE with a giant "Tao Doll," which the exchange tweeted would be on permanent display.
But that is just the micro-story. The macro story of Alibaba is one of a bootstrapping company that helped small and midsize businesses get online, brand themselves and start selling their wares to become one of the most formidable business-to-business sites in the world, drawing comparisons to online retailers such as Amazon.
However, Alibaba's market capitalization, valued at about $168 billion, puts it above Amazon's market cap of $150 billion – making it a global online shopping behemoth unlike any other and, according to S&P Capital IQ, makes Alibaba one of the 40 biggest companies on the planet.
Many have cautioned that investing in Alibaba's stock could be a very bumpy – and expensive – ride.
On the one hand, Chinese companies like Alibaba that go public in the U.S. have traditionally underperformed the U.S. stock market. On the other hand, Ma and his company could easily be classified alongside the brazen Silicon Valley "disrupter" set that tend to follow less traditional inroads to making money and put customers first. Alibaba, which reported sales of $8.5 billion for the year ended in March, could end up being a mash-up of the two.
Economic prognosticators have increasingly pegged China as the next hot spot for a corporate revolution, with U.S. intelligence agencies broadly forecasting that, by 2030, "Asia will have surpassed North America and Europe combined in terms of global power, based on GDP [gross domestic product], population size military spending and technological investment."
In fact, according to the U.S. National Intelligence Council, the rise of Asia in the next two decades is expected to reverse "the historic rise of the west since 1750" and restore "Asia's weight in the global economy and world politics."
In other words, when it comes to mega-IPOs and so-called "global blue-chips" from Asia, this could be just the beginning.