Wall Street Journal Condemns Trump's 'Democratic' Policies, Says His Poll Decline Is Getting 'Expensive'
The editorial board of The Wall Street Journal criticized President Donald Trump over his efforts to reduce drug prices, arguing that he was putting forward a "Democratic plan."
"President Trump's decline in the polls is getting more expensive by the day," the WSJ editorial board wrote in an article published Sunday, suggesting that Trump's decision was motivated by his desire to get re-elected. The president has seen his polling numbers decline nationwide amid the novel coronavirus pandemic and widespread anti-racism protests.
"His prescription is akin to what Democrats are offering: more government control," they argued. Taking aim at Trump's Friday comments about his plan, the board asked: "Did Bernie Sanders ghost write his remarks?" Sanders, an independent senator from Vermont who previously sought the Democratic party's presidential nomination, made reforming health care the centerpiece of his campaign, using the slogan "Medicare for All."
"I'm unrigging the system that is many decades old. We're doing something that should have been done a long time ago," Trump said at a Friday press conference. "Previous administrations did nothing—absolutely nothing—as drug lobbyists, special interests, and foreign countries freely ripped off our citizens."
The president signed four executive orders regarding prescription drug prices on Friday, an issue of concern to Republican, Democrat and independent voters that lawmakers have long discussed without adequately addressing. Trump's decision will allow some drugs to be imported from Canada, while also adjusting the way discounts negotiated by pharmacy benefit managers will be passed along to patients on Medicare.
The fourth executive order is widely seen as the most radical, however. That would allow Medicare to pay the same price as foreign countries for certain drugs, providing a significant cost-savings to patients and a loss for pharmaceutical companies. Although the WSJ editorial board criticized the proposal for allowing too much government control and being too "expensive," some health experts have said the measures will provide relatively minor benefits to Americans.
Newsweek reached out to the White House for comment, but it did not respond by the time of publication.
"Mr. Trump could promise to accelerate approval of gene therapies like Luxturna, which treats a rare form of vision loss. He could point out how Mr. Biden wants to establish a drug rationing board akin to the United Kingdom's National Institute for Health and Care Excellence (Nice), which restricts treatments based on cost and 'quality-adjusted-life-years' benefits," the editorial board suggested as alternatives.
"Drug and biotech innovation is one of America's great comparative advantages, and now both political parties want to strangle it," the board concluded.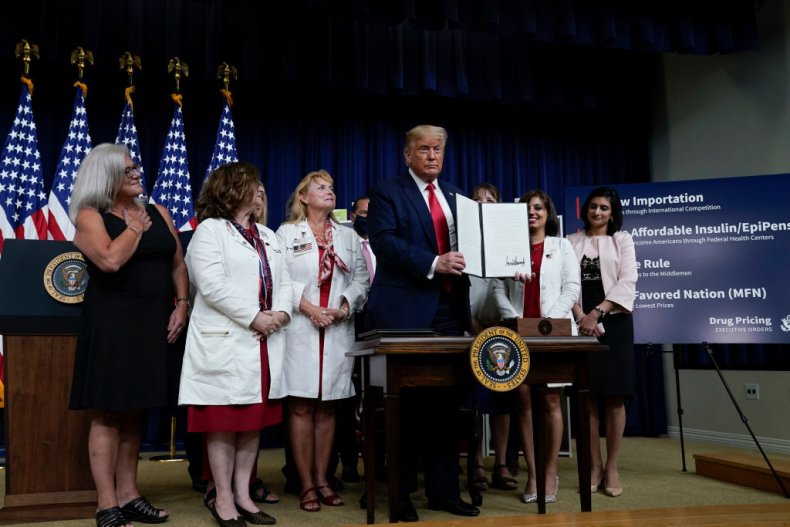 Ameet Sarpatwari, assistant director of Harvard Medical School's Program on Regulation, Therapeutics and Law told NPR that Trump's proposals weren't really new or groundbreaking. But he also suggested Trump's announcement was connected to his dip in the polls.
"Clearly what this speaks of is a bit of desperation as to the president's sinking in the polls and needing to show that he is doing something about a campaign commitment from four years ago on which there hasn't really been much action," Sarpatwari said.
United Kingdom-based health care provider Medbelle released a study in November of last year, showing that the U.S. has the highest prescription drug prices in the world. The study found that drug costs in the U.S. were on average more than 300 percent higher than the global median, with the next most expensive country being Germany. However, even Germany was significantly cheaper – at about 125 percent more expensive than the global median.