Wall Street's 'Fearless Girl' Statue To Remain in 'Charging Bull' Face-Off Until 2018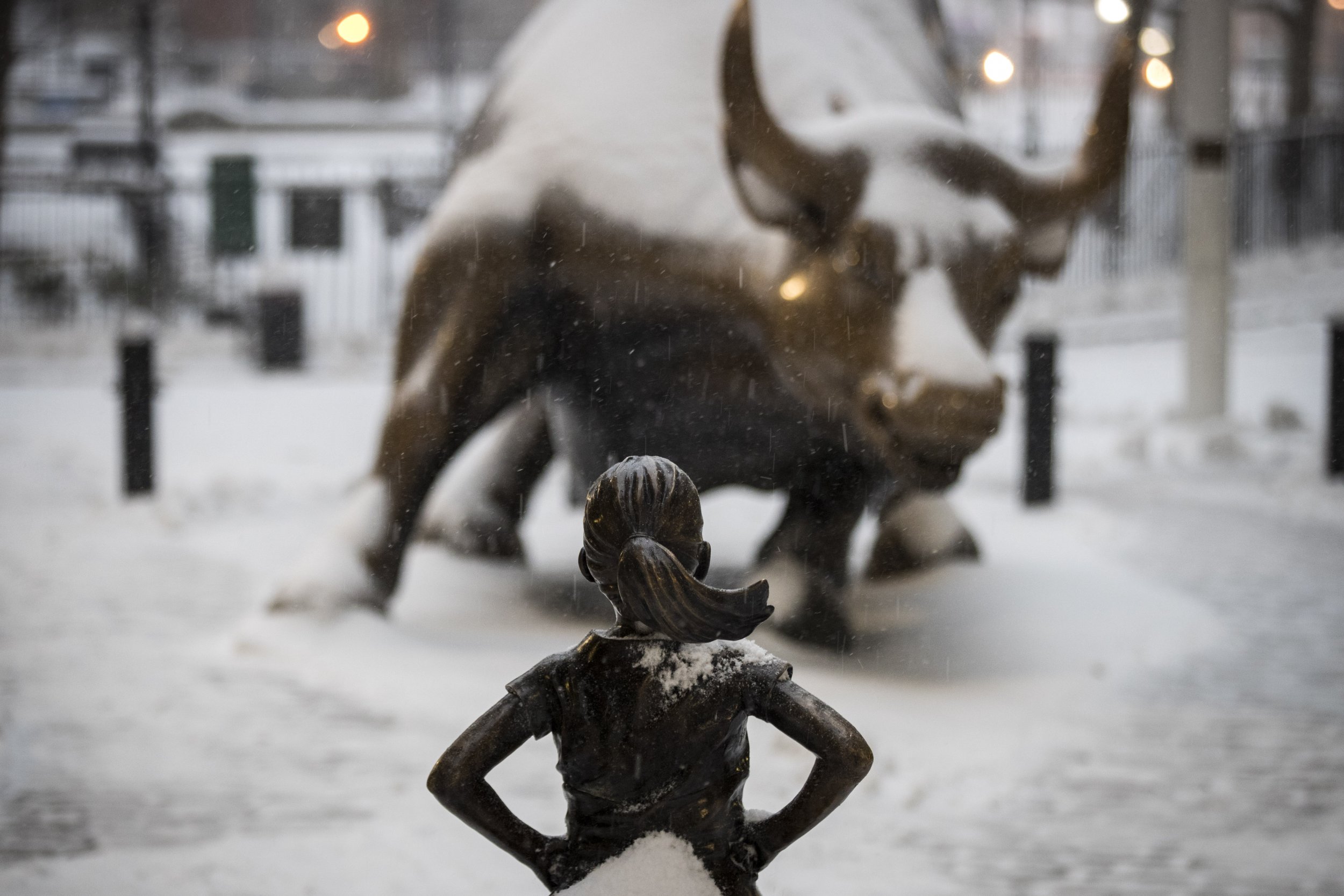 New York's popular bronze 'Fearless Girl' statue will continue to defiantly stare down Wall Street's 'Charging Bull' until 2018, New York Mayor Bill de Blasio announced Monday.
The city initially permitted the installation of the statue—funded by asset managers State Street Global Advisors—for one week from March 7 to commemorate International Women's Day. The plaque below the sculpture reads: "Know the power of women in leadership. SHE makes a difference."
Kristen Visbal's 50-inch statue was instantly popular—welcomed around the world as a symbol of women's rights and quickly becoming a new tourist attraction.
The 'Fearless Girl' was to stay until April 2 but will now stay in place until International Women's Day next year on March 8.
Read more: Women rally for equality, and against Trump, on International Women's Day
De Blasio suggested the statue arrived at an opportune time, alluding to the new tenure of U.S. President Donald Trump, who has openly boasted of sexually assaulting women.
"She spoke to the moment," he told reporters at the statue, according to AFP news agency. "She is inspiring everyone at a moment when we need inspiration," adding that the artwork "means so much to the people of New York."
The 'Fearless Girl' faces the "Charging Bull" statue—initially a temporary installation created by Italian artist Arturo Di Modica in 1989 to symbolize the strength of America. It became an iconic fixture of Wall Street and supporters of the 'Fearless Girl' piece are now hoping for the same result.
"The importance of empowering women is not temporary, and it's not something that can last for 11 months," New York City Public Advocate Letitia James said Monday, Reuters reported. "It is something that needs to be made permanent."
State Street Global Advisors, the asset management business of global financial services company State Street Corporation, commissioned the statue in an attempt to highlight the lack of female directors on corporate boards. (According to a 2017 report, women hold less than a fifth of seats on U.S. corporate boards.) The Bull's creator Di Modica criticized the project of the girl standing opposite his creation, calling it a publicity stunt.
"That is not a symbol! That's an advertising trick," the 76-year-old told MarketWatch on March 20. "Women, girls, that's great, but that's not what that is."