Wally Funk, Oldest Traveler to Space After Bezos Flight: 'I Want To Go Again, Fast!'
Wally Funk made history on Tuesday when she became the oldest person to launch into space. Funk, 82, spoke to reporters afterwards, saying "I want to go again, fast!"
Funk made the journey to the edge of space with Amazon founder Jeff Bezos and two other passengers. The flight was made on the New Shepard rocket and capsule created by Blue Origin, another company created by the billionaire entrepreneur Bezos.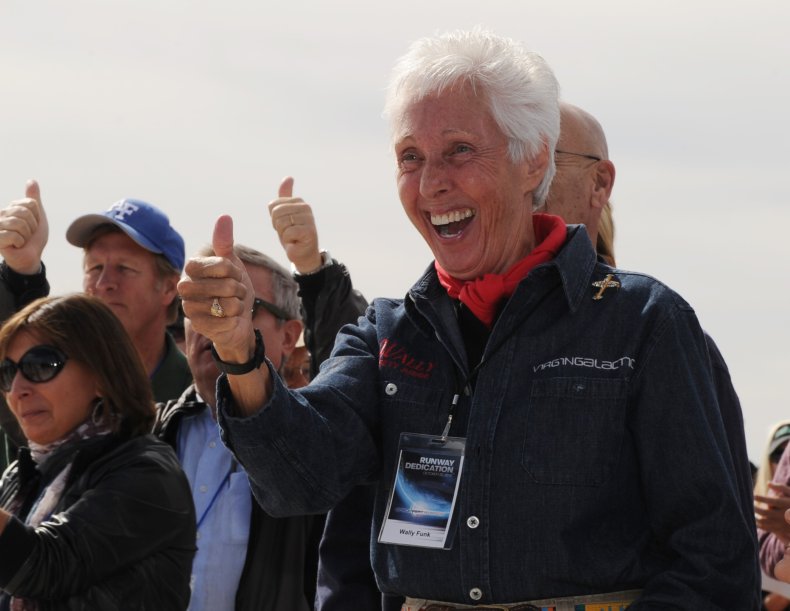 Funk raised her arms excitedly upon exiting the capsule at the landing site in Texas. The trip lasted around 11 minutes after its 9:12 a.m. ET take-off. The Blue Origin capsule reached an altitude of approximately 66 miles.
Speaking on stage with Bezos and the other passengers—Jeff's brother Mark Bezos and Dutch teenager Oliver Daemen—following the space flight, Funk said, "I've been waiting a long time to finally get it up there!"
"I could always beat the guys on what they were doing, because I was always stronger," Funk continued. "I've always done everything on my own."
CBS News shared portions of Funk's comments on Twitter.
Funk was one of the 13 female pilots in the Women in Space Program who completed testing in 1961. However, NASA did not have a program for female astronauts at that time, and she was not able to leave Earth's atmosphere until Tuesday.
The New York Times reported that Funk had applied twice before to NASA, once in 1962 and again in 1966. In total, she applied to become an astronaut four times during her life, but she was reportedly rejected because she lacks an engineering degree. (The Times noted that John Glenn was accepted into a NASA space program despite not having an engineering degree.)
Funk may have another chance to return to space, although this time with Bezos' billionaire space rival. She is currently on the passenger list for a seat she reserved years ago on Richard Branson's Virgin Galactic.
Bezos announced Funk's participation in the New Shepard flight in an Instagram post on July 1.
"No one has waited longer," Bezos wrote. "It's time. Welcome to the crew, Wally. We're excited to have you fly with us on July 20th as our honored guest."
"I can hardly wait," Funk said in the video Bezos shared.
While Funk became the oldest person to launch into space on Tuesday, fellow passenger Oliver Daemen also made history by becoming the youngest person to achieve the same feat.
The 18-year-old incoming college student became Blue Origin's first paying customer after stepping in as a fill-in after an unnamed winner of a $28 million auction changed plans for a later flight due to a scheduling conflict. The Dutch teen's father footed the bill for his son's ride, paying an undisclosed sum for the seat.
Funk said on Tuesday during the post-flight press conference, "We had a great time. It was wonderful. I want to go again, fast!"