Wal-Mart, Amazon Pull Toy Guns From New York Shelves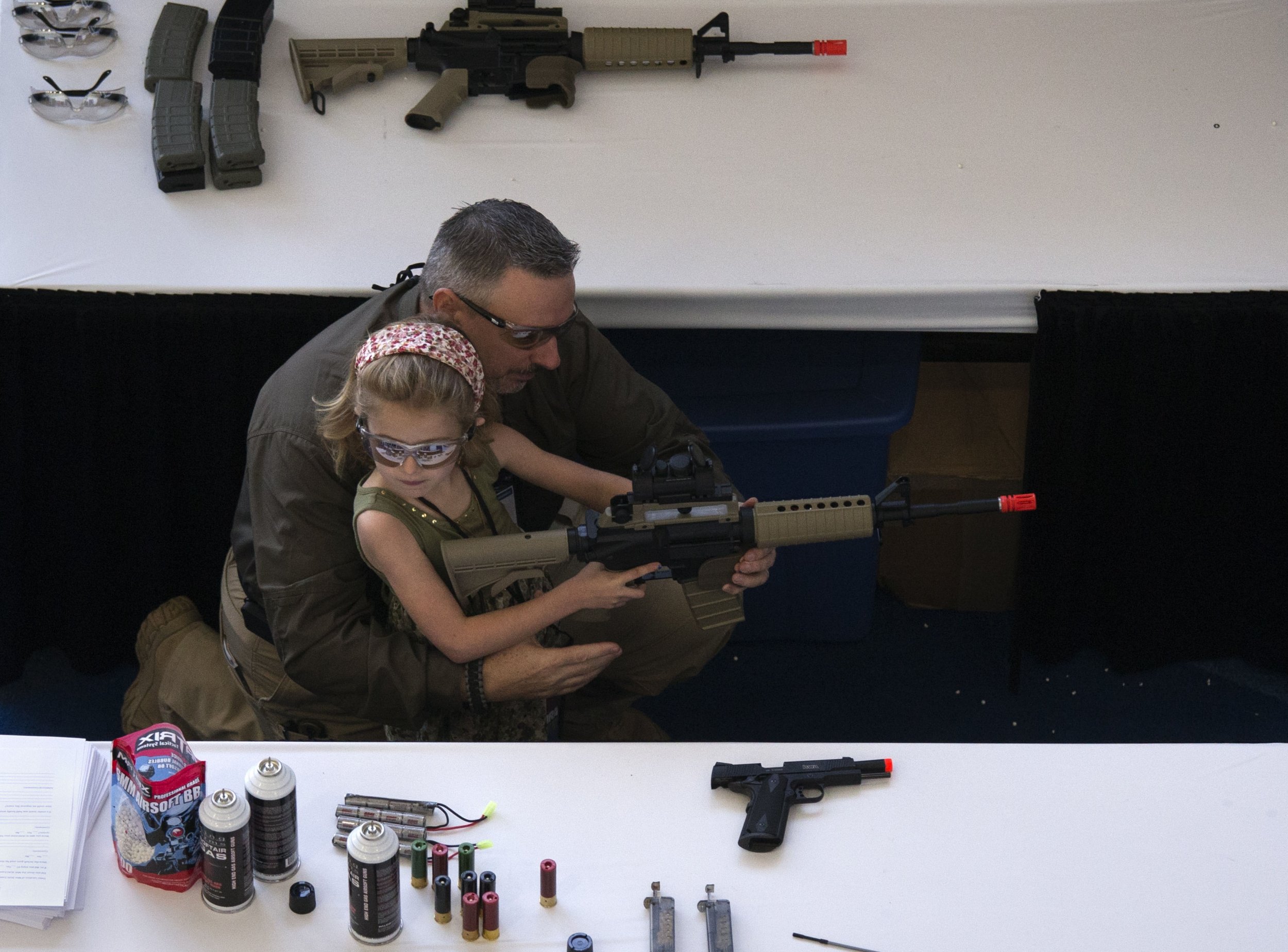 Updated | Five U.S. retailers have agreed to keep realistic-looking toy guns off their shelves in New York state. But they also will pay more than $300,000 in fines for previously selling thousands of fake firearms illegally.
State Attorney General Eric Schneiderman on Monday reached a settlement with Amazon.com, Kmart, Sears, Wal-Mart and ACTA, which operates several toy companies, for violating a New York state law that prohibits the sale of "imitation weapons," or toy guns that can appear to look real.
Schneiderman's office found that between 2012 and 2014, retailers and third-party sellers operating through their websites sold at least 6,400 toy guns without the distinguished color markings required by law.
New York City's law requires any toy gun to be entirely brightly colored. The sale of imitation guns in colors such as black, blue, silver or aluminum is prohibited. State law requires markings only along the sides and the tip of the gun barrel. But the deal reached Monday requires the companies to apply New York City's strict appearance standards to all statewide sales, according to the attorney general's office.
Howard Riefs, director of corporate communications at Sears Holdings Corporation, which owns both Sears and Kmart, said the company is "pleased" it was able to resolve Schneiderman's concerns.
"But at this time, we plan to continue selling these toys in accordance with federal, state and local laws," he said.
Wal-Mart blocked the shipment of certain items into the state in the wake of Schneiderman's public concerns. "Walmart.com has revised its policy so not only items which comply with the New York City code are shipped into New York. We are pleased we were able to resolve this matter," the company said in a statement emailed to Newsweek.
Amazon did not respond to Newsweek's requests for comment.
Schneiderman's investigation began last December when he sent letters to the businesses for allegedly selling prohibited toy guns online to residents of New York state. He demanded they immediately stop the in-store and online sales of toy guns to New Yorkers, saying that many of the imitation assault rifles, shotguns and pistols closely resembled dangerous weapons and could easily be mistaken for real firearms.
The investigation indicated that the retailers, except Kmart, kept toy guns off the shelves of their brick-and-mortar stores but sold prohibited toy guns to consumers via their online platforms. The toy guns ranged in price from less than $10 to as much as several hundred dollars.
The fines imposed on Wal-Mart are higher than those imposed on the other four companies because the Arkansas-based retailer violated a similar 2003 agreement with the attorney general's office.
Since 1994, at least 63 shootings—eight of them fatal—have occurred in New York state because someone held a toy or imitation weapon, according to Schneiderman's office. The most recent national case is that of 12-year-old Tamir Rice, who was shot by a police officer last November in Cleveland and later died from his injuries. Rice had been waving a toy airsoft gun as he walked on a sidewalk near a recreation center in the city. Surveillance footage shows a person nearby reporting Rice to police, then two officers arriving on scene and immediately drawing their firearms.
This year, lawmakers in Florida, Indiana, Massachusetts, Nebraska, New York, Ohio and Washington introduced legislation to create or amend toy gun laws, The New York Times reports. Six states, Puerto Rico and Washington, D.C., already have existing laws banning realistic toys.
Also on Monday, comedian and actress Amy Schumer and her cousin, Democratic Senator Chuck Schumer of New York, introduced an initiative to fight mass shootings and gun violence. Their plan includes monetary rewards for states that send required information about felons and abusers to the federal government, and penalizations for those that don't submit records. They also called for federal funding of mental health and substance abuse programs.
The two said that reasonable limits on the Second Amendment are common sense. "We all know that there is a Second Amendment," the New York senator said. "But no amendment is absolute."
People were watching Trainwreck, Amy Schumer's recent movie, inside a movie theater in Lafayette, Louisiana, on July 23 when a gunman opened fire and killed two audience members. Mass shootings have been "seared into our memories," she said during a press conference Monday, in which she spoke publicly for the first time about reducing gun violence.
"Unless something is done and done soon," she added, "dangerous people will continue to get their hands on guns."
This article has been updated to include comment from Wal-Mart.