Walmart has dropped its Black Friday deals for 2019 and it's seemingly choosing to compete with other retailers on TVs and smartphones.
The retailer's online sale will begin on November 27 at 10:00 p.m. ET and the in-store Black Friday deals available from 6:00 p.m. local time, with stores remaining open all night into Black Friday. If that wasn't enough, Walmart is offering coffee, hot cocoa and snacks at 4:00 p.m. for customers wanting to get their shopping in early.
From technology to the latest children's toys, Walmart's 32 page deals leaflet has a range of discounts to suit every and anyone. According to BestBlackFriday.com, the retailer is offering more in "gift cards than anyone else on iPhones and Samsung smartphones." It is also undercutting its competitors' lowest prices on popular screen sizes.
Matthew Wehner, BestBlackFriday.com, told Newsweek which deals customers should take advantage of this Black Friday shopping event, and which ones to avoid.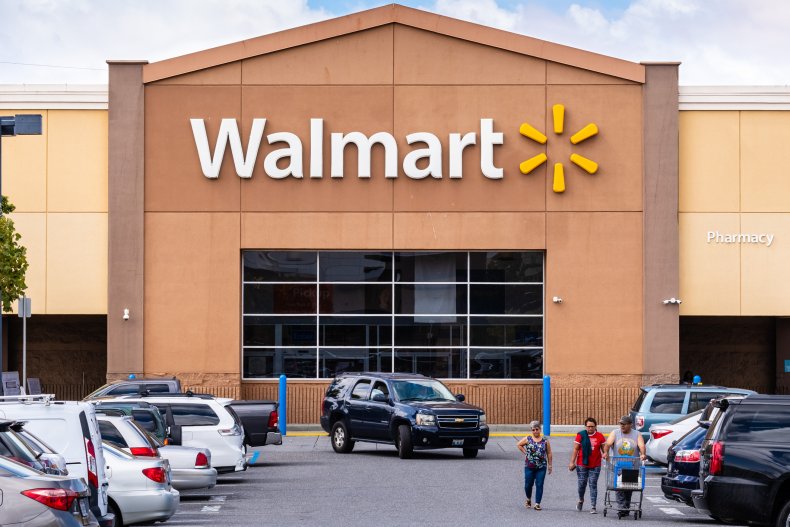 What to Buy:
onn. 50" Class 4K Roku Smart TV: The Walmart brand undercuts Target's low-price 50" 4K TV doorbuster by about $30, selling for $148.
Philips 65" Class 4K Android Smart TV: This beats the second-lowest price we've seen on this screen size, from Best Buy, by about $20, discounted to $278.
Apple AirPods with Charging Case: The lowest price for Black Friday, discounted to $129. Worth reminding readers that this is the lower-cost version, not the one with the wireless charging case.
Apple Watch Series 3 (GPS) - 38 mm: This is the lowest price BestBlackFriday is seeing from major retailers so far. Fred Meyer is matching this price. But Walmart beats Target's lowest Series 3 Black Friday price by about $40, discounting it to $129.
iRobot 670 Wi-Fi Vacuum: This is a great opportunity to get an entry-level Roomba discounted to $197.
Instant Pot 6 Qt. Vortex Air Fryer: This item comes at $20 less than at Macy's, discounted to $49 for Black Friday.
Instant Pot 6 Qt. Duo: This matches the price Walmart and Amazon offered on this line and size on Prime Day, selling during Black Friday for $49.
Gift Card Promotions
$450 eGift Card on iPhone XS (+$250 more with eligible trade-in): Customers can activate with AT&T, Sprint or Verizon, plus an installment payment plan, and get the highest gift card offer seen with Black Friday iPhone purchase.
$300 eGift Card on iPhone 11, 11 Pro, or 11 Pro Max (+$250 more with eligible trade-in): This is $100 higher than Target's gift card offer on the newest range of iPhones. Activation with AT&T, Sprint or Verizon, plus installment payment plan, required.
$450 eGift Card on Galaxy S10, S10+ or Note10 (+$250 more with eligible trade-in): Beating Target yet again on offers by $50, customers can get this deal with AT&T, Sprint or Verizon installment payment plans.
Deals to Avoid:
Shark Ion 750 Wi-Fi Robot Vacuum for $149: BestBlackFriday recommends trying to get this product at Kohl's; $153 with the 15 percent off coupon in the Kohl's ad scan, plus $45 in Kohl's Cash. This deal may be better if customers can spend the Kohl's Cash.
Xbox One X Gears of War 5 Bundle: While both retailers discount the console at $349, with $150 off, Target is adding a $40 gift card on top.
Fitbit Inspire HR: Walmart is matching Kohl's price, but Kohl's gives $15 in Kohl's Cash.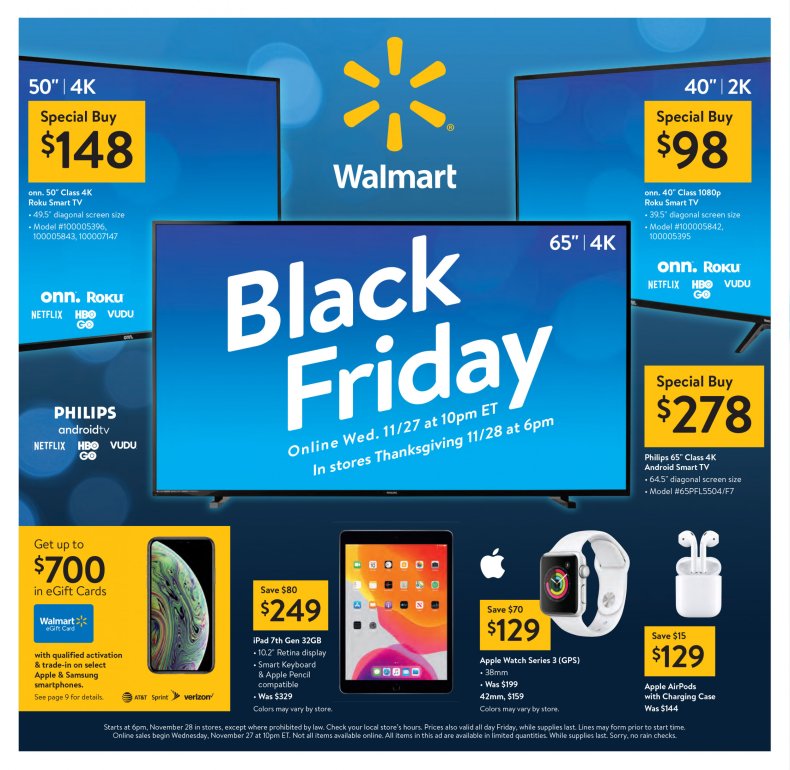 In its announcement today, Steve Bratspies, executive vice president and chief merchandising officer at Walmart U.S. said: "I'm confident customers will find the items – and savings – they're looking for from Walmart on Black Friday. That's because our team has spent the last year pulling together great items from top brands our customers know and love at amazing prices."
Other Black Friday deals include:
Kids' 2-Piece Pajamas are a special buy at $4.75
Memory Foam Fashion Boots are $12
Hotel Style 1,100 Thread Count Sheet Set is a special buy at $24
Disney Frozen 2 Fold & Go Arendelle Castle, which is only at Walmart, is $40
Hover-1 All-Star Hoverboard is discounted to $89, saving $59
LEGO Classic or Duplo Creative Box is a special buy at $20
If all this wasn't enough, Walmart is offering "buy now" deals, allowing customers to start saving and make up the days lost between Thanksgiving and Christmas; Thanksgiving is later than normal in 2019.
Starting November 14, customers can shop these deals which include:
Apple 10.5" iPad Pro Wi-Fi 512GB for $599, saving $400
Samsung Galaxy 8GB Wi-Fi Tablet for $77.99, saving $50
JoJo Bow Bow Exclusive Plush for $14.99, saving $10
12V Huffy SWAT Truck Ride-On for $249, saving $49
Shark DuoClean Lift-Away Speed Upright Vacuum NV770 for $149, saving $90