Walmart Cashier Gives Woman with Cerebral Palsy Manicure After She's Allegedly Denied Service at Nail Salon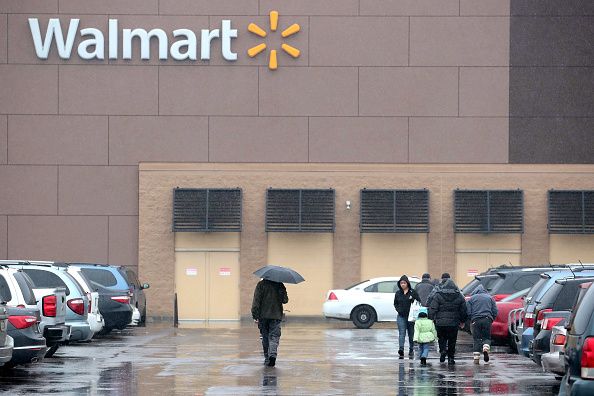 A Michigan woman with a disability who was turned away from a nail salon received a manicure and some pampering from a Walmart cashier.
Angela Peters told WNEM on Friday that she went to Da-Vi Nails, an independently owned nail salon inside of the Walmart in Burton, Michigan, to get a manicure. Peters says she was denied service from the salon because "she moved too much." Peters has cerebral palsy, a disability that affects a person's movement, posture and balance, according to the Centers for Disease Control and Prevention.
Ebony Harris, a Walmart cashier, saw the incident and skipped her break to buy some nail polish for Peters and paint her nails, WNEM reported. Tasia Smith, an employee who works at the Subway inside of the Walmart, captured the sweet moment and posted the photos to Facebook on July 30.
"Out of the kindness of the Walmart worker's hearts, they went and bought nail polish and came into my work to paint this sweet girls nails," Smith wrote. "They were so patient with her (which she did great, barely moved & was just so sweet). It's an absolute shame that they denied her for something so little."
Smith's post has gone viral and has been shared over 4,000 times and has garnered over 5,000 reactions on Facebook.
Harris told WJRT that she wanted to do something nice for Peters after being denied, so the two sat in the Subway while Peters got her nails done. The Walmart cashier told the news station that she doesn't have any issues with the nail salon, but encourages others to treat those who have disabilities with respect.
"We're not trying to bash the nail salon. We're not trying to make them lose customers, make them look bad," Harris told WJRT. "But maybe spread awareness that no matter the person, who they are, what color they are, disability, whatever, they're people too. She's a girly girl. She's just like you, me, Tasia, my daughter, anybody. She wants to look pretty, you know, and so why can't she?"
Peters wrote in a Facebook post on Thursday that she has forgiven the nail salon for denying her service and just wants to educate others on how to treat someone with a disability.
"When people do us wrong we must forgive," Peters wrote. "If not, we harbor bitterness. I don't want anyone fired, I just [want to] educate people."
In a statement to Newsweek, Walmart praised Harris on her good deed and said the company was not surprised by her good kindness.
"Ebony simply wanted to make sure our customer's day was special, and that's the kind of person she is – someone with a wonderful attitude who goes the extra mile each day to make those around her feel important," the statement read. "We're not surprised at her act of kindness. Her service to customers defines the spirit of Walmart, and we couldn't be more proud of her."