Walmart to Close All U.S. Stores on Thanksgiving 2020
Walmart announced on Tuesday that all of their U.S. stores, and its Sam's Club locations, will be closed on Thanksgiving Day, November 26, this year.
The retailer giant typically operates their stores on regular hours during Thanksgiving Day before Black Friday crowds gather in the evening for blowout sales. Last year, Walmart opened their doors for Black Friday sales at 6 p.m. on Thanksgiving Day.
The announcement comes as coronavirus cases continue to surge across the country.
"We know this has been a trying year, and our associates have stepped up. We hope they will enjoy a special Thanksgiving Day at home with their loved ones," President and CEO of Sam's Club Kathryn McLay said in a press release. "We are certainly thankful to our people for all of their efforts."
The company has yet to announced what Black Friday will look like for the retailer this year, but "one thing that won't be different is our commitment to delivering on great Black Friday prices for our customers," a spokesperson from Walmart told Newsweek in an email.
U.S. stores, as well as Sam's Club locations, will remain open during normal hours on Wednesday, November 25.
While Black Friday foot traffic has been on the decline as more shoppers move online to make their holiday purchases, Walmart remained a standout performer when it came to in-store sales last year.
According to Bank of America Merrill Lynch, the retailer saw healthy traffic in toys and electronic sales with continued growth in grocery sales.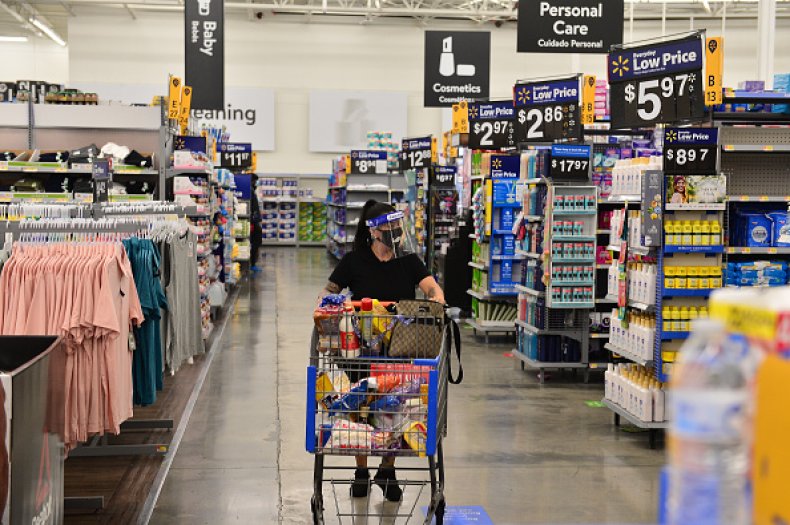 The company also said there will be a third round of bonuses for their employees come August. Full-time hourly associates will see a $300 bonus and part-time and temporary employees will receive $150.
"Our associates have been working at an incredible pace, they've solved problems, and they've set an amazing example for others," President and CEO of Walmart U.S John Furner said. "To further appreciate their incredible work, we are pleased to share another special cash bonus this summer."
Earlier this week, Walmart began implementing a storewide mask policy. As of Monday, all customers at their U.S. stores are required to wear a facial covering when shopping. The decision to issue a mandate is to "help bring consistency across stores and clubs"—65 percent of their stores are located in areas that have government-mandated mask requirements.
The policy was announced following numerous in-store disputes over face masks surfaced online. Other companies that have issued a face covering requirement in their stores include Starbucks, Best Buy and Costco.