Boycotting Walmart Probably Won't Hurt Them, But It Could Help—Just Ask Dick's Sporting Goods
More than a year after calls to boycott Dick's Sporting Goods, the retailer announced that profits increased to their strongest showing since 2016, information that could prove important for America's largest retailer, Walmart.
Neither Dick's or Walmart have entirely removed gun sales from their stores, but both retailers have made efforts to decrease the purchase of some types of ammunition and firearms. Following the February 2017 shooting that killed 17 people in Parkland, Florida, Dick's raised the purchasing age for firearms from 18 to 21 and said it would no longer sell assault weapons, high-capacity magazines and bump stocks in any of its 730 U.S. stores.
Dick's also destroyed the entire stock of assault weapons the company had in stock rather than sell them to another retailer.
The company went a step further last fall by launching a pilot program in 10 stores where all guns, ammunition and other hunting gear were removed and replaced with merchandise featuring local sports teams, as well as other popular items sold throughout the sporting goods chain.
The program proved successful, prompting Dick's to expand to another 125 stores earlier this year.
"Those stores outperformed the balance of the chain pretty meaningfully," Dick's Sporting Goods CEO Ed Stack told CNN Business of the 10 stores in the pilot program. He added that results from the additional stores added in are still being determined and no decisions have been made on if the retailer will remove guns and ammunition from the other locations.
"Like the initial stores, we replaced (hunt) with categories and products that can drive growth. Though it's too early to discuss performance, we're optimistic these changes will better serve our athletes in these communities and generate positive results," Stack said in a call to investors in late August, CNN Business reported.
However, as reported by The Washington Post, Stack said that Dick's, whose sales rose 3.2 percent during the second quarter of 2019, is not chalking up the increase in earnings to removing guns from some locations. According to Stack, gun sales are low earner for the company.
Still, Dick's announcement drew ire, with calls for boycotts of the retailer spawning a 3.1 percent decline in sales for the 2018 fiscal year. At the time, Stack attributed the change of policy towards gun sales for the slump.
Even so, Dick's hired lobbyists to work on gun control measures and Stack met with the parents of some of the Parkland shooting victims.
"What I promised the families in Parkland when I left is that we would keep this conversation going. And that's what I've done," Stack told the Post.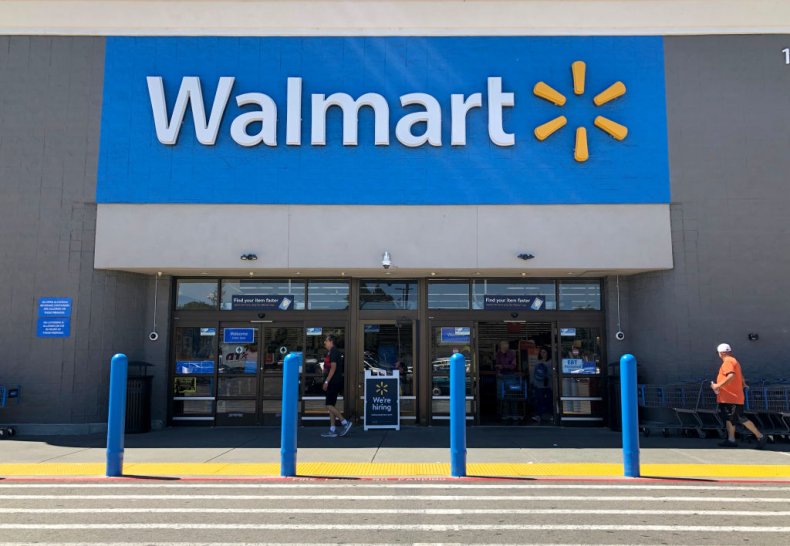 On Tuesday, Walmart became the most recent retailer to announce changes to its gun policies, prompted in part by two shootings that occurred in one week at two of its stores in Texas and Mississippi.
The El Paso shooting resulted in the deaths of 22 people, while the shooting in Southaven, Mississippi, saw two employees killed.
Walmart initially resisted calls to stop selling guns and ammunition in stores, announcing instead that it would remove any images that contain violence from displays in its 4,769 stores.
However, the company said on Tuesday it would stop selling ammunition for handguns and "short barrel rifles" and stop selling handguns in Alaska, the only state where Walmart still sells them. The retailer is also asking that customers, excluding law enforcement officials, refrain from open carry of firearms inside stores located in states with open carry laws.
"We feel like we are striking a responsible balance between the interests of law-abiding citizens who are exercising their legal rights and the safety concerns of our associates and customers," Dan Bartlett, Walmart executive vice president of corporate affairs said during a call with reporters after the announcement.
The announcement prompted outrage from gun advocates, many of whom took to social media to call for a boycott of the retailer. #BoycottWalmart was a trending topic in the United States for much of Tuesday afternoon and into the evening hours.
However, according to a survey compiled by CivicScience, 29 percent said they would be "more likely" to shop at Walmart thanks to the company's change in open carry policy. Twenty-two percent said they are "much more likely" to buy at a store, with 14 percent said they are "much less likely" to visit Walmart.
When questioned about the retailer's ban on some ammunition sales, 21 percent said they were "much more likely" to shop with Walmart. Twenty percent said they were "less likely" and 14 percent "much less likely," while 51 percent said they would visit Walmart "about the same" as they do currently.
In a similar poll conducted earlier this year by CivicScience regarding Dick's Sporting Goods policy changes, 26 percent said they were more likely to visit the store, while 28 percent said they were "much less likely" to buy from Dick's. Thirty-one percent said their visits would be "about the same."
In August, Walmart CEO Doug McMillion estimated that the retailer accounts for 2 percent of gun sales in the United States, but 20 percent of ammunition sales. McMillion also said the company is in support of stronger background checks and removing weapons from those thought to be at risk of harming themselves or others.
"We're encouraged that broad support is emerging to strengthen background checks and to remove weapons from those who have been determined to pose an imminent danger. We believe the reauthorization of the Assault Weapons ban should be debated to determine its effectiveness in keeping weapons made for war out of the hands of mass murderers," McMillion said in a statement provided to media.
This is not the first time the company has made a change to policies regarding the sale of firearms and ammunition. Walmart, like Dick's, raised the purchase age for firearms from 18 to 21 following the Parkland shooting, and the store also banned the sale of assault weapons in 2015. Walmart only sells guns to those who pass a background check and does not allow the sale of toys that resemble assault rifles.
The company posted a profit of $126.947 billion in 2018.
09/04, 9:57 p.m.: This story has been edited to clarify the Walmart's profit in fiscal year 2018.