Explosion Outside Florida Walmart Causes Store to Close on Black Friday
An investigation has been launched after a group of tractor trailers caught fire outside a Walmart in Florida, forcing the store to be evacuated on Black Friday morning.
The Hernando County Sheriff's Office said a deputy was already stationed in the parking lot of the Walmart, at 13300 Cortez Boulevard in Brooksville, when a large explosion occurred just after 5 a.m.
The deputy called Hernando County Fire Rescue and back-up units as he looked for the cause of the blast.
Close to the rear of the store, the deputy found three tractor trailers, with the middle one ablaze. He checked the vehicles and was able to remove the only occupant from one of the other two trailers.
When other deputies arrived, they helped to evacuate the store.
By the time Fire Rescue arrived, the other two trailers were on fire. Police closed all entry points to the store while firefighters tackled the blaze.
A short time later, police confirmed the fire had been extinguished and the store is now open for one of the busiest shopping days of the year.
"The cause of the original explosion/fire is under investigation. Thank you for your patience," the sheriff's office said in a statement.
There have been no reports of any injuries.
Hernando County Fire Rescue has been contacted for further comment.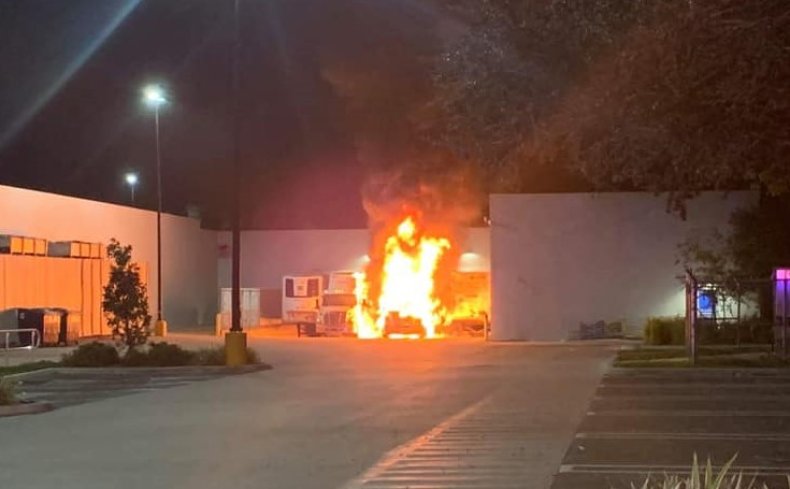 Last month, Walmart announced it would be expanding its annual Black Friday event to spread across three days.
As well as November 27, in-store deals were also available on November 14 and 7, with online sales beginning a few days earlier each time.
"Although this year's event looks different, our commitment to what our customers depend on us for—the absolute best prices of the season on hot gifts from top brands—hasn't changed," said Scott McCall, executive vice president and chief merchandising officer for Walmart U.S.
"I'm really excited that this year, when it matters most to our customers, we're offering them more convenient and safer ways to shop Black Friday at Walmart, whether that's from the shelf in one of our stores, ordering online and picking it up curbside or having it delivered right to their front door."