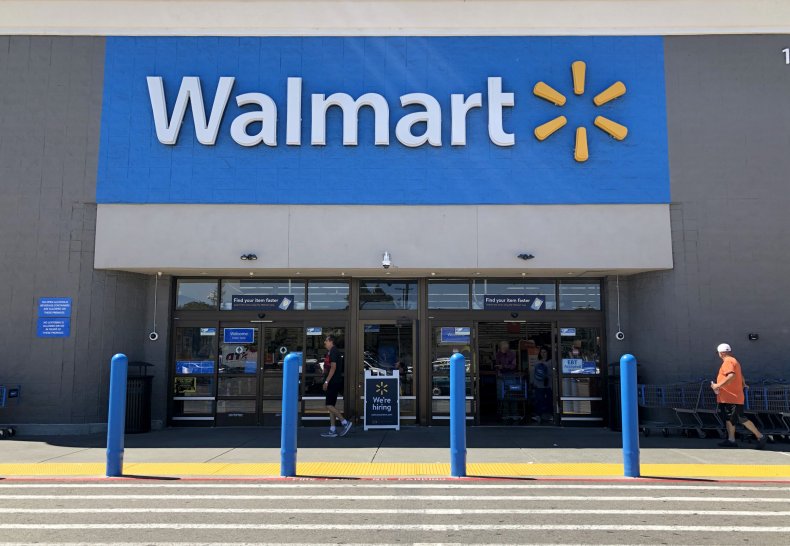 After Walmart announced a host of new policies concerning the store's relationship with firearms — drastically reducing its share of the ammunition market, officially ending handgun sales altogether and discouraging customers from open-carrying in its stores — the news set off a flurry of similar responses from other retailers, largely owed to pressure applied from the gun control group Moms Demand Action.
But the way coverage of Walmart's decision, and subsequent ones by stores like Kroger, Walgreens, Wegmans and CVS, was quickly hailed by gun violence prevention advocates appears to have obscured a larger, underlying tension that may be fraying the new policies just as they begin to be implemented.
The vagueness of the retailers' statements and carefully-worded avoidance of the use of the term "ban" have become something of a Rorschach test, with advocates for reform reading into the apparent victory as a sizeable shift in public policy around guns, while gun-rights activists saw little more than a face-saving measure with dubious enforceability.
"BREAKING: @CVS, the largest pharmacy store chain in the nation, just changed its open carry policy per the request of @MomsDemand," Moms Demand Action founder Shannon Watts said on Twitter after the convenience store announced its policy change. "Thank you @cvshealth!!!"
The National Rifle Association, which has been pit against the first gun control prevention movement with comparable clout in decades, immediately came out with a statement scorching Walmart's decision after its public announcement.
"The strongest defense of freedom has always been our free-market economy. It is shameful to see Walmart succumb to the pressure of the anti-gun elites," the group said in a press release. "Lines at Walmart will soon be replaced by lines at other retailers who are more supportive of America's fundamental freedoms."
But the dueling reactions may be concealing a dynamic still finding its balance amid the rollout as customers adjust to these new policies.
A recent viral video showed a Walmart customer being confronted by police over management's complaints about his allegedly rambunctious behavior, according to the Associated Press. The incident occurred after the El Paso shooting, but well before Walmart announced changes to its open-carry posture. The customer, who was openly carrying a firearm, had his weapon returned and was banned from re-entering any of the company's retail locations. Such an incident shows that managers have considerable sway over implementing policy at the store level and how they are willing to kick out customers they deem disruptive.
Meanwhile, other customers have, with less public attention, begun to test the reaches of Walmart's policies by carrying on as usual, and without apparent incident from store managers. On the gun-rights blog AmmoLand, firearms instructor Dean Weingarten posted about his venture into an Arizona Walmart while openly-carrying. He reported that he was able to complete his purchase and exit the store without complaint.
Weingarten is hardly the only gun-rights activists to take Walmart's "request" at face value. David Amad, an executive of the group Open Carry Texas, told The New York Times that many of his 38,000 members have openly carried inside a Walmart without pushback from management since the announcement.
In fact, this tolerance of boundary-testers may be a deliberate part of the company's firearms strategy moving forward. As Weingarten noted, the Walmart store which he entered did not display any signage, at least that was apparent to him, noting the restrictions. That's when, as he put it, "the light bulb came on," causing him to realize that the widely described ban may have few practical consequences.
That's how the Virginia Citizens Defense League sees it as well. A gun-rights non-profit, the group sent out a list of action items to members emphasizing that little had changed, in their view, with the recently announced policies.
"None of the chains have actually prohibited guns on their property, carried either openly or concealed," the notice observed. "Walmart, Kroger, Wegmans, and Walgreens are merely asking customers not to open carry, and CVS is merely asking customers not to carry openly or concealed. Asking or requesting is not the same as telling or demanding."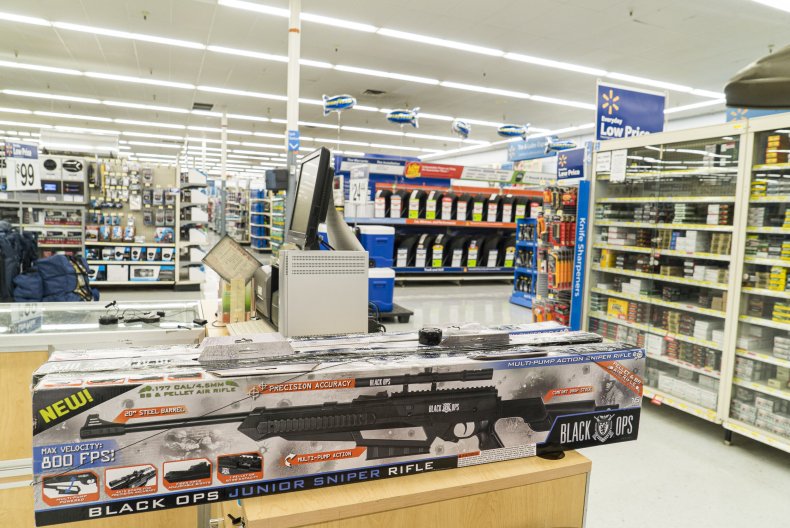 In Walmart's eyes, there may be little daylight between the position of gun-rights groups and the company's approach to the new policies.
"From our standpoint, we are making a request of our customers, so we haven't classified it as a ban," a Walmart spokesperson told Newsweek in an interview about how the policies will be implemented. "If you're in a part of the country where people open-carry all the time and it's not an issue for people in the store, then it may be that somebody comes in and out of the store and a conversation isn't had."
This attitude indicates that in implementing the gun restrictions in its stores, Walmart had been anticipating the reaction of gun-rights supporters and built in structural flexibility to accommodate their objections, while styling its announcement as a nationwide achievement that activists have unsuccessfully chased after for decades: concrete action on gun control in the wake of mass shootings.
"They are trying to balance the interests of their customers and the interests of the community, responding to public pressure to do something in the wake of two shootings on their properties in a short amount of time," Wendy Patrick, a business ethics lecturer at San Diego State University, told Newsweek. "They view this as a middle ground in the hopes that it will give a little to both sides."
What the policy will ultimately look like is at the moment unknown. What is starting to become clearer, however, is that the celebrations on both sides of the debate appear to be premature. Walmart seems to be willing to take on flagrant abuses of the new regime and will enlist store managers and security personnel in crafting its approach. But, as gun-rights advocates have documented, discreet violations of policy are apparently being tolerated in an effort not to escalate an already fraught situation.
"I guarantee all of the retailers are going to be looking at how well it's working in other stores, because they're all in the same position," Patrick predicted. "Whether or not a 'respectful request' will turn into requirement will depend on how successful they are in balancing both interests."
That, of course, assumes that both parties can be appeased, a balance that grows more unstable with each new incidence of mass violence. Every time a store is publicly associated with mass shootings, as Walmart has been in recent months, that pushes the company to err on the side of additional restrictions, for reasons of politics, safety and public relations.
"We have good reason to believe that future gun violence will prompt more measures by retail giants such as Walmart and its competitors," Patrick said.
As it currently stands, the incentives to cracking down on firearms in stores are not as paltry as they once were. In fact, some companies could stand to benefit from coming down firmly on the side of gun-wariness.
A survey from the consumer research firm CivicScience found that, on balance, customers are more likely to shop at Walmart due to the open-carry policy. Although, a majority of respondents did report that their behavior wouldn't change either way. While marginal benefits may accrue to the favor of gun restrictions in stores, this untapped customer base, an outright majority of Walmart shoppers, who are unmoved by the new changes could start to reevaluate their neutrality if Walmart's policies become increasingly restrictive.