After Viral Licking Video, Texas Walmart Stations 'Armed' Guard Outside Blue Bell Ice Cream Case
After a viral video surfaced of a woman licking a tub of ice cream in a Walmart in Texas, another Walmart in the Lone Star State posted a photo of an employee guarding the store's ice-cream case—armed with a water pistol.
In a now-deleted Facebook post, a photo taken at the Walmart on Saratoga Road in Corpus Christi showed a staff member named Ruben guarding the Blue Bell ice cream display, his arms folded and a water gun with the tag still on in his left hand.
"We're guarding our Blue Bell Ice cream for your Weekend party, what a great way to cool down in the Hot Texas heat!" read the accompanying caption.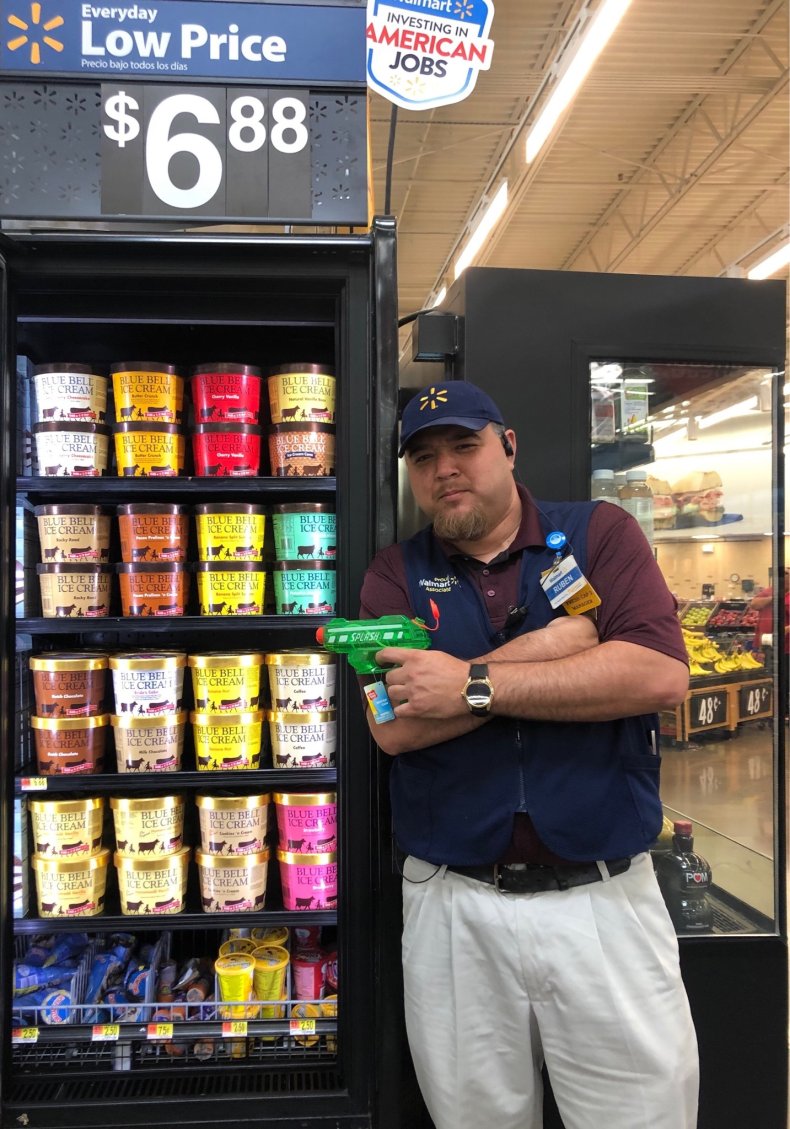 The photo pokes fun at a recent viral video showing a young woman licking a tub of Blue Bell ice cream at a Walmart in Lufkin, about 120 miles northeast of Houston. In the clip, the girl opens a container of "Tin Roof" flavored Blue Bell, licks the top, re-closes the tub and puts it back in the freezer.
"Yeah, I really did that," she wrote in a post dated June 28. "You can call it Flu Bell ice cream now 'cause I was a lil sick last week. Repost yourself doing this with the hashtag #tinroofchallenge. Let's see if we can start an epidemic (literally)."
The woman in the original video has been found but, because she is a juvenile, Texas law prevents police from publicly identifying her. The Lufkin Police Department has turned over the case to the Texas Juvenile Justice Department.
Earlier, police said they would charge the girl with tampering with a consumer product, a second-degree felony that carries a maximum sentence of 20 years. However, since she is a minor, it is unknown whether she will face the same—or any—charges.
In a statement, Blue Bell Creameries said, "Our staff recognized the location in the video, and we inspected the freezer case. We found a Tin Roof half gallon that appears to have been compromised. Based on security footage, the location and the inspection of the carton, we believe we may have recovered the half gallon that was tampered with. Out of an abundance of caution, we have also removed all Tin Roof half gallons from that location."
Blue Bell also assured customers that any tampering should be immediately obvious, due to the way it fill the containers.
"During production, our half gallons are flipped upside down and sent to a hardening room where the ice cream freezes to create a natural seal. The lids are frozen tightly to the carton. Any attempt at opening the product should be noticeable."