Walmart Joins Starbucks, Best Buy In Mandating Face Masks After In-Store Customer Disputes
The world's largest retailer announced on Wednesday that all customers must wear face masks beginning next week.
"As the number of confirmed cases has spiked in communities across the country recently, so too have the number and types of face covering mandates being implemented," Walmart said in a news release.
About 65 percent of Walmart stores—there are more than 5,000 of them, including its Sam's Club locations—are located in areas that have government-mandated face-covering requirements.
"To help bring consistency across stores and clubs, we will require all shoppers to wear a face covering starting Monday, July 20," the retailer said.
Walmart is the latest retail chain to implement a mask requirement. Last week, Starbucks said customers must wear facial coverings in their U.S. stores starting Wednesday. Best Buy made a similar announcement on Tuesday and Costco has enforced masks in stores since the beginning of May.
The announcement comes as multiple videos showing in-store disputes over face masks have surfaced online.
On Sunday, a woman in Central Florida was caught on camera calling mask-wearing shoppers "cult members" after she was denied entry into the Walmart Neighborhood Market in Seminole County. County officials have issued a mask order in at all businesses, places of assembly and other public spaces.
Last month, a man in Orlando was filmed pushing Walmart employees after being told he was not allowed to enter without a mask. Orange County Mayor Jerry Demings signed an executive order requiring masks in public that went to effect the same day of the incident.
"We know some people have differing opinions on this topic. We also recognize the role we can play to help protect the health and well-being of the communities we serve by following the evolving guidance of health officials like the CDC," Walmart said on Wednesday.
A representative from the company told Newsweek that Walmart had no further comment and referred to its published statement.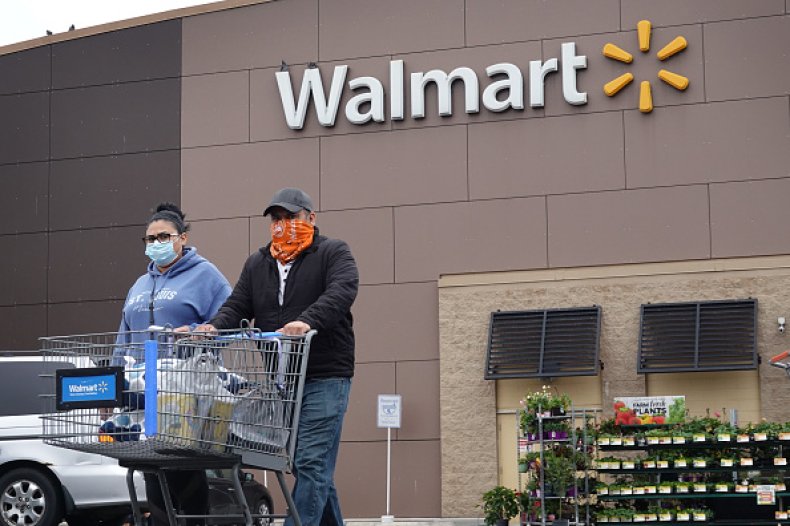 The retailer's CEO Doug McMillon hinted at the company's decision last week on Bloomberg's Leadership Live with David Rubenstein, saying a mask order was "obviously something that's on [their] minds". At the time, nearly 75 percent of their U.S. locations had some level of government mandating facial coverings in public spaces.
Initially, many retailers hesitated at implementing masks in-store but as the number of infections across the U.S. have drastically surged in the last two months, even industry groups have stepped up.
Last week, the industry trade group Retail Leaders Industry Association called on governors across the country to pass statewide orders that would require citizens to wear masks, which would protect both workers and customers alike.
There is currently no federal mandate requiring the use of face masks, but the Center of Disease Control and Prevention has recommended everyone wear a facial covering when going out in public. The CDC has emphasized that the wearing of masks are to protect the spread of the virus to other people, especially because many of those with COVID-19 may be asymptomatic.
The U.S. has reported more coronavirus cases than any other country in the world. As of Wednesday, July 15, the country has reported 3,434,636 confirmed cases, according to a tracker provided by Johns Hopkins University.
Update 07/15/20 12:38 p.m. EDT: This story was updated with a response from Walmart.