Walmart Offers Workers $75 Incentive to Get COVID Vaccine
Walmart is offering its workers a $75 bonus as an incentive to get the COVID vaccine.
"We're encouraging all associates to get vaccinated and help end this pandemic," the company told employees in a memo posted on its corporate website.
"Do it for your health, your family, your friends, your community and your country–let's help reach our national vaccination goals by the Fourth of July."
Walmart, which says it employs almost 1.6 million people in the country, announced last week that it will not require fully vaccinated workers to wear a mask in its U.S. stores from May 18, unless state and local laws dictate otherwise.
To work without a mask, employees will need to answer "yes" to a vaccination question in a daily health assessment, the company said in the memo.
"Integrity is one of our core values, and we trust that associates will respect that principle when answering," the memo said.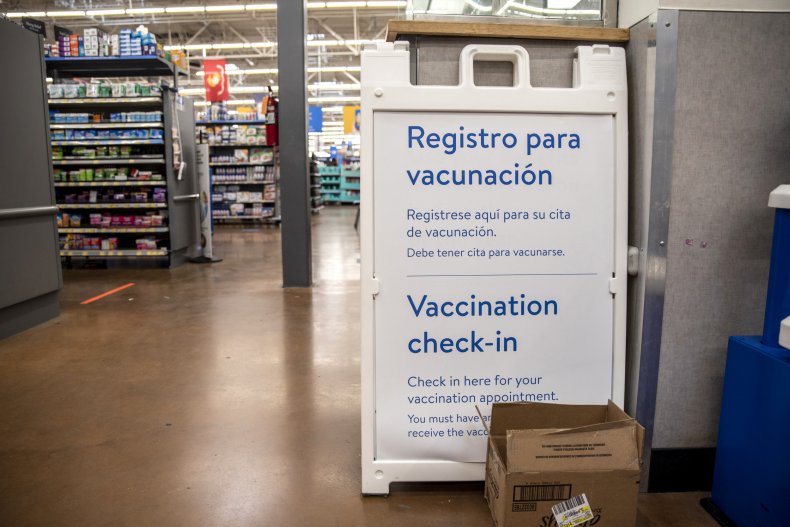 But in order to get the $75 bonus, workers will have to show managers their original, completed vaccination certificate. The bonus can be claimed by those working in Walmart and Sam's Club stores as well as supply chain workers.
"It applies to everyone who has already been fully vaccinated and those who get vaccinated in the future," the memo adds.
Walmart's memo notes that the company is offering free vaccines at more than 5,100 Walmart and Sam's Club pharmacies, as well as through special events.
The company says workers can be vaccinated while on the clock or receive two hours of paid time off to do so, and can receive up to three days paid leave if they suffer adverse reactions.
The announcement came after the U.S. Centers for Disease Control and Prevention (CDC) eased mask-wearing guidance for those who are fully vaccinated last Thursday.
The CDC guidance allows them to stop wearing masks outdoors in crowds and in most indoor settings, but still calls for wearing masks in crowded indoor settings such as buses, planes, hospitals, prisons and homeless shelters.
A day later, Walmart said vaccinated customers could shop mask-free.
"We will continue to request that non-vaccinated customers and members wear face coverings in our stores and clubs. We will update the signage in our facilities to reflect this," the company said.
In July last year, Walmart was one of the first retailers to mandate shoppers wear masks in its stores as the COVID-19 cases spiked across the nation.