When Will Walmart Bonuses Be Paid? Employees to Get $300 Each As Part of $390 Million Package
Walmart is giving its employees another round of bonuses, totaling more than $390 million. Full-time employees will receive $300 and part-time hourly workers will receive $150. Employees who work in stores, clubs, supply chain and offices, drivers, and assistant managers in stores and clubs, will be included in the bonus scheme.
To qualify, workers must be employed as of June 5 and the bonuses will be paid out on June 25.
John Furner, President and CEO of Walmart U.S. said in a statement: "Walmart and Sam's Club associates continue to do remarkable work, and it's important we reward and appreciate them. All across the country, they're providing Americans with the food, medicine, and supplies they need, while going above and beyond the normal scope of their jobs— diligently sanitizing their facilities, making customers and members feel safe and welcome, and handling difficult situations with professionalism and grace."
Kathryn McLay, President and CEO of Sam's Club said in a statement: "We are so grateful to our associates for being there for customers and members during this difficult time, serving communities across the country. Our associates' efforts have been exactly what the country needed during this historic and uncertain time. They've made a real difference."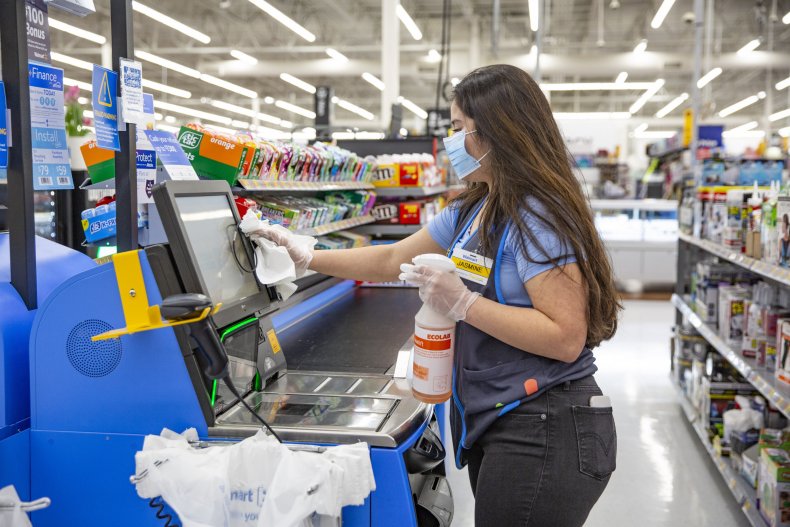 This is the third bonus Walmart and Sam's Club's employees have received this year. On April 2, Walmart paid more than $365 million to all U.S. hourly associates in stores, clubs, supply chain and offices, with bonuses of $300 for full-time hourly associates and $150 for part-time hourly associates.
Then, Walmart accelerated the payout for the associate quarterly incentive program to April 30, playing out $180 million. This means that so far in 2020, Walmart has committed to paying out $935 million in bonuses.
According to Walmart, the company has more than 2.2 million associates around the world and around 75 percent of its store management teams started as hourly associates. Last year, Walmart promoted more than 215,000 of its employees to jobs with greater responsibility and higher pay.
When Walmart recently announced that it would be hiring more than 150,000 associates by the end of May, the company received more than a million applicants and hired an average of 5,000 people a day, meeting its hiring goal in less than a month and six weeks ahead of schedule.
Walmart said that it worked with other companies to hire furloughed workers and that 85 percent of its new employees were hired in temporary positions to help them bridge an unemployment gap, though Walmart said it expects to convert some of these roles into full-time positions.
In April, Walmart announced that it would be hiring 50,000 more employees, which it did by the end of the month.