Walmart, Sam's Club Requiring Masks For Staff in CDC Hot Spots, Recommend For Customers
Walmart and Sam's Club are reinstating their policy requiring employees to wear masks and recommend customers do the same in COVID-19 hot spots.
The grocers made the announcement Friday and said the policy will go into effect immediately. Employees-- regardless of vaccination status-- are required to wear a mask while working in stores within areas of "substantial or high transmission" of COVID-19.
Signage informing customers of the new policy will be placed back on the doors. Customers in the specified hot spots are highly recommended to wear a mask while shopping to protect themselves from the hyper-transmittable Delta variant.
"Customers are strongly encouraged to wear masks, but not required," the company said in a statement to employees acquired by USA TODAY.
The memo also noted that store managers will be tracking local county numbers and guidance provided by the Centers for Disease Control and Prevention (CDC)'s website every Monday.
"We remain focused on guidance issued by health experts, including the CDC, as well as state and local health departments," Walmart said. "We will continue to follow the latest CDC guidance, which includes fully vaccinated people wearing masks in public indoor settings in areas of substantial or high transmission, effective immediately."
Walmart employees started wearing masks back in April 2020, and customers were mandated to wear them starting in July 2020.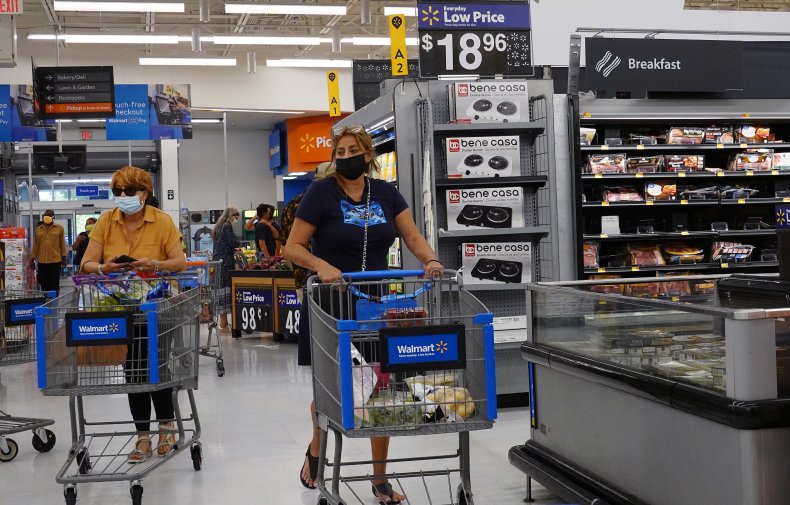 Walmart and Sam's Club dropped the mask mandate in their stores in May after the CDC adjusted their guidelines and recommended that only unvaccinated people needed to wear masks indoors. The CDC announced new guidance Tuesday that backtracked on their previous guidelines, saying even vaccinated individuals should wear masks in the hot spot counties.
Apple also reinstated its mask mandate, requiring customers to wear them at half of its U.S. stores. Other companies are pushing for their employees to get vaccinated as a condition of returning to the office, including Google, Facebook and Netflix.
Cities within CDC hotspots are bringing back their mask mandates to help slow the spread of the virus. Missouri is one of the most concerning states according to the CDC's data, with all but one county considered to be in the red zone. St. Louis and Kansas City, Missouri are masking back up in accordance with new city mandates.
Some cities, like that of Palm Beach, Florida, are defying the orders of state the government by reinstating mask mandates. Governor Ron DeSantis signed a bill in June prohibiting local governments from requiring masks
The CDC's seven-day community transmission map can be found here. A majority of the country is considered to be in the "highly transmittable" or "substantially transmittable" categories, with most of the South East, South West, West Coast and some of the Midwest considered hot spots.
Newsweek reached out to Walmart for comment but did not hear back by publication time.