Walmart Employees Flood Reddit With Pro-Union Memes To Protest Firing
The subreddit r/Walmart has nearly 55,000 members, many who self-identify as current or former employees, making the site a bellwether of employee morale at the retail giant. While the Walmart forum typically serves as a place to share memes, videos of unruly customers and general workplace gripes, since Wednesday it has been flooded with pro-union sentiments after Walmart fired an employee who posted internal business information about the location at which they worked.
At the time of publication, the top post on the Walmart subreddit was a meme featuring the cartoon cat Tom, of Tom and Jerry, who is wielding a shotgun bent back at his own face. While the Tom, labeled Walmart, intends to fire the shotgun at "people using Reddit," the bent barrel is instead primed to give him a blast of "UNION" to the face.
Other memes shared by Walmart employees on the subreddit are more old-fashioned, such as a painting of two men in overalls sharing a beer, captioned: "The Boss needs you, you don't need him! Labour is entitled to all it creates!"
The protest posting was prompted by the firing of Reddit user bdonvr, who describes being terminated from his job as an asset protection associate (APA), a role which provides security and monitors for shoplifting. He was let go after posting "information about a restructuring" at the Walmart location where he worked.
"We support our associates' right to share their opinions and give feedback, but we take the sharing of confidential information in any form very seriously," Walmart said in a statement to Newsweek. "The associate was terminated earlier this week for sharing sensitive business information in violation of company policy."
While bdonvr was not fired for sharing pro-union sentiments online, the Redditor has since become a central part of the union narrative dominating the forum.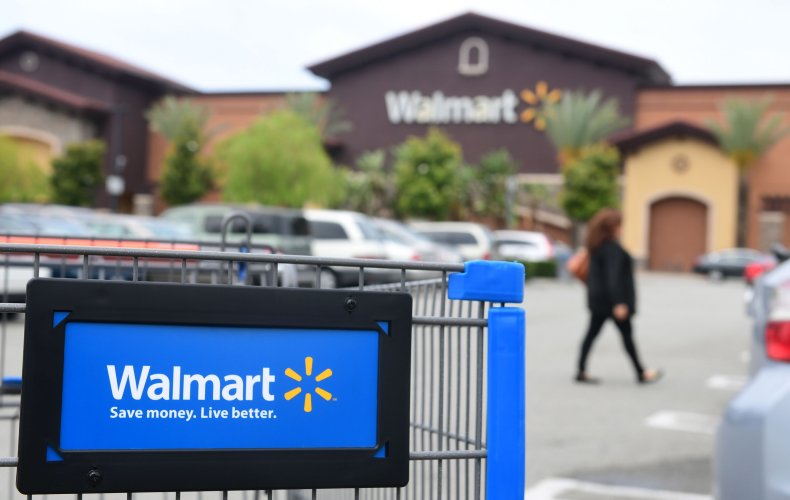 "r/Walmart has been kind of a safe space for associates, where we can say anything and everything. But now, Walmart has terminated me, one of the subreddit's most active users, because of a Reddit post and it struck a nerve," bdonvr said in an email to Newsweek. "Now associates are worried about Home Office monitoring posts, tracking associates, and such. 'Unionizing' has always been a bit of a meme, but I think the whole thing just brought up other discussions about various injustices and suddenly the subreddit's opinion on unionization seems to have flipped."
Walmart has long been known for its strong stance against unionizing, opposing efforts to organize among their 1.5 million employees and 4,756 retail locations in the United States. The nation's largest private-sector employer screens anti-union videos to every employee, further educating management in anti-union tactics with publications like "A Manager's Toolbox to Remaining Union Free."
Walmart's low wages, repeated labor violations and thin health insurance benefits—which have resulted in thousands of employees relying on public programs like Medicaid and food stamps—have even made the company, alongside other retail giants like Amazon, a target in the Democratic primary for the 2020 presidential election.
Presidential contender Senator Bernie Sanders, whose broad base of small-dollar donors is anchored by Walmart employees, has repeatedly gone after the retail chain, even addressing Walmart's annual shareholder meeting directly in June to demand a $15 per hour wage and employee representation on Walmart's board of directors.
When unionization efforts have managed to make it past Walmart's internal safeguards in the past, the company has responded forcefully. In 2000, Walmart closed all 180 meat counters at its retail locations and switched to prepackaged cuts after butchers at a Texas location voted to join the United Food and Commercial Workers International Union (UFCW). In 2005, a year after Walmart employees voted to unionize at a Canadian store, senior management closed the location entirely. "You can't take a store, that is a struggling store anyway, and add a bunch of people and a bunch of work rules," H. Lee Scott Jr., Walmart's then-CEO, told The Washington Post.
Unionization efforts have been more successful abroad, with unions at locations in the U.K., Brazil, Mexico, Argentina, South Africa, China and Chile.
"There are nearly 55k subscribers here. That's over three percent of Walmart's U.S. associates," bdonvr pointed out in a comment on the Walmart subreddit. "So while the sub members alone might not be able to start unions, they can act as messengers, promoters and organizers within their stores."