Walmart Website Catches Heat After NSFW Christmas Pajama Pictures
It's beginning to look a lot like Christmas on most retail websites, but some have taken the holiday in a new direction. A Walmart Christmas pajama advertisement is turning heads for showing off much more than sleepwear.
A Twitter user shared one of the odd photos in question, which showcases the pajamas for sale by putting the model's rear front and center in the camera. Upon opening the Walmart website, there's so much more to be discovered, including shots of the onesie unzipped, with a red bra on full display.
It's all an advertisement for a Christmas pajama onesie by brand Sunisery. While it's advertised on Walmart's website, it appears to be from a third-party seller, hence the provocative images. There's even a legal disclaimer on the page that states Walmart hasn't specifically viewed the product before it was uploaded to the website.
"We aim to show you accurate product information. Manufacturers, suppliers and others provide what you see here, and we have not verified it," the website reads, before linking to a much longer legal disclaimer.
Walmart has taken the original pajama listing of the website, though Newsweek confirmed the webpage and photos were active as recently as early this afternoon.
Newsweek reached out to Walmart for further comment on the pajamas in particular and asked if they have any plans to censor the images. We received no response at the time of publication.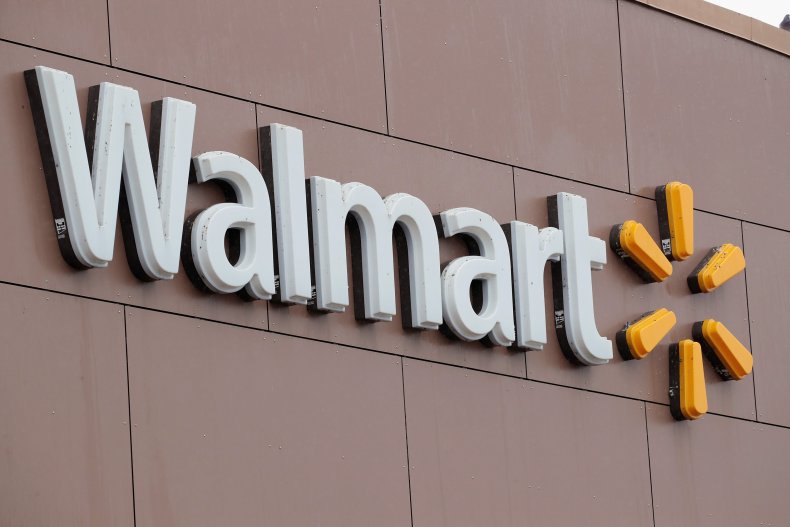 Walmart has something called a "marketplace" which allows the seller to upload their products to the website. Because there's a platform where individuals can upload the items themselves, the actual Walmart website team doesn't have any control over what images are immediately posted to the website. Think of it like Amazon. While the website is a household name, independent sellers are able to upload their products regardless of if Amazon has tested the products or not.
It turns out, the questionable pajama photos aren't a completely isolated incident. Walmart's online pajama section has plenty more jumpsuits, some of which use truly scandalous images. Many of the female models pictured have the jumpsuits unbuttoned below their chest, while some images even feature close-ups of female models with their fingers in their mouths. It's a part of the Walmart website many shoppers may not find in their daily errands, and Twitter (NSFW photo linked with Tweet) hasn't let it slide.
The tweet was originally shared by @ImAlready_Nicee. It hadn't picked up too much traction at the time of publication, but commenters had one question: who is in charge of the Walmart website, and how were these photos approved?
So, if you choose to do your Christmas shopping on Walmart's website, beware that some photos you didn't intend to see may find you, even when innocently looking for pajamas.