Despite Two Shootings in One Week, Walmart Says It Has No Plans To Stop Selling Guns and Ammunition
Despite experiencing two deadly shootings in one week, which killed at least 24 people, Walmart said it won't be changing its company policy on gun and ammunition sales.
"Our focus has always been on being a responsible seller of firearms," said company spokesman Randy Hargrove, according to Bloomberg. Hargrove added that Walmart goes "beyond federal law" in requiring that all customers complete a background check before buying a firearm.
"There's not been any directive to any stores around the country to change any policy," Hargrove added.
The retail chain has received pressure to stop gun sales after a mass shooting took place in a Walmart in El Paso, Texas. On Saturday morning, a gunman armed with an AK-47 assault rifle opened fire on customers both in the parking lot and in the store.
The death toll from the shooting rose to 22 people on Monday after two more victims died in the hospital. More than two dozen people were also injured in the attack. The suspected gunman is believed to have authored a racist, anti-Hispanic manifesto that was posted online before the shooting occurred.
It was the second shooting to take place inside a Walmart in the past week. The first happened in northern Mississippi on July 30. A gunman fatally shot two people and wounded a police officer before he was arrested. The two people who died were Walmart employees.
"The entire Walmart family is heartbroken by the loss of two valued members of our team," Walmart U.S. President and CEO Greg Foran said in a statement following the shooting. "We feel tragedies like this personally, and our hearts go out to the families of our two associates and the officer who was injured."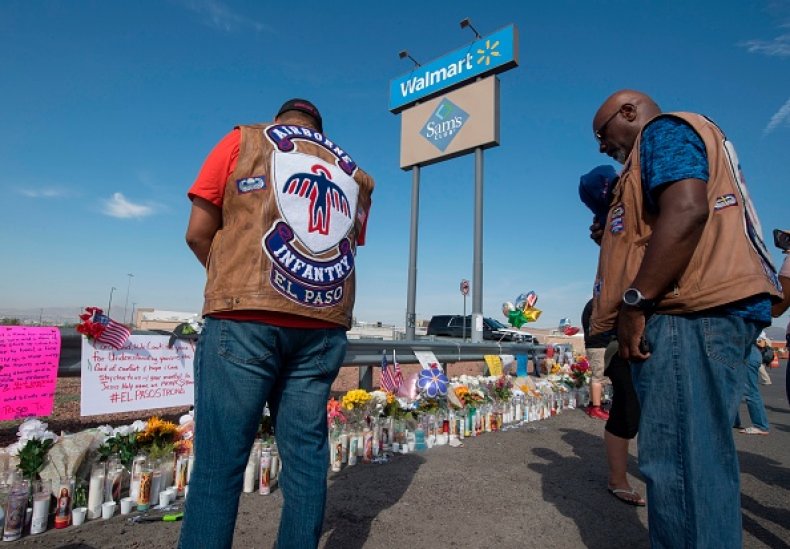 In the wake of the El Paso shooting, Walmart posted issued statement on Twitter in which they offered prayers for the victims and the community. The company also said it was "working closely with law enforcement" and first responders.
In 2015, Walmart stopped selling assault-style rifles and in 2018 the company raised the minimum age to buy guns from 18 to 21. But after the shooting on Saturday, gun reform activists say its not enough.
In a tweet, actress Alyssa Milano told Walmart that "this would be a great opportunity for you to take a true leadership position and stop selling guns." In a second tweet, Milano shifted focus to the Senate and Majority Leader Mitch McConnell to bring a bipartisan background check bill passed by the House to the floor.
Igor Volsky, the founder of the advocacy group Guns Down America, told MSNBC that Walmart could make a big difference in helping to end gun violence if they agreed to stop selling firearms.
"Walmart has such an important role to play here," Volsky told the news outlet on Monday. "If they really decided to lean into this issue, we could see some real change. We should all call on Walmart to do that."
Walmart could follow in the footsteps of Dicks Sporting Goods, which removed guns from 125 of its stores earlier this year. The retailer made a decision after the 2018 mass shooting in Parkland, Florida, to stop selling guns to customers under the age of 21 and to stop selling assault-style firearms altogether.
In a memo announcing the store change, Dicks Sporting Goods CEO Edward Stack called on lawmakers to "enact common sense gun reform and pass the following regulations." The company then called for banning assault-style guns, raising the minimum age for purchases, banning high-capacity magazines and bump stocks, requiring universal background checks and closing the private-sale loophole.