A recent video, allegedly showing a Walmart shopper accusing an employee of purchasing "all" the store's baseball cards before opening, has gone viral on social media.
The clip, which has been viewed 3.4 million times since it was shared last month, has sparked a debate in the comments section about the ethicality of a store's employee buying items before customers have access.
Baseball cards, in particular, can be highly valuable to those who collect them—and, as Newsweek reported earlier this week, some sports cards are poised to potentially surge in value following the acquisition of Topps trading cards by Fanatics.
Adding to their value is the resurgence of sports cards since the start of the pandemic, as many have returned to the nostalgic hobby in lieu of attending live sporting events.
The video, whose original source remains unknown, was reposted by the Sega Sports Cards TikTok account with the following question: "Who is in the wrong here?"
The video begins with the incensed customer explaining: "Employee's buying all the cards out before the store is even open." Meanwhile, he walks to a self-checkout counter, where a man—ostensibly the Walmart employee—is paying for his items.
Viewers can see many boxes of baseball cards filling the alleged Walmart employee's shopping bags.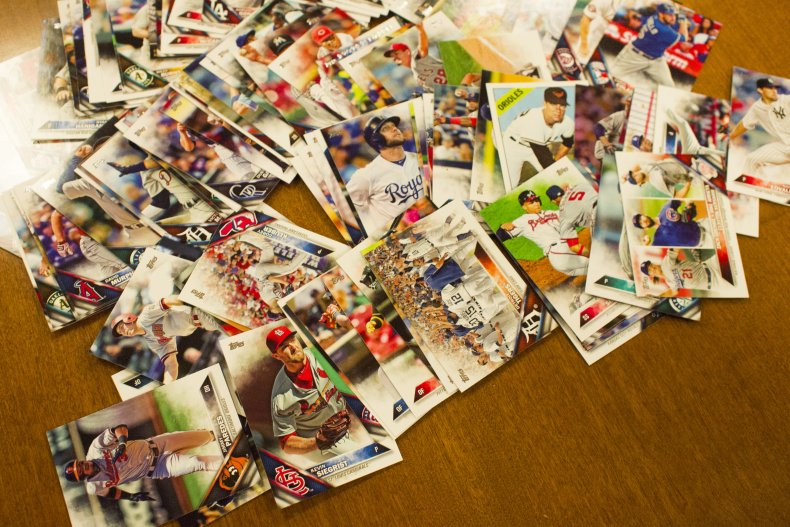 "Guy is standing here two hours before opening," adds the upset shopper. "We got backdoor action. Backdoor f**king action."
Another man, who appears to also be a customer, asks the employee, "Are you serious?"
The worker replies, "Because I need it," before adding that they're "for [his] son."
"Because you need it?" retorts the customer behind the camera. "You're about to lose your job with Walmart now. I hope your family doesn't go hungry over cards, man."
"Where's your manager at? They allow this?" adds the customer, concluding the clip.
Viewers had mixed feelings about the video: while some agreed that the employee's purchase was unfair, countless others said it was simply a "perk of the job."
"Vendors and workers get first dibs," said @thecompleteness.
"Walmart employees are not paid enough as it is," echoed @tlcastanon. "This is one perk they do get."
"My son has been looking for cards everywhere and gets so bummed that he can't find any," countered @erinwaldroff. "This is wrong."
Many more wondered how the customer was even inside the store, given his claim that the video was filmed two hours before opening.
Newsweek has reached out to Walmart for comment.