If You See This Walnut-like Mass in Your Christmas Tree, It Could Contain Hundreds of Praying Mantis Eggs
Officials in Erie County, Ohio, have posted an image of a strange brown mass found in a Christmas tree, which contains hundreds of praying mantis eggs.
The mass looks almost like a pine cone and is about the size of walnut. People have been advised to remove the mass and put it outside, if they discover one in their Christmas tree.
"If you happen to see a walnut sized/shaped egg mass, on your Christmas tree, don't fret, clip the branch and put it in your garden. These are 100-200 preying mantis eggs!" a post on the Erie County Facebook page read. "Don't bring them inside they will hatch and starve!"
Many praying mantises die in the cold winter months, however, the females can lay eggs in bushes and trees which survive and hatch when the weather becomes warmer.
"A female praying mantis commonly prefers Fraser fir Christmas trees for egg-laying," Chris Enroth, a horticulture educator at the University of Illinois Extension, wrote in a blog post. "Females will lay 200 to 400 eggs in the fall. She will secrete a frothy liquid that hardens around the egg to protect it from the harsh winter."
"Once in your warm house, the baby praying mantis can hatch from its egg and will likely then starve. Scout for mantis eggs before bringing the tree indoors. If you find one, cut off the branch it is attached to and place it in an evergreen outside," he said.
Other insect pests can also find their way into your home by hitching a ride on Christmas trees. These include aphids, predatory mites and adelgids—tiny, aphid-like insects.
Nevertheless, it is very unusual to find these pests. In fact, they are only found in about one in every 100,000 cut trees according to Enroth.
"You may never experience any problems with Christmas tree pests, or if you have, you may never encounter them again," he said. "Remember, if you do have serious insect pest problems on your Christmas tree, you can always take it back to the supplier and ask for a refund or exchange."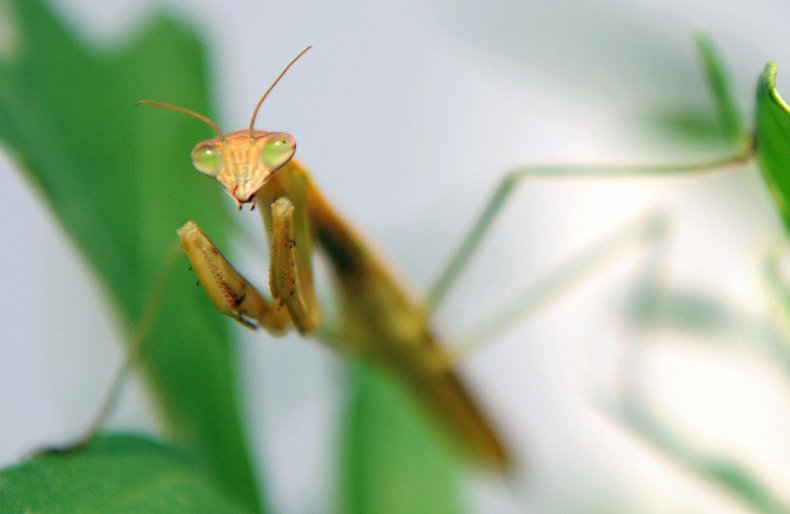 Doug Hundley, a spokesperson for the National Christmas Tree Association, told Snopes that it is "very rare" to find mantis eggs in a Christmas tree. He added that Christmas tree farms use pest management systems to prevent this from happening.
Praying mantises—named for their characteristic front legs—are found around the world. They are effective predators which hunt a wide variety of insects, including moths, crickets, grasshoppers, flies, and they will even eat members of their own kind, National Geographic reported.