Who Is James Murdoch: Son Of Fox News Creator And NY Post Owner May Take Over Disney And The Fate Of Your Childhood Princesses
The Walt Disney Company on Thursday announced it would acquire 21st Century Fox in a massive deal worth $52.4 billion and may put the son of tabloid mogul and Fox News creator Rupert Murdoch in line to run America's iconic entertainment company.
James Murdoch, currently the CEO of 21st Century Fox, could be next in line to run Disney if federal antitrust regulators approve Disney's purchase.
Disney chairman and CEO Bob Iger, who had planned to step down in 2019, said he will now stay on to run the company through 2021 when Murdoch could take over. Iger confirmed on ABC's Good Morning America that he and younger Murdoch are in talks.
"James and I will be talking over the next number of months," Iger said. "He's going to be integral to the integration process, and he and I will be discussing whether there is a role for him or not at our company."
The deal moves several of Fox's film and television assets into Cinderella's castle. The deal reunites Fox's X-Men with the Fantastic Four and Deadpool in the Marvel Universe at Disney. Disney will also gain Avatar, The Simpsons, FX Networks and National Geographic.
Disney also takes a 60-percent ownership of the streaming service Hulu and will look to compete with Netflix in the direct-to-consumer market.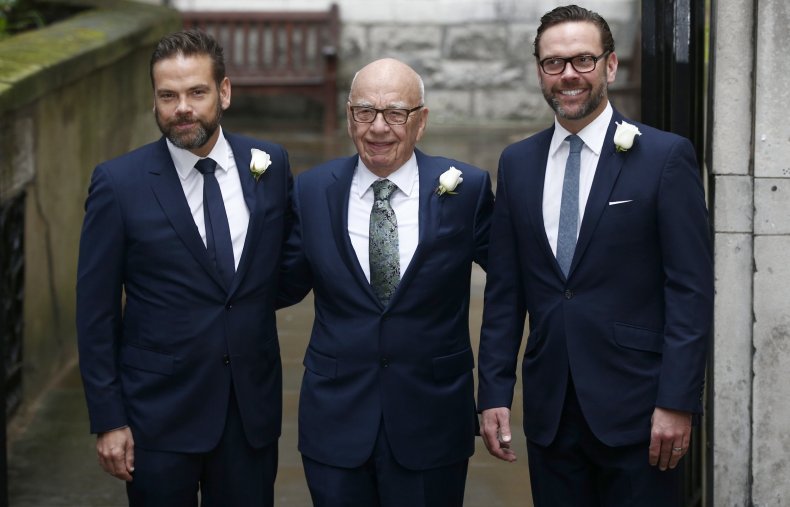 The House of Mouse will also expand its global reach with the acquisition of several international broadcast companies.
Disney won't pick up all of 21st Century Fox's assets. The news channel, Fox Business Network, FS1, FS2 and Big Ten Network will be separated from its parent company before the the acquisition goes through.
Gabriel Sherman, a Vanity Fair correspondent, reported that President Donald Trump and Rupert Murdoch spoke about the agreement ahead of Thursday's announcement to see if what he planned to do with the president's channel of choice, Fox News.
"Trump spoke with Murdoch ahead of Disney deal to make sure Murdoch wasn't selling Fox News, person briefed on the call said," Sherman tweeted.
James Murdoch has long been a part of media royalty, growing up the youngest son of a tabloid kingpin and one of the world's most powerful men in the media. He was born in London and grew up in New York City, attending the Horace Mann prep school in the Bronx.
He's currently the chief executive officer at 21st Century Fox and a chairman at Sky, a pan-European satellite broadcasting company owned by Fox—quite an achievement for being just 45-years-old and a college dropout. Murdoch attended Harvard University from 1992-1995 but dropped out without a degree. The next year he went to work for his father's company, News Corp. as the chairman of a record label, Festival Records.
Murdoch met his American wife Kathryn Hufschmid Murdoch in 1997 and they were married just three years later in 2000. They had their first child, Anneka, in 2003, followed by Walter in 2006 and Emerson in 2008.
His ascension to the top of his father's empire seemed almost a foregone conclusion until a scandal at one British tabloid newspaper briefly derailed him in 2011. At the time, Murdoch was the executive chairman of News International, the British arm of News Corp, then-operator of 21st Century Fox as well as newspapers such as the Wall Street Journal, The New York Post and other European publications.
The scandal involved reporters hacking the phones of celebrities, politicians or the victims of other crimes and eavesdropping on their voicemails.
In April 2012, Rupert Murdoch admitted his company had engaged in a cover-up to hide the extent of the phone hacking practice.
Later that year, the British Office of Communications criticized the younger Murdoch for his role in the scandal, saying he "repeatedly fell short of the conduct to be expected of as a chief executive and chairman." Agency regulators found his inaction over the phone hacking was "difficult to comprehend and ill-judged."
Murdoch's reputation took a hit, but not for long. He remained in senior positions at his father's companies and was named the CEO of 21st Century Fox, when his father announced he would step down from that role and become company's executive chairman in 2015. In 2016, he was promoted to chairman of Sky, a British broadcast company. Last July, James Murdoch joined the board of directors at Tesla, the auto manufacturer.
Representatives for Disney did not return multiple calls for comment about Murdoch's future with the company.
Officials at 21st Century Fox declined to comment on the matter but during a conference call with investors after the announcement, Lachlan Murdoch—himself an executive co-chairman at the company—said: "Over the next few months we will be working through the leadership and management structure of the new Fox, something we will announce closer to close."
Who Is James Murdoch: Son Of Fox News Creator And NY Post Owner May Take Over Disney And The Fate Of Your Childhood Princesses | Business